Before starting, please note:
1. For Users to list products on Qoo10, they need to have an existing Qoo10 account.

2. The relationship the Users have is directly with Qoo10. The User is subject to the terms, conditions and fees (if applicable) of Qoo10. Hence, transactional and operational queries that happen on the Qoo10 platform should be referred to Qoo10 directly from the User.

3. Qoo10 credentials must be obtained by the User from Qoo10 directly.
Users can enable Qoo10 by:
1. Click on the 'Dashboard' tab and a drop-down list will appear, proceed to click on 'Marketing', and then on to 'Marketplaces'.


2. Next, click on the "Enable" button.

3. Users will be brought to a new page where they can enter their Qoo10 account credentials. If they do not have a Qoo10 account, they can click on the "Sign up for a Qoo10 account" button to start creating one.

4. Once Users have successfully activated their Qoo10 account and they can send an email to seller@qoo10.sg  and request for their API credentials.

To obtain Qoo10 credentials:
1. Send an email to the Qoo10 support team (seller@qoo10.sg) with the following details:
Qoo10 Seller Information
i. Seller shop ID:
ii. Seller company name:
iii. Email ID of the staff in charge:

Website Operation Company's Information
i. Company Name:
ii. Name of staff in charge:
iii. Email of staff in charge:
iv. Website URL:
v. From: Shopmatic
2. The Qoo10 team will then respond and provide users with their Qoo10 credentials.
3. The User can then enter API credentials on this page, and click on "Save"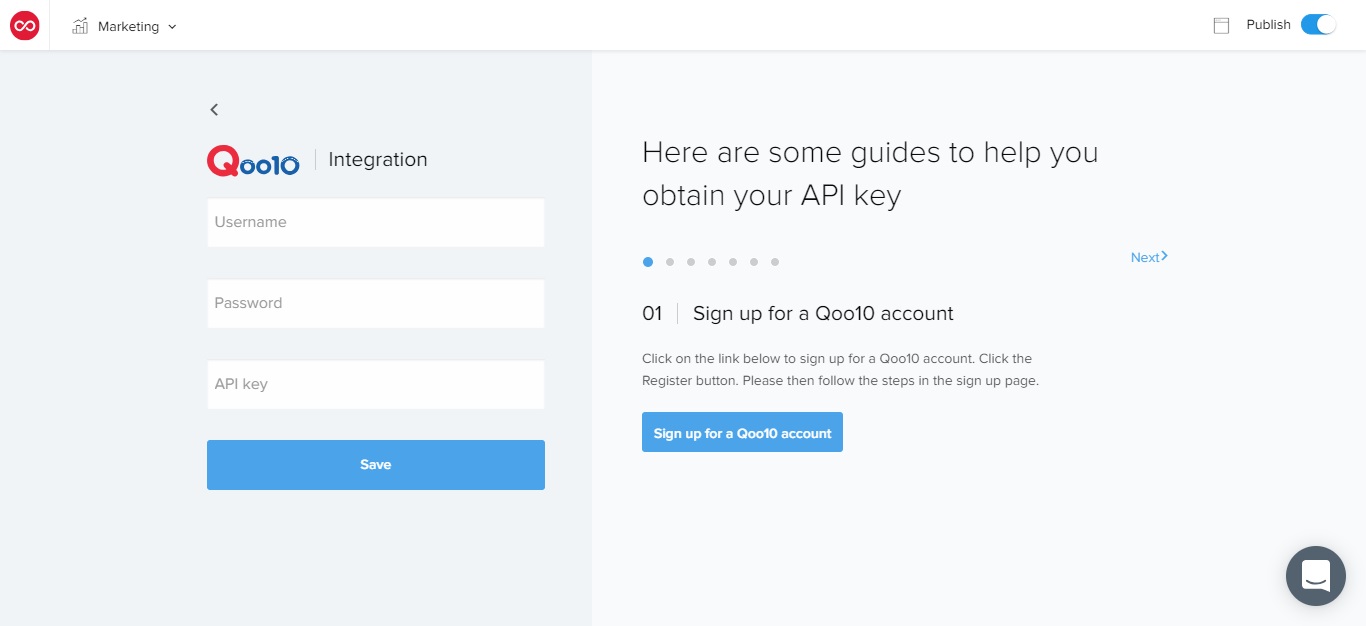 4. Immediately Users will be able to see the below message once they have successfully linked their Qoo10 account to their platform


5. Users should be able to see the number of products listed successfully listed on Qoo10 within the next 24 hours


Disabling Qoo10
From the same "Marketplaces" page on the platform, Users will be able to disable Qoo10 by clicking on the "Disable" button.
Additional Notes
The Qoo10 link is a one-way push. This means that the platform only helps to push and list current products from the platform to Qoo10, the User must still manually log in to Qoo10 to manage their own Qoo10 orders.

Qoo10 has their own rules of listing which is not shared with external parties. Should there be an error in the listing process, the User needs to refer to Qoo10 directly.