Note:
When enabling Facebook Pixel for your online store you are establishing a relationship directly with Facebook and are subject to their terms & conditions. All fees & charges quoted by Facebook are payable directly to them. Any transactional and operational queries that happens on the Facebook platform should be referred to Facebook directly. Any queries about Facebook Pixel on the Shopmatic platform, will be resolved by your dedicated Ecommerce Consultant.
Facebook Pixel
Is an analytics tool that helps measure the effectiveness of your advertising. Use Facebook Pixel to better understand the actions people are taking on your website and reach the audiences that you care about. Click here to learn in-depth about Facebook Pixel.
By installing Facebook Pixel on your Shopmatic platform, it allows you to track your marketing efforts on Facebook through to your Shopmatic store. This will allow you to see different events and behaviours of your customers, such as when they add a product to the cart, start the checkout process or complete a purchase.
To generate your Facebook Pixel ID please follow these steps:
1. Simply Click Here, to login to your existing Facebook account, there will also be an option to create a new Facebook account too.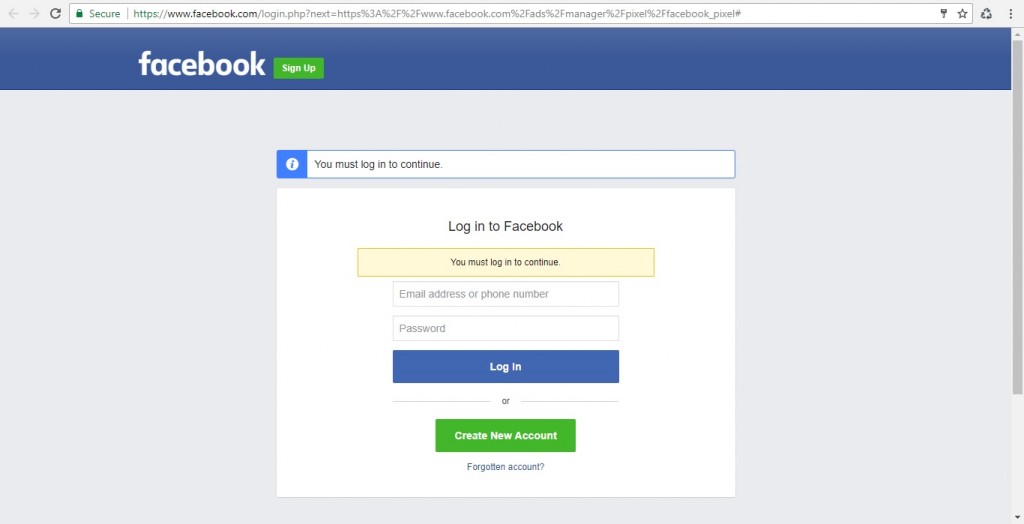 2. After you have created a new Facebook account or logged in to your existing Facebook account, you will then land on the Facebook Adverts Manager homepage.
From there, click on "Create a Pixel".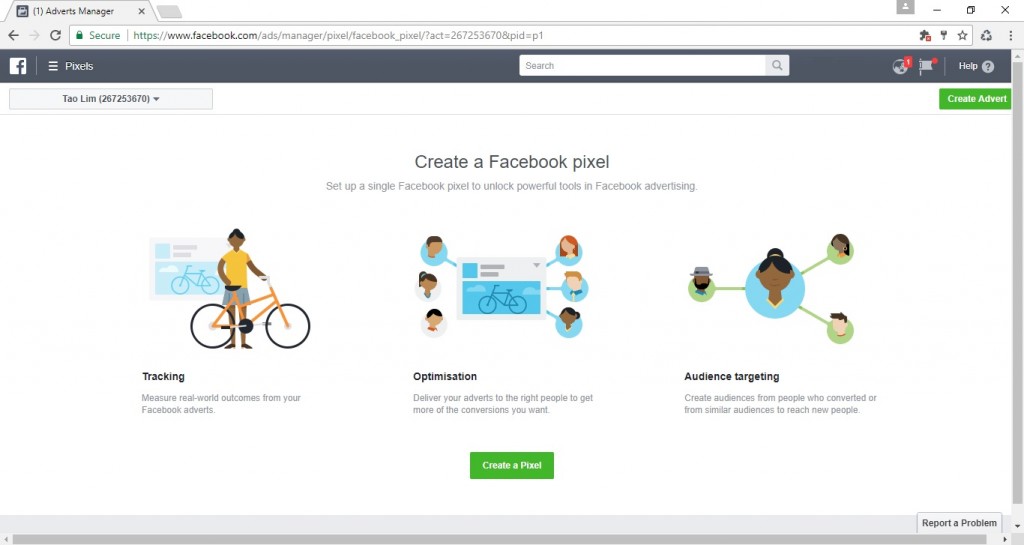 3. A pop-up will appear, where you can choose the name of your Facebook Pixel, we suggest for you to call it "Shopmatic Pixel" for easier future reference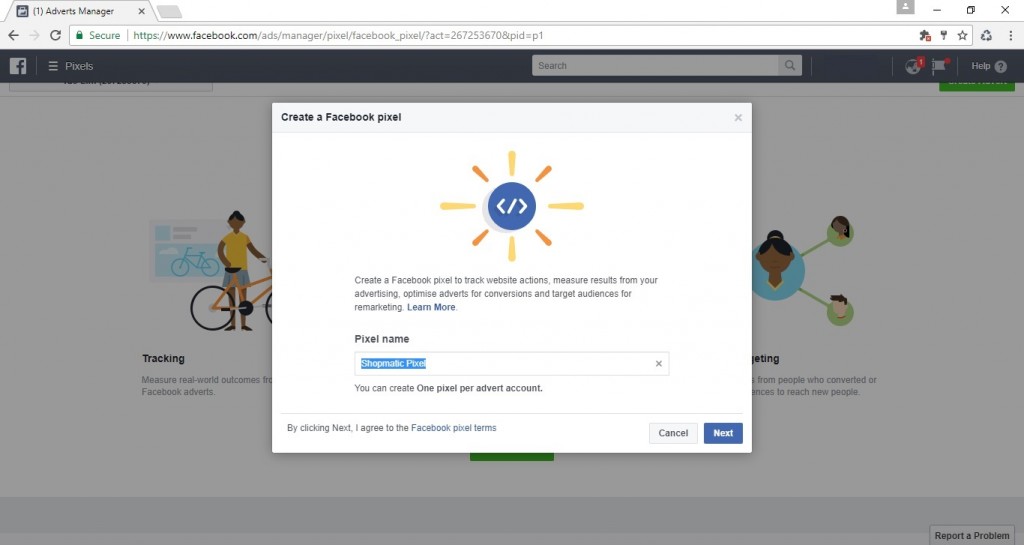 4. You've created your first Facebook Pixel: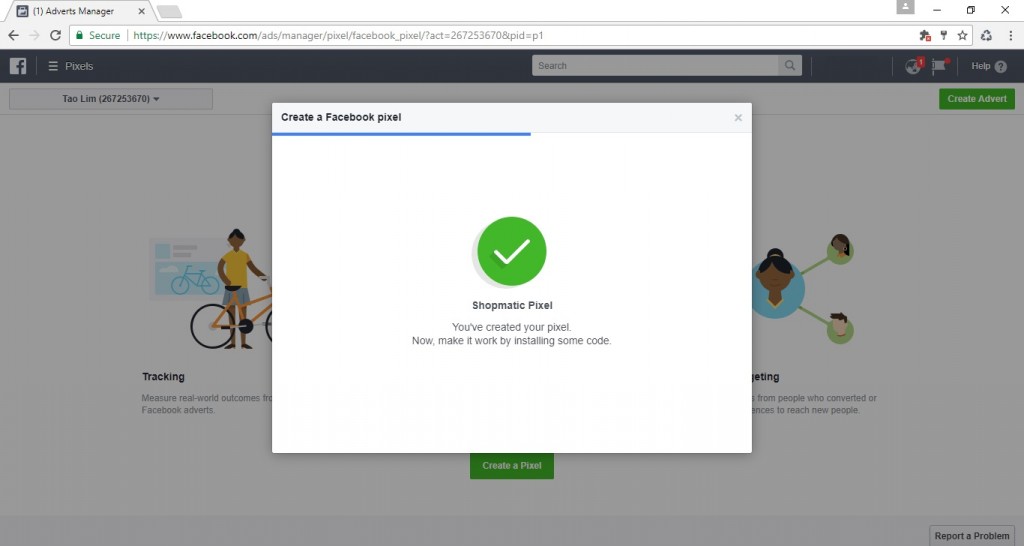 5. Next click on "Manually install the code yourself"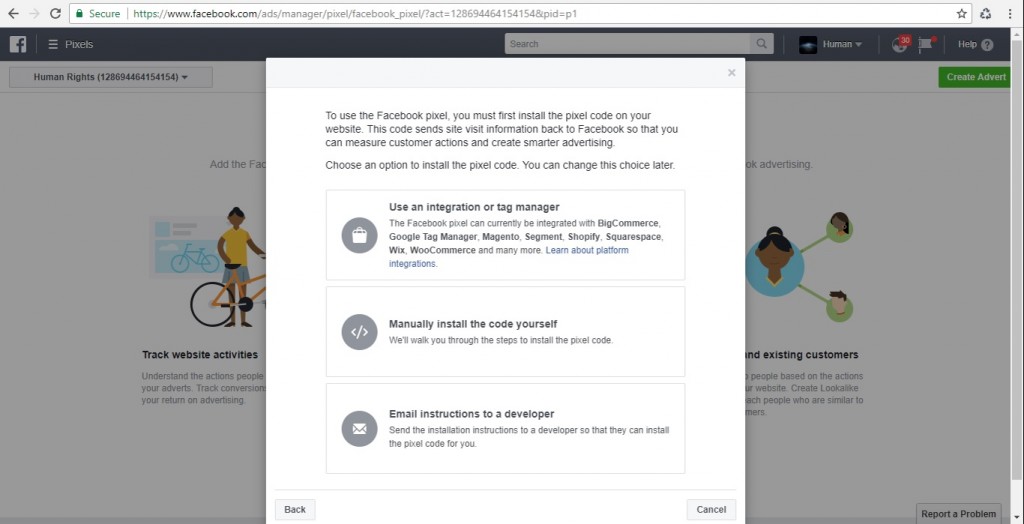 6. From this next page, simply scroll all the way down and click on "Continue", don't worry we have taken care of all the complicated codes for your Shopmatic store.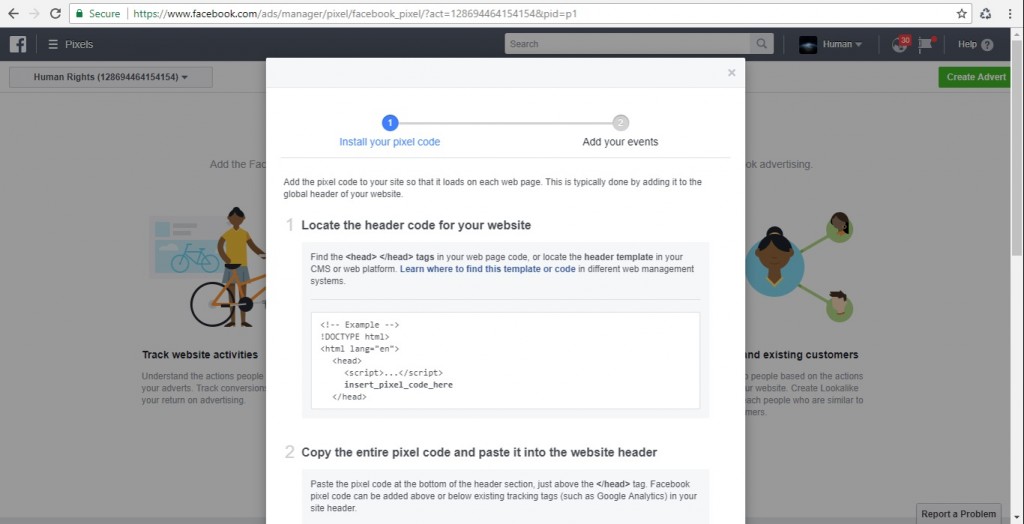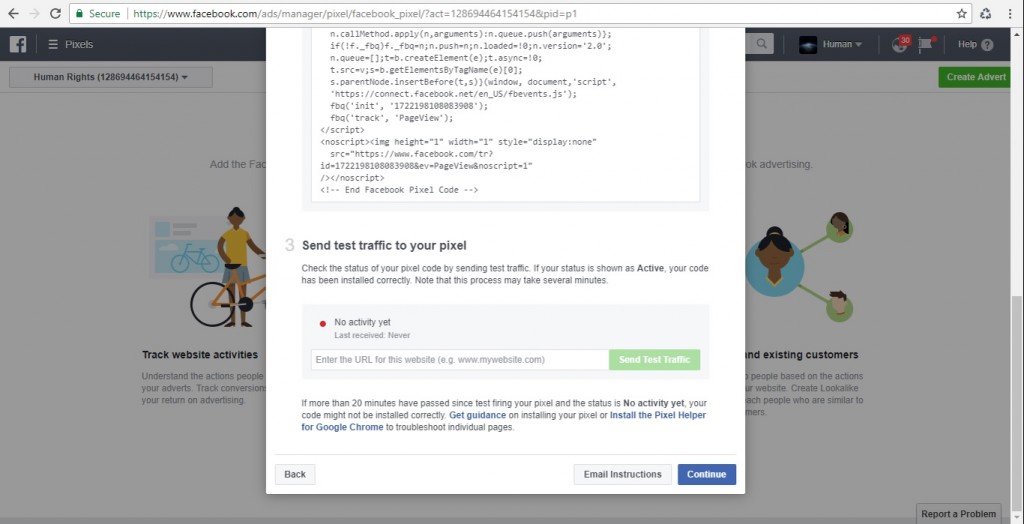 7. We have also taken care of the event tracking for your store, so you can simply scroll down to the bottom and click on "Done"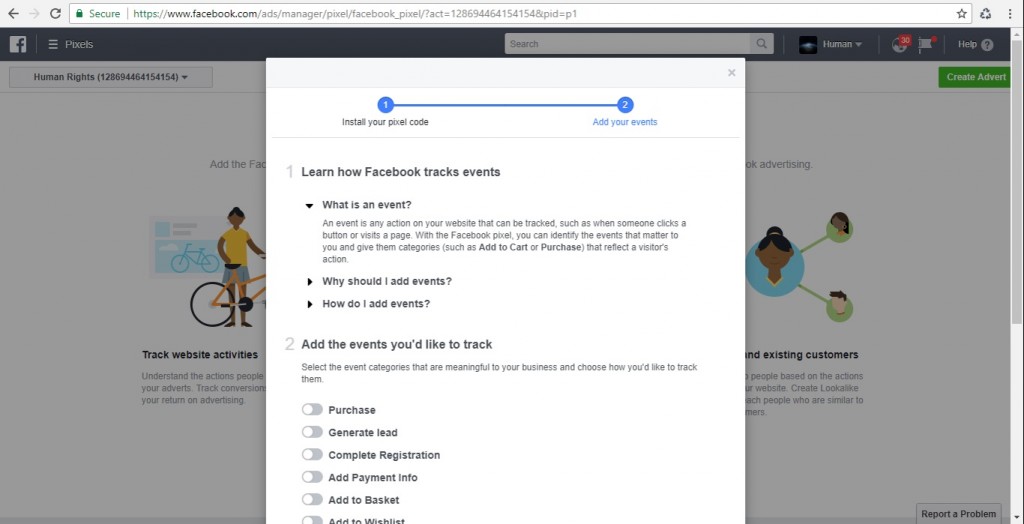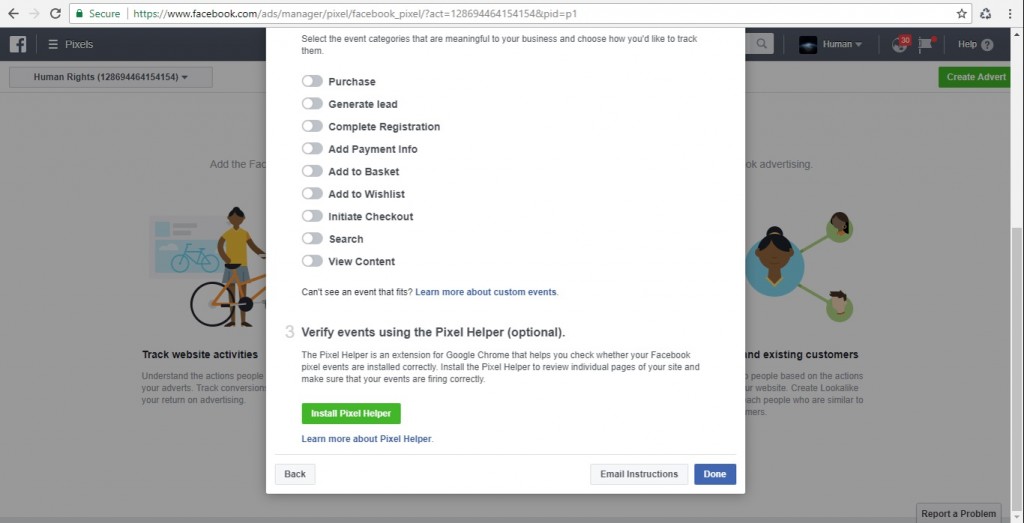 8. That's it, you have now created your Facebook Pixel ID. Find your "Pixel ID" on the top right of the screen (usually a 16 digit code)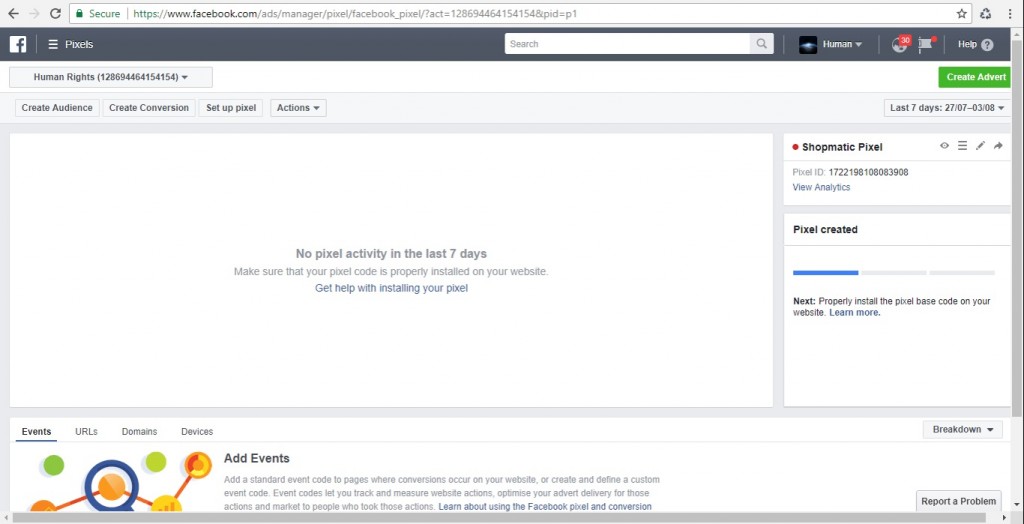 9. Once you have your Pixel ID you need to enter the Pixel ID into your Shopmatic platform at the Facebook Pixel module (Shopmatic Dashboard > Marketing > Tracking)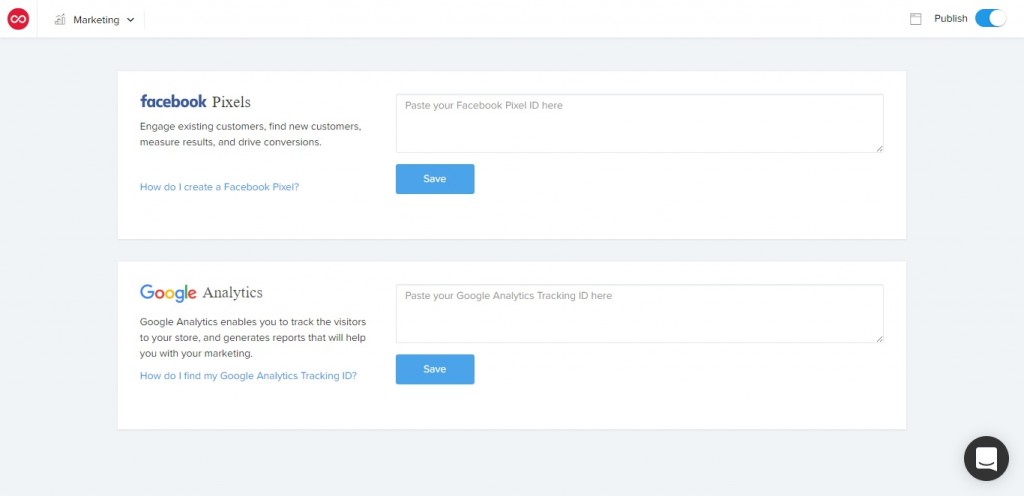 10. It may take up to 20 minutes for your Facebook Pixel to become live. You can check by clicking the drop down on Facebook Adverts and selecting "Pixels".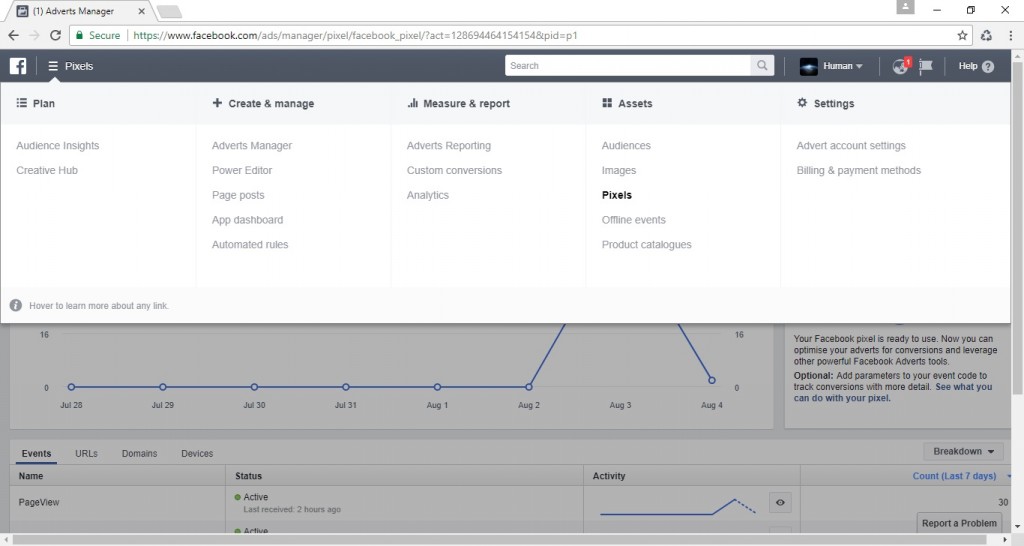 11. Your active Pixels is indicated by the green dot next to your Facebook Pixel name in the top right column.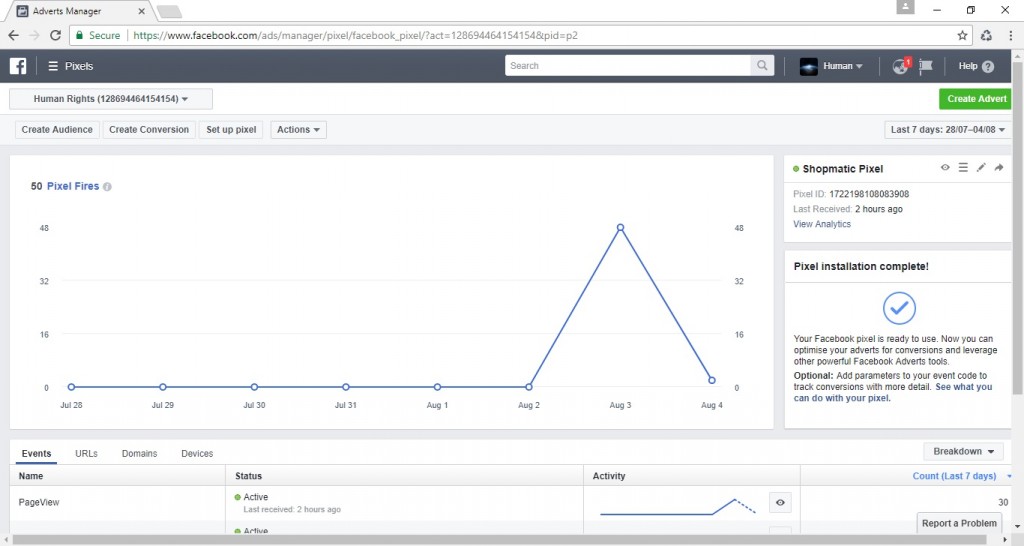 To verify if the Facebook Pixel has been set up correctly please see the link below:
https://developers.facebook.com/docs/facebook-pixel/pixel-helper#verify
Events tracking:
We track six events that occur on your storefront using Facebook Pixel, this will help you to see which of your Facebook campaigns are working best and allow you to get the best return on investment for your marketing efforts. The items being tracked are:
1. View content: Every time a customer comes from Facebook and lands on your store.
2. Add to cart: Every time a customer arrives in the shopping cart page.
3. Initiate check out: Every time a customer adds some of there customer information.
4. Lead: Every time a customer inputs their email address in the shopping cart.
5. Make purchase: Every time a customer completes a purchase and reaches the Thank you step.
6. Complete registration: Every time a user hits the payment step after inputting their details.
Now that you have your Facebook Pixel tracking installed on your Shopmatic webstore, you can better utilise Facebook advertising, just make sure to track your campaigns with your Shopmatic Pixel ID.