OnlineSales.ai FAQ
Note:
When enabling OnlineSales.ai for your online store you are establishing a relationship directly with them and are subject to their terms & conditions. All transaction fees & charges quoted are generated by OnlineSales.ai and are payable directly to them. Any basic queries about OnlineSales.ai on the Shopmatic platform will be resolved by a Shopmatic Ecommerce Consultant.
However, any transactional and operational issues that happen on OnlineSales.ai should be referred to OnlineSales.ai directly.
List of common clarifications related to Online Sales / Digital advertising integration:
1. What is Digital Advertising / Online sales integration?
Onlinesales (https://monetize.onlinesales.ai/) is an adtech company that allows brands to manage their digital marketing campaigns on Google, Facebook, & Instagram.
2. What is the background on Shopmatic & Onlinesales partnership?
Onlinesales product used to exist with Shopmatic as 'Digital Advertising'. Onlinesales had been working on their product to improve performance, and is now available with their new product.
3. Where will be this feature available to Shopmatic merchants?
Onlinesales will be visible on the menu on myshopmatic.com  for all our merchants under webstore as 'Digital advertising'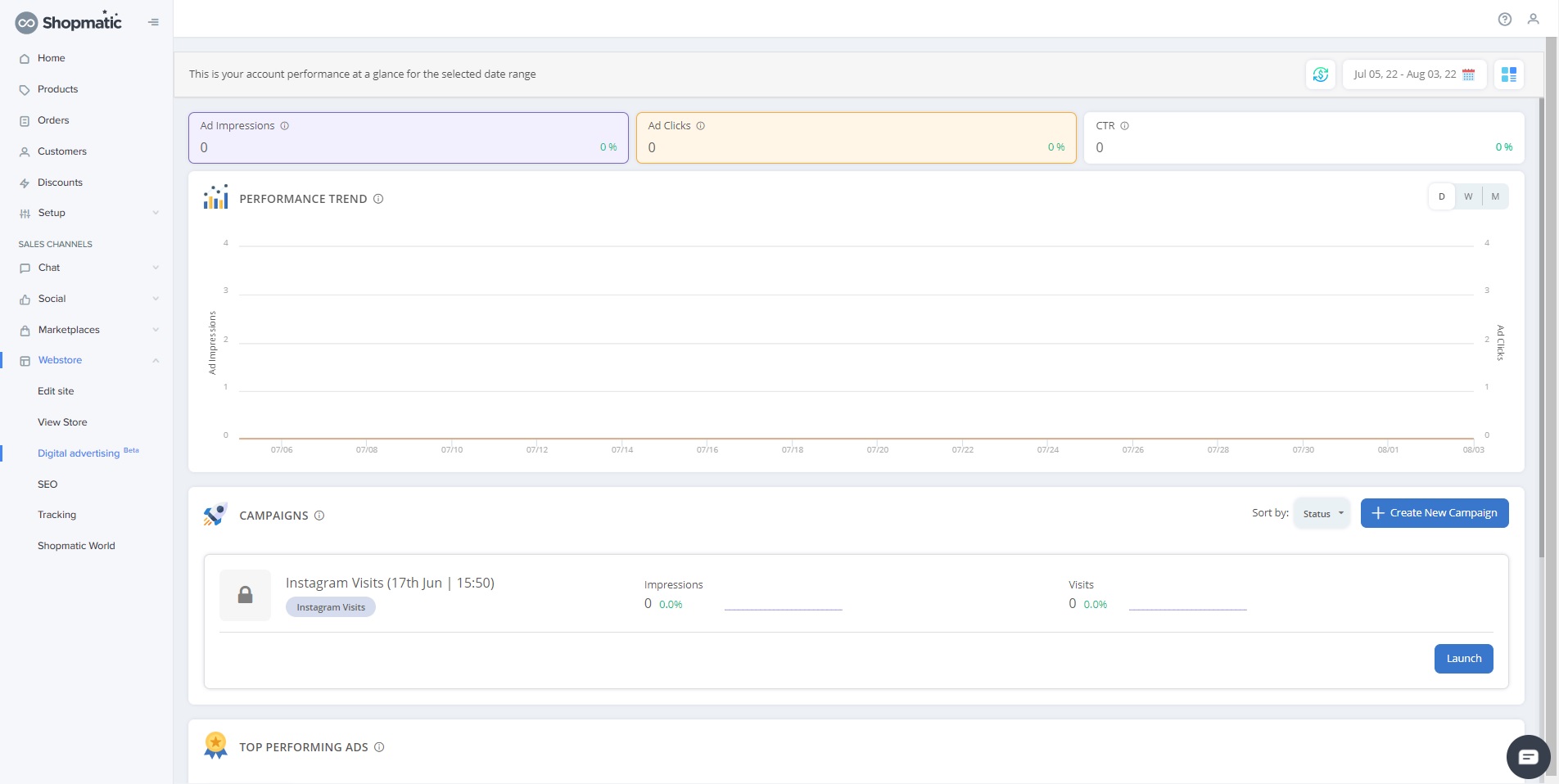 4. What is the process of registering with Onlinesales?
Merchants need to provide basic details to create an account with Onlinesales. https://www.youtube.com/watch?v=P-ZpAY4B40o
5. What type of campaigns can be created?
There are three types of campaigns that are possible to create using the Digital Advertising / Onlinesales feature to increase:
1. Website visits from Facebook Ads

2. Website visits from Google Ads

3. Profile visits from Instagram Ads

Here is the step wise process to create campaigns:
6. What are the other features available?
Campaign monitoring is a crucial feature in the OS offering, an advantage for merchants to use the platform instead of directly running ads on Facebook, Google and/or instagram. Therefore, the content within this query may be altered to as below:

OnlineSales is offering enhanced campaign monitoring functions to the merchants on the dashboard, with the following available:
Performance Trends

: Compare your performance on multiple metrics on a customizable date range for any duration –  yesterday, past 7 days, past 30 days, the current month month, the previous month, or for a customized date range

Top Performing Ads

: See the number of times an ad was viewed, clicked and the amount that has been spent on a particular ad. This section helps in analyzing which of your ads are popular among social media users and plan your upcoming ad campaigns accordingly

Ad Impressions

: The number of times your ad was displayed

Ad Clicks

: The number of clicks on your ads

CTR: Number of clicks your ads got through your campaigns
7. What are the pricing plans available for merchants?
The prices for all packages may change sporadically, based on actual market costs. Prices will also take into account the sector that you are advertising in, as the CPC may keep differing. Packages start at INR 550, more details will be available on your own account.
8. Who collects the payment and manages invoicing of purchased credits?
Onlinesales will collect the payment from users directly, and thus manage the required invoice/ receipts. Shopmatic is not involved in payment collection.
9. Why can't my FB campaign start running?
There are times when Facebook's security's feature will require you to manually give permission to approve the OnlineSales.ai connection to your FB account, simply follow the below steps.
1. Go to Page Settings
2. Select Page Roles
3. Look for Pending Partner Requests
4. Check for "OnlineSales Partner"
5. Click on "Respond to Request"