OnlineSales.ai FAQ
Note:
When enabling OnlineSales.ai for your online store you are establishing a relationship directly with them and are subject to their terms & conditions. All transaction fees & charges quoted are generated by OnlineSales.ai and are payable directly to them. Any basic queries about OnlineSales.ai on the Shopmatic platform will be resolved by a Shopmatic Ecommerce Consultant.
However, any transactional and operational issues that happen on OnlineSales.ai should be referred to OnlineSales.ai directly.
General Summary


What is OnlineSales.ai?
OnlineSales.ai is a technology company that created an Artificial Intelligence (AI) driven platform for marketing & managing product advertisements (ads) across the various digital channels such as Google, Facebook, Bing, Instagram etc. OnlineSales.ai has even been awarded a Google Shopping Innovation Award in 2017.
How does Onlinesales.ai digital ads work on my Shopmatic account?
Currently in the Beta phase.
Onlinesales.ai will use your Shopmatic product data, such as; product title, product description, product images, product price, product category, to automatically create a range of ads that can run across Google, Facebook, Instagram, and other programmatic platforms. The unique OnlineSales.ai AI platform then kicks into measures the success, clicks, orders, impressions that these ads receive and further optimise the campaigns for better and better results.
How are the campaigns optimised by AI?
There are several optimisations that the AI generates and acts on. These are generated mainly on campaign performance, visits, leads, conversion history, the objective of the campaign (drive visits, leads), and daily budget for the campaign. The AI takes all the inputs into account and creates a new campaign, pauses existing non-performing campaigns. Based on the objectives, the AI optimises campaigns by increasing bids on performing keywords and pausing the non-performing ads. The AI also optimises on ad creatives based on their performance.
How long does it take the OnlineSales.ai's AI to optimize the campaign?
Based on your budget, OnlineSales.ai's AI would start optimising your campaigns. If enough order data and campaign history are present then the OnlineSales.ai's AI will start optimising campaigns launched through onlinesales.ai within 1-2 weeks. To measure performance and draw out comparisons of visits & audience it is recommended to give 3-4 weeks of continuous running of advertisement for the AI to pick up the enhancements needed.
What is a reasonable budget?
This depends solely on your business strategy. Some businesses have to rely very strongly on paid ads to drive traffic, while some businesses can simply depend on organic search growth. You will need to set a budget that is in line with your current focus and business goals.
Marketing spend varies greatly depending on each industry. For example, businesses in the retail industry generally spend a lot more, at an average of 20% of their revenue on marketing versus a business in the pharmaceutical industry spends an average of only 3% of their revenue on marketing. 
Another factor to consider could be the country where you are advertising from, for example, in the United States, the total marketing spend is estimated to be around USD 200 billion per year, whereas, it's next-door neighbour Canada, has a total marketing spend of only USD 8.5 billion per year.
While there is no standard marketing recipe each company should constantly experiment and find its own sweet spot on the digital marketing mix and budgets. Ideally, start with a reasonable marketing budget that can be maintained over a 2-3 month period. At the end of this period, the OnlineSales.ai AI will have collected a sufficient amount of data for your business to make a proper analytical call on further optimising your marketing budget.
What kind of advertisement campaigns are there?
Currently, in the Beta phase there are two types of campaigns available:
1. Drive traffic


Prioritise driving high volumes of traffic to your online store via Google and Facebook.
OnlineSales.ai, will optimise your budget to drive as much relevant traffic to your webstore as possible. The higher the volume of relevant traffic, the higher the possibility of a sales conversion.
2. Lead generation


Focus ads on gathering customer information, for your services business, via Facebook's lead generation.
Facebook's lead generation allows you to collect information from potential customers.
The information you can collect includes, but is not limited to, names, email addresses, phone numbers and more. This valuable information can be used for focussed marketing activities and targeted sales conversion to customers who are actively interested in engaging with your business and buy your products or services.
What do the ads look like?
OnlineSales.ai gives you a sneak peek into how your ads would actually look like based on real products from your store feed. These sample ad copies are visible during the onboarding process and during the campaign creation. You can also visit the existing campaigns listed on dashboard to view sample advertisement copies for the campaign, at any time.
Can I customise my ads?
Yes, you can help the OnlineSales.ai AI to personalise your ads by tailoring the value proposition, the call to action, adding promotional information and your brand name. Ideally, you should let the AI take over the day to day management and let it self learn and optimise the advertisement by itself. The more it self learns, the more it can optimise your campaigns.
Can I create my own ads?
It is not recommended so, as the OnlineSales.ai AI system allows for a hands-off approach to digital advertising while you focus on other areas of the business. That said, if you really want to try your hand at writing ad copy, then you can add an "Ad Template" and create a custom creative. You can upload an image, edit the header, URL, and description. This ad will be created alongside all your other OnlineSales.ai AI generated ads.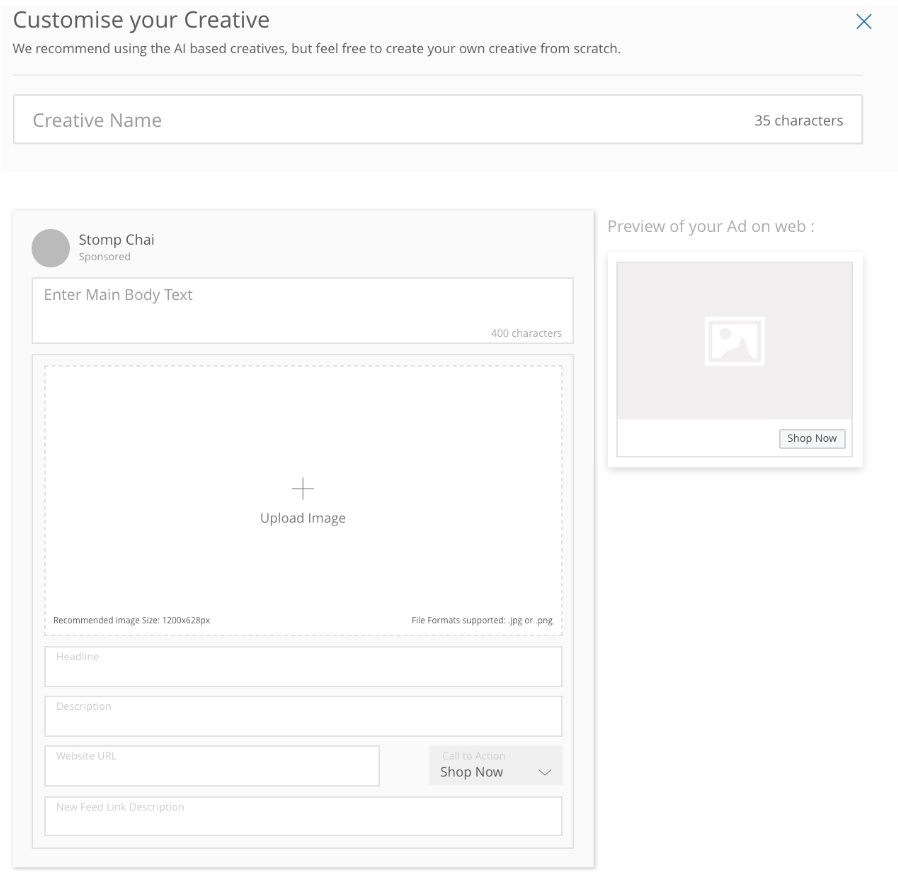 Can I preview my ads?
Yes, there is a preview for the 4 different types of ads:
i. Search ads, ii. Product ads, iii. Carousel ads, and iv. Display ads.
Example 1: Search ads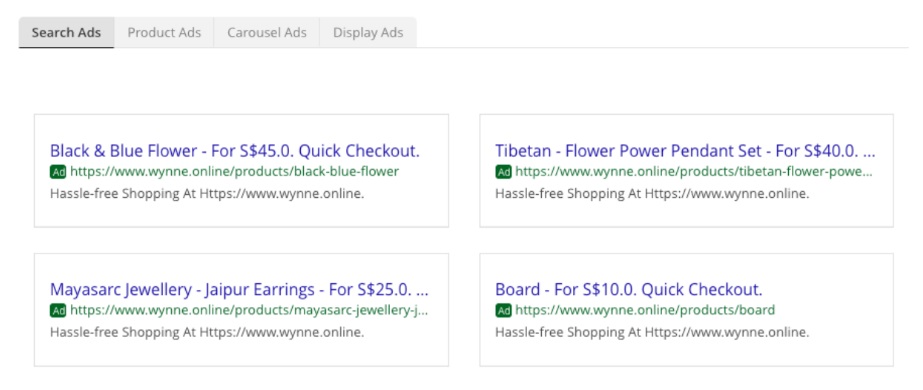 Example 2: Display ads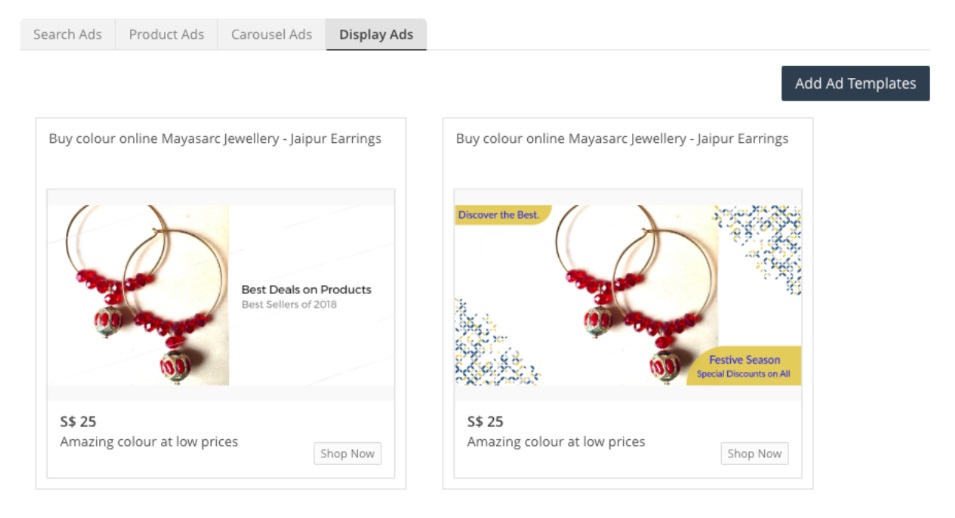 How do I ensure my ads perform well?
The ads are mainly generated from your product information, so rich product descriptions, clear titles, reasonable pricing, and high-quality images will all help to convert a sale!
You could also run store-wide promotions that will surface on the ads and entice more customers. You can edit ad promotions in the settings.
Why are some irrelevant keywords triggers for my products on Google Shopping?
Keywords or terms for which Google Shopping ads are shown/triggered is controlled by Google (in the case of Shopping). Once the campaigns are launched, the OnlineSales.ai AI will optimise and analyse the performance of these keywords over time. Based on past performance it identifies negative keywords gradually and eventually, ads would not get triggered for the negative keywords or terms. Do note, the OnlineSales.ai AI takes a little time to fully optimise.
If the product is out of stock, would the campaign still run or stop?
The campaign will not stop, however, the Ads for the product which is out of stock will be paused. The OnlineSales.ai AI will use your product information from Shopmatic to identify out of stock products. The sync will happen on a daily basis. As soon as the service gets updated that a product is out of stock, the OnlineSales.ai AI will automatically pause those ads.
How do I turn off my campaign?
You can pause a campaign at any time. You just need to head over to the dashboard and hit the Play icon and it will be paused, simply click on the Paused icon to resume your campaign.

How do I make payment / How am I charged?
Payment is required upfront for OnlineSales.ai to start running on the Shopmatic platform.
The charge is the Budget per day times 15 days. Example, $20 budget per day times 15 days = $300 payment is required upfront.
Please note: There is a minimum spend to activate the advertisements, and it is based on the country which your account has been signed up from.
Singapore customers are required to pay a minimum amount of SGD 150 (SGD10 per day for 15 days)
India customers are required to pay a minimum amount of INR 7500 (INR 500 per day for 15 days)
How often am I charged?
As per OnlineSales.AI policy, if the "Auto Renewal" option is enabled, then on the 12th day, they will renew and top up the account based on the budget per day times 15 days.
Do I receive an invoice?
Yes, you will receive the invoice at the email address used to signup on the Shopmatic platform. Kindly note that the invoice will be billed from the United States, however, it will be billed to you in your local currency.
This is a sample of what the invoice from OnlineSales.ai looks like.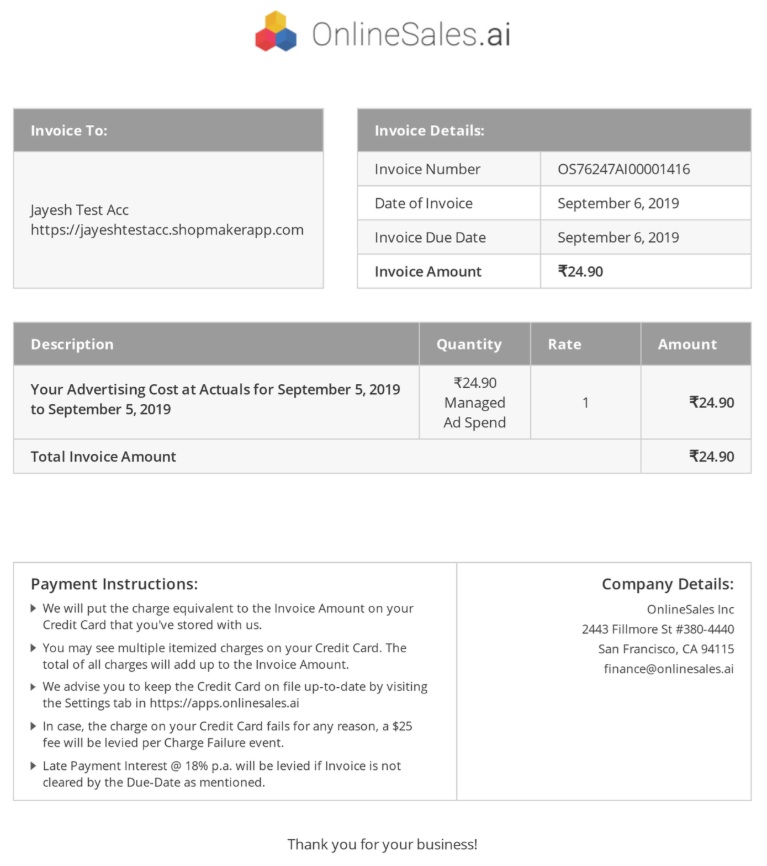 Where else can I find the invoice?
From your Shopmatic OnlineSales.ai dashboard, click on the top right cog icon to enter the Settings page, click on Billing Details, and if you have already made your first payment to OnlineSales.ai, you will be able to see your past invoices by clicking on the "View Invoices" link.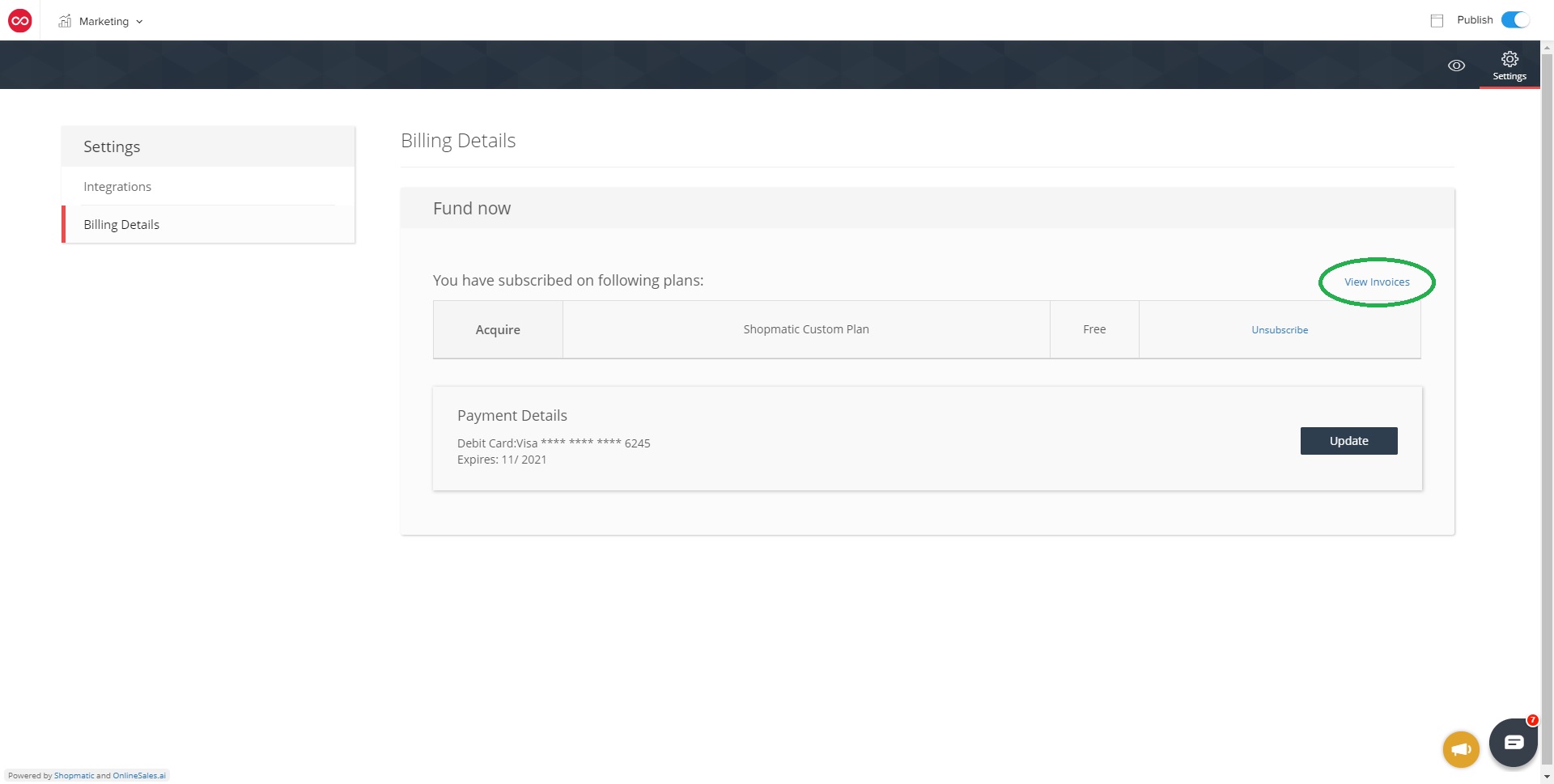 How often does the OnlineSales.ai dashboard update?
The OnlineSales.ai does system-level sync of data from all ad accounts and aggregates it on a daily basis. This ensures that you have your campaign performance data available on your dashboard till yesterday (T-1 day).
What does the dashboard look like?

The screenshot below is a sample of how the OnlineSales.ai dashboard would look like on the Shopmatic platform.
1. Lead view: Clicking on this will show customers the Leads that have collected. (Please refer to the next section "How will Lead data be presented to me?"
2. Visit: Clicking on this will show you the number of visits that you have received over the last 14 days.
3. Dashboard / Settings: This will bring you to the Settings page where you can either switch your Facebook account or UnSubscribe from OnlineSales.ai
4. Funnel Metrics: Once you have sufficient traffic on your site, the Funnel Metrics will show
5. Performance Trend: Shows you the performance of your Spend vs Orders, and can be switched between a Daily/Weekly/Monthly views.
6. Date range: This is where you can toggle the data range of your data
7. & 8. Pause / Play icons: If you are running a campaign, click on this button to either Pause or Resume your campaign.
9. Edit Campaign Button: Click here to modify the Daily Budget, change the Card, or optimise your business profile.
10. Preview Top Ads: Preview your Top performing Ads.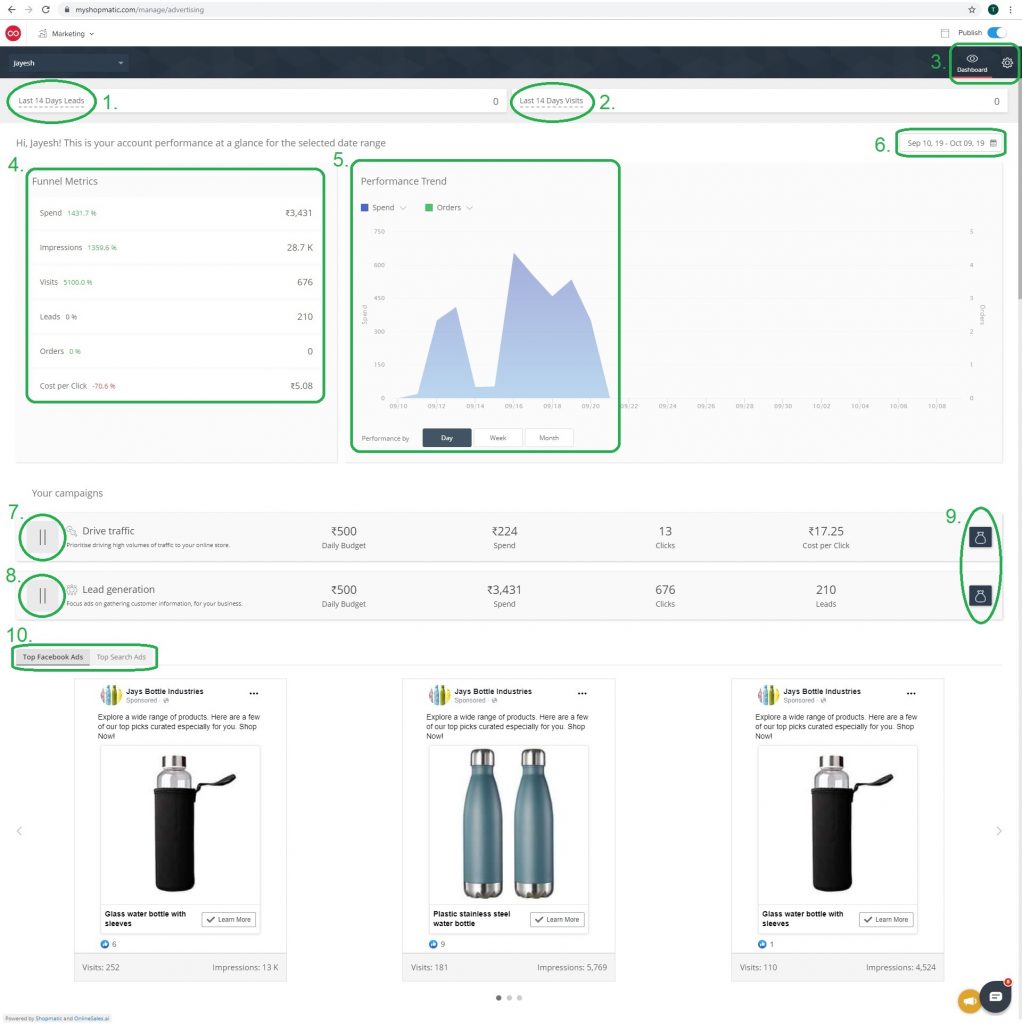 How will Lead data be presented to me?
The captured Lead data will be presented in a table form on the OnlineSales.ai dashboard, there is also an option to download it as a CSV file.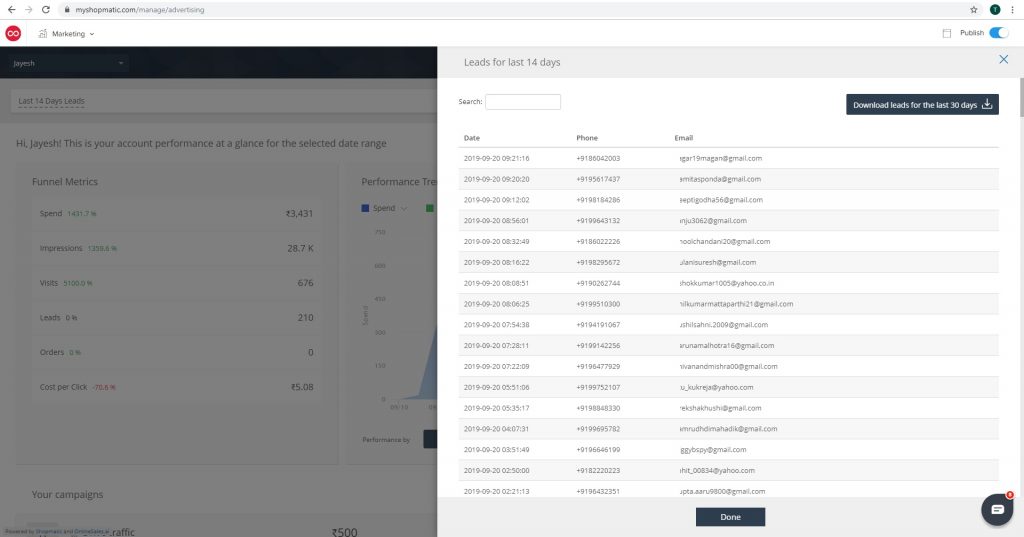 Whose accounts are the ads being run on?
The ads are being run from OnlineSales.ai's master account for Google, Facebook, and other programmatic platforms. The ads will not be run on your personal business accounts with Facebook and Google. The ad data will be synced to your dashboard so that you can monitor performance.
Can I continue to run my own ads?
Yes, there is nothing stopping you from running your own digital advertising campaigns through either Google or Facebook. On your store, the Facebook Pixel and Google tracking ID will not clash nor impact your ads.
Can I get the ad data back?
The campaigns and ad groups are managed from OnlineSales.ai accounts, OnlineSales.ai will share the performance information to you via the dashboard from your Shopmatic account.
Am I able to log in directly to Online.Sales.ai?
No, you can only access your OnlineSales.ai account through the Shopmatic platform: https://myshopmatic.com/manage/advertising
I am already an OnlineSales.ai customer, can I still use OnlineSales.ai on Shopmatic?
Yes, you can, however, both OnlineSales.ai accounts will remain separate and cannot be linked together.
What do I need to start using OnlineSales.ai from the Shopmatic platform?
At least one product is listed in your Shopmatic webstore. Your products do not necessarily need to have a price but they need to be "live" to drive traffic to.
A Facebook account with at least one Facebook Page.
And either a valid debit or credit card to set up payments for the ad spends.
Why do I need to link my Facebook account?
OnlineSales.ai will run ads on your behalf from its master account. However, to improve the branding of your Facebooks ads, they will use your page name in the ad copy so that the likelihood of conversion will be improved.
How do I close/delete my OnlineSales.ai account?
You will have to delete your Shopmatic account which can be done under the Billing Account page.
How do I get in touch directly with OnlineSales.ai?
For billing enquiries, you can reach OnlineSales.ai at: finance@onlinesales.ai
For other enquiries you can reach them at: hi@onlinesales.ai 
When contacting OnlineSales.ai, please ensure that you use the same email address that was used when signing up for your Shopmatic account.
What is the announcements widget for?
The announcement widget, found in the bottom right of the screen, is to surface new features and services from OnlineSales.ai that you might be interested in.
Why do I need to link my Facebook account again?
If you have previously linked your Facebook account to the Shopmatic platform, you would still need to link your Facebook account to the OnlineSales.ai feature.
How can I link my Facebook Page?
You can easily link your existing Facebook Page. You can click on the "Link" button at the time of onboarding and then login with your Facebook account which has the page which you want to link. Allow OnlineSales.ai the permissions to link to your Facebook Page and you will then see your Facebook Pages on the OnlineSales.ai platform. 
From there, choose the Facebook Page which should be used to link your ads to.
---
Step by step guide to enabling OnlineSales.ai on Shopmatic and setting up your first campaign
1. Please ensure that all third-party cookies on the browser are enabled/allowed.
2. Next, log in to your Shopmatic account by clicking on this link: https://myshopmatic.com/login
(If you are already logged in to your Shopmatic account, skip this step and proceed to the next step)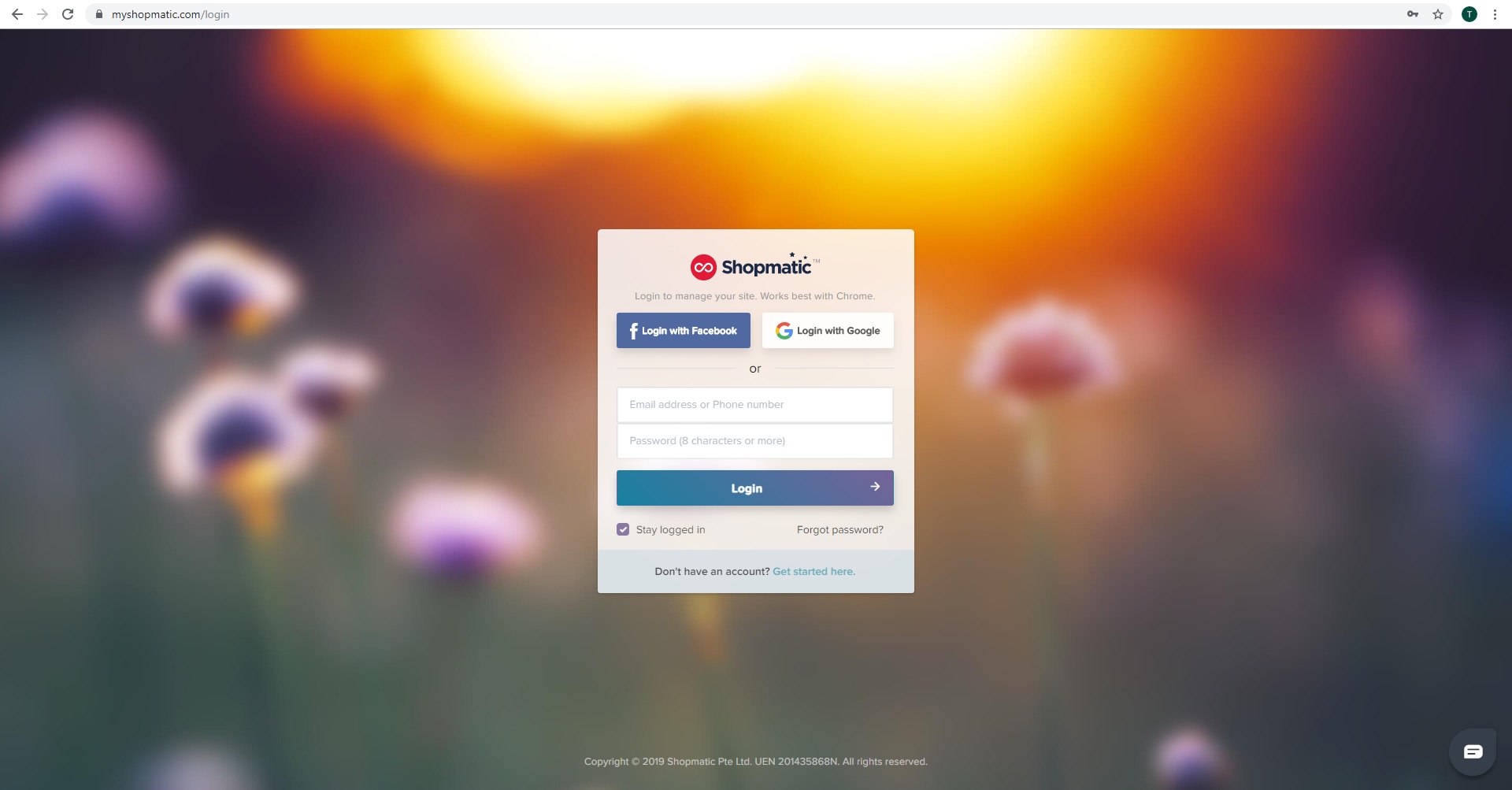 3. From your Shopmatic dashboard, click on the top left 'Dashboard' button to access the full drop-down menu, from there click on 'Marketing' and then on 'Digital advertising – Beta'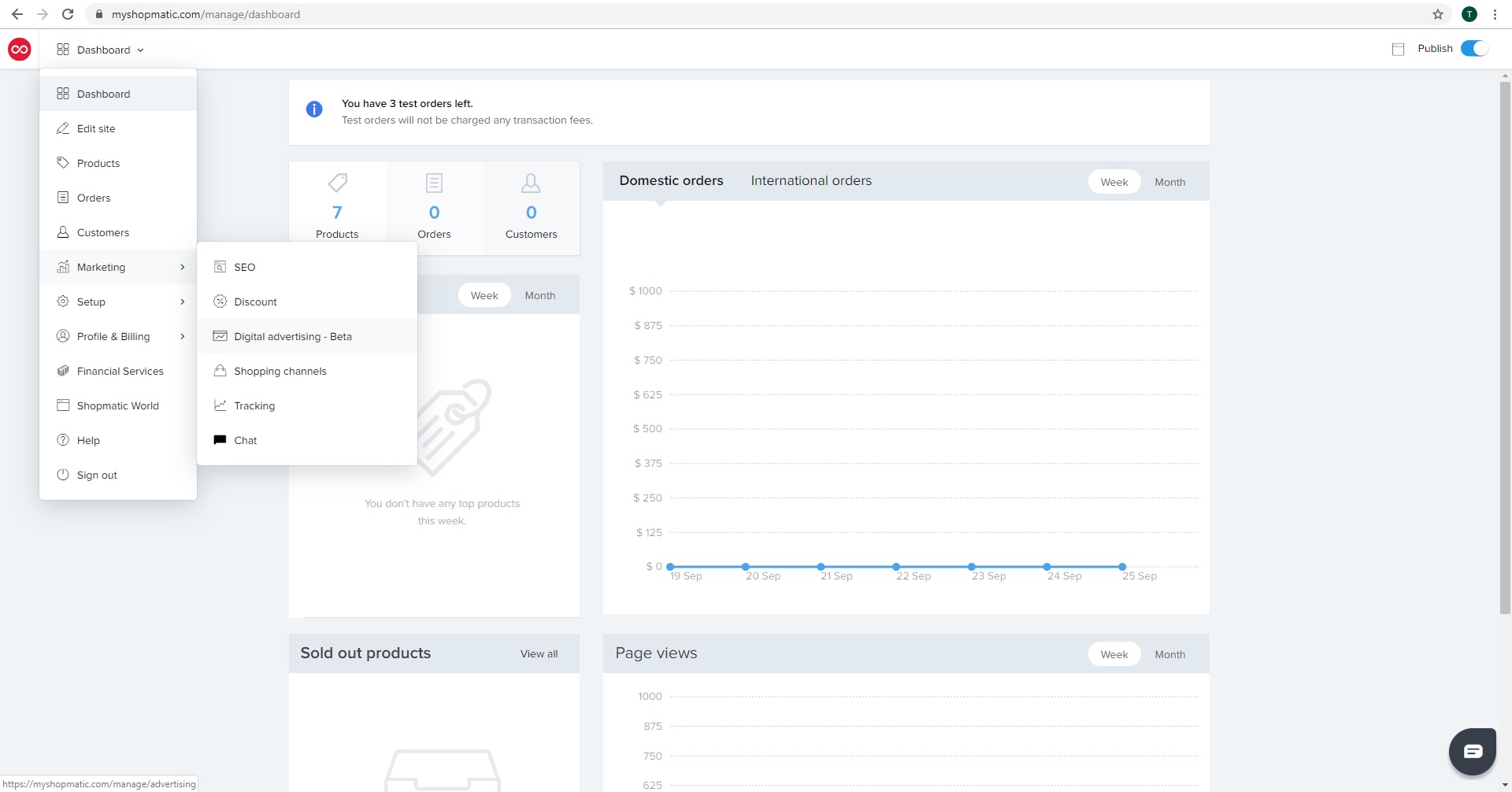 4. The OnlineSales.ai will start loading on your Shopmatic platform, this loading page might be surfaced multiple times throughout the process depending on your internet connection speed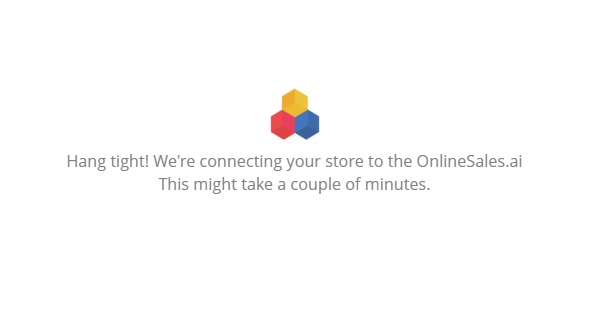 5. Once the OnlineSales.ai platform has loaded on the Shopmatic platform, this summary page of OnlineSales.ai will be displayed, when ready, click on 'Try it now'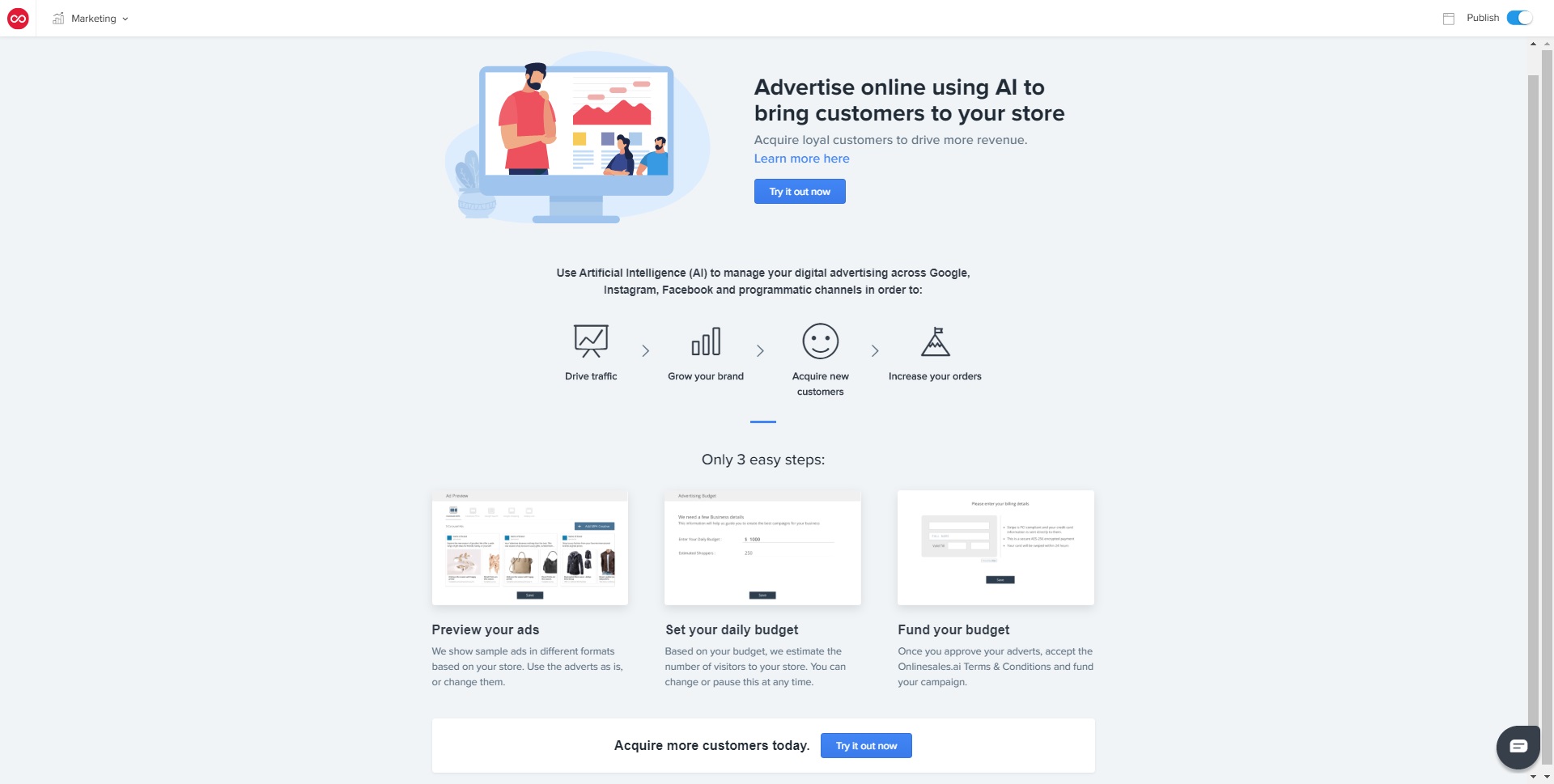 6. This next step is where you will need to link your Facebook page to OnlineSales.ai, click on 'Next' to proceed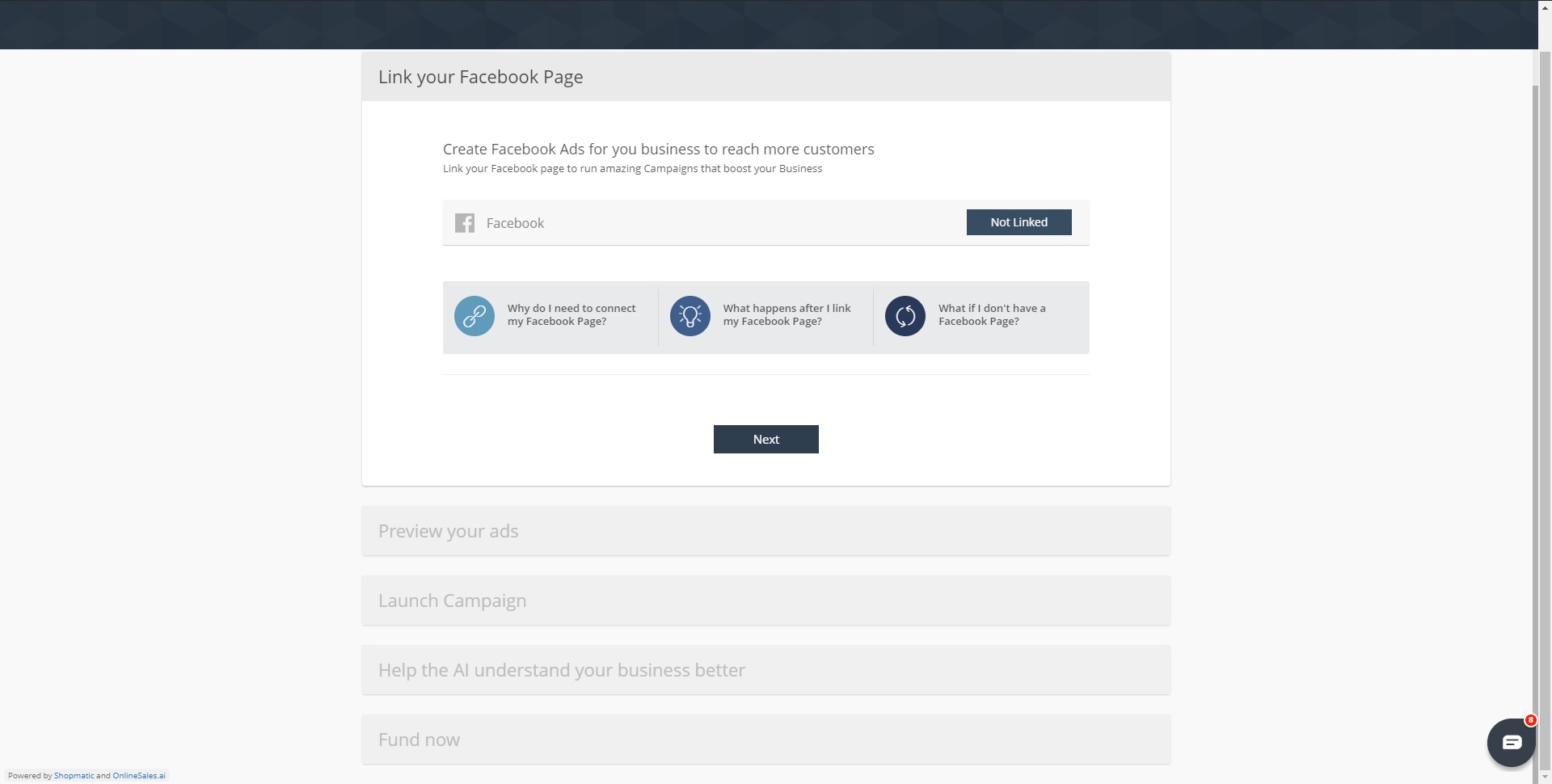 7. OnlineSales.ai shares a quick summary on why your Facebook account needs to be linked, click on 'Link' to proceed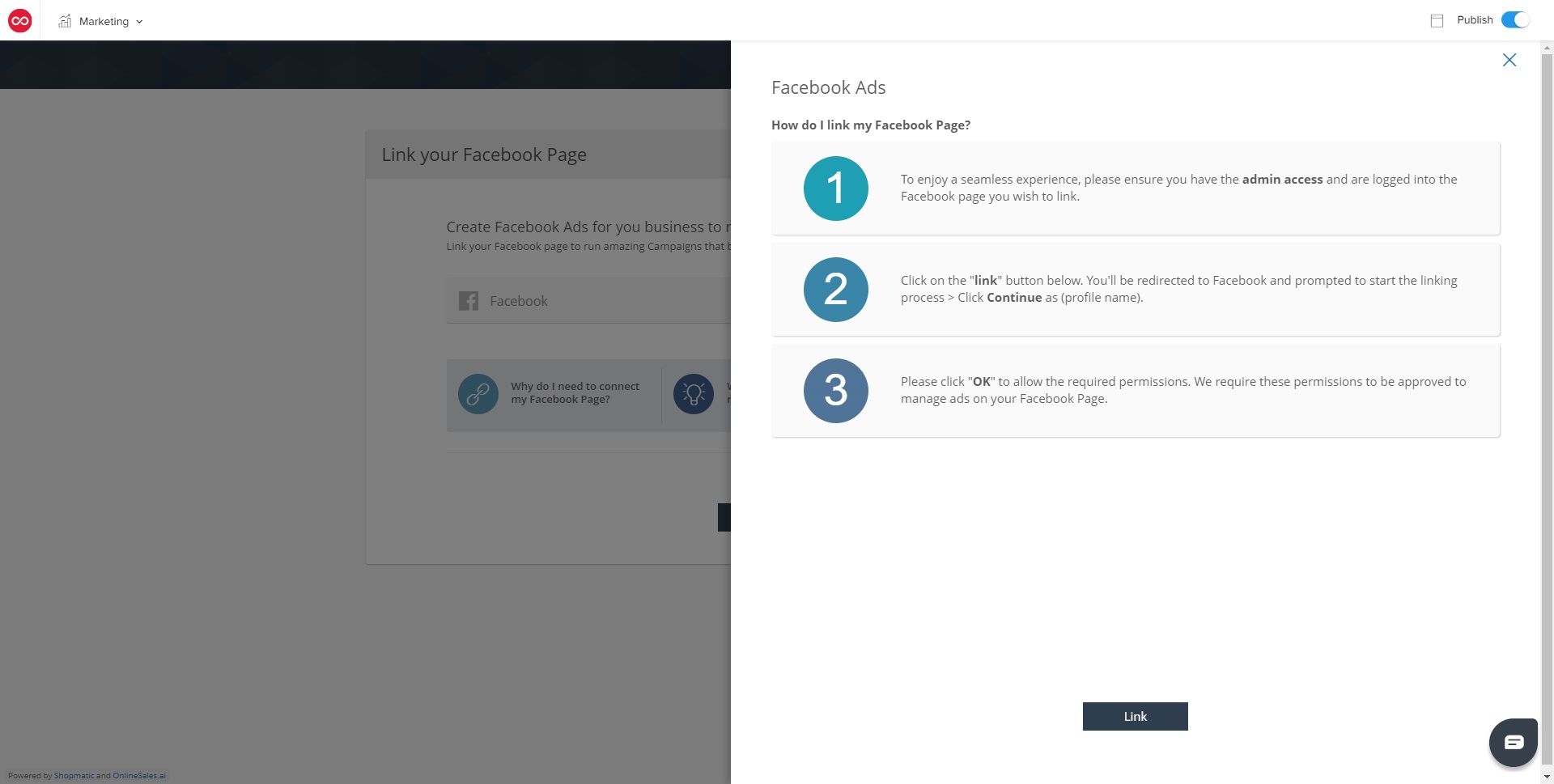 8. A Facebook pop up window will appear, simply enter your Facebook credentials and click on 'Log in'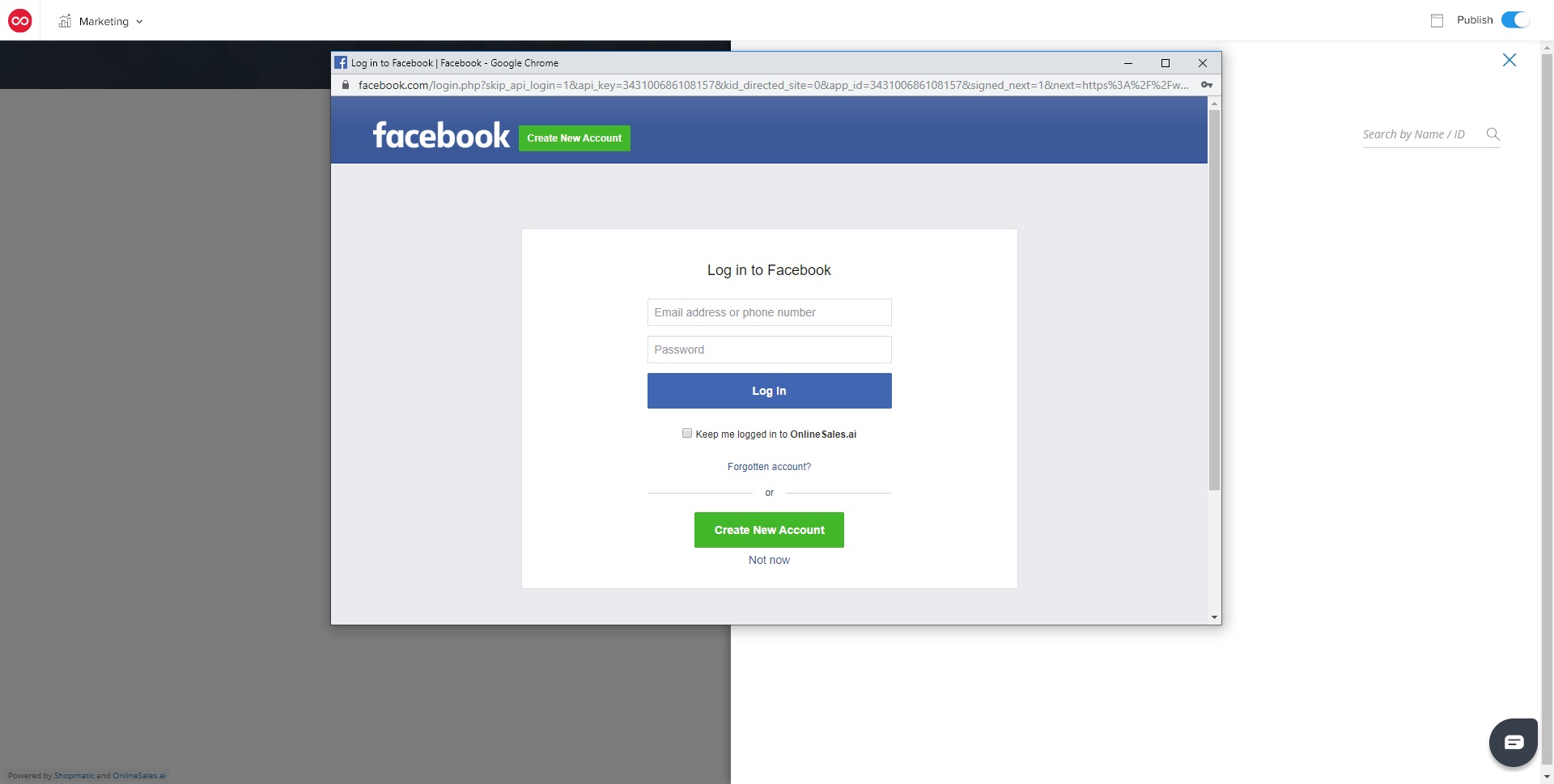 9. Facebook will then ask if you allow OnlineSales.ai to be linked to your Facebook account, click on 'Continue as yourself'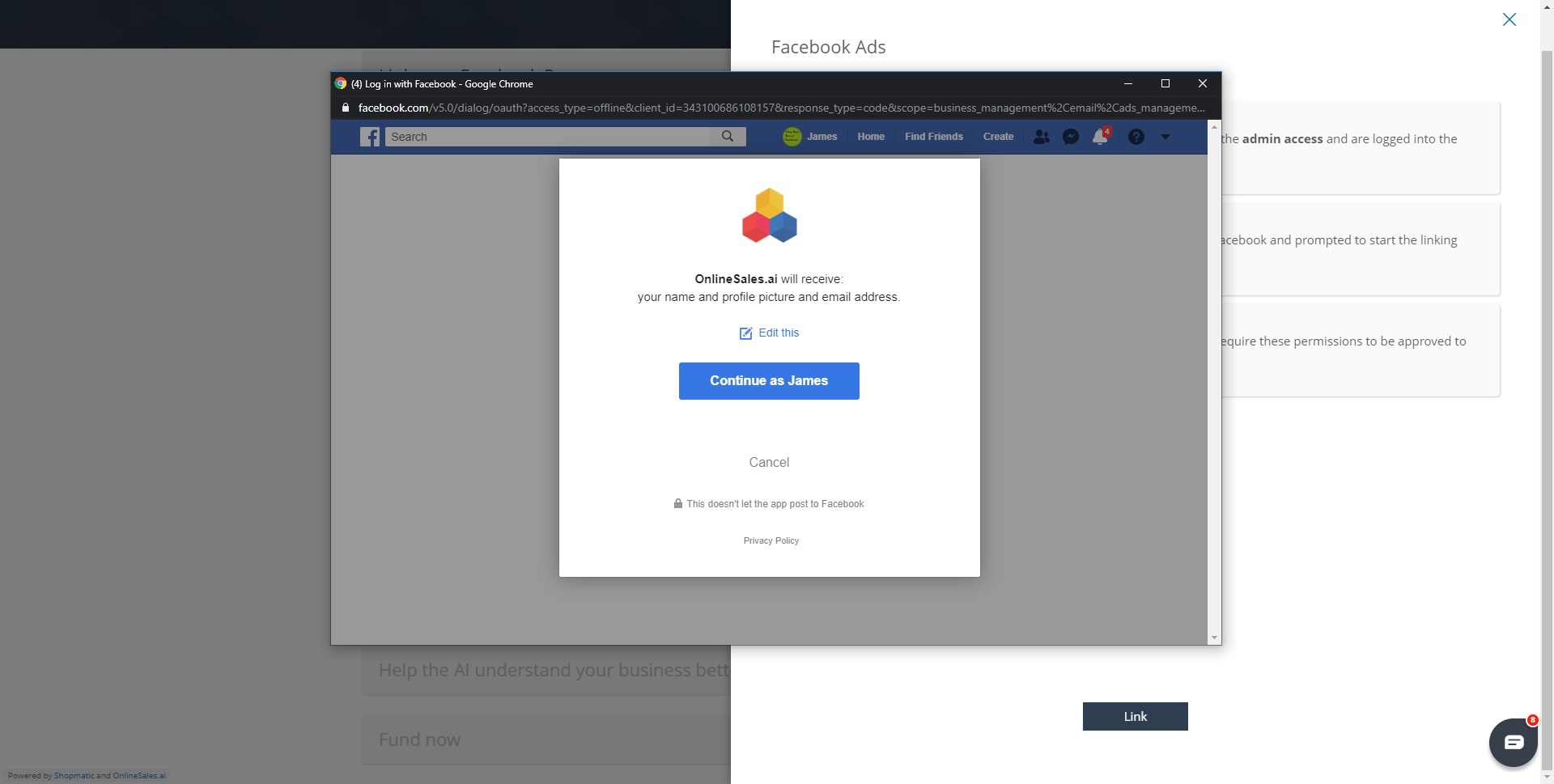 10. Facebook will ask you to choose what you allow OnlineSales.ai access to. OnlineSales.ai will require full access to operate smoothly. Not allowing full access will cause problems while connecting to OnlineSales.ai., this will delay the process, and might require direct interaction with OnlineSales.ai to troubleshoot and fix the issues.
Ideally, simply click on 'OK' to proceed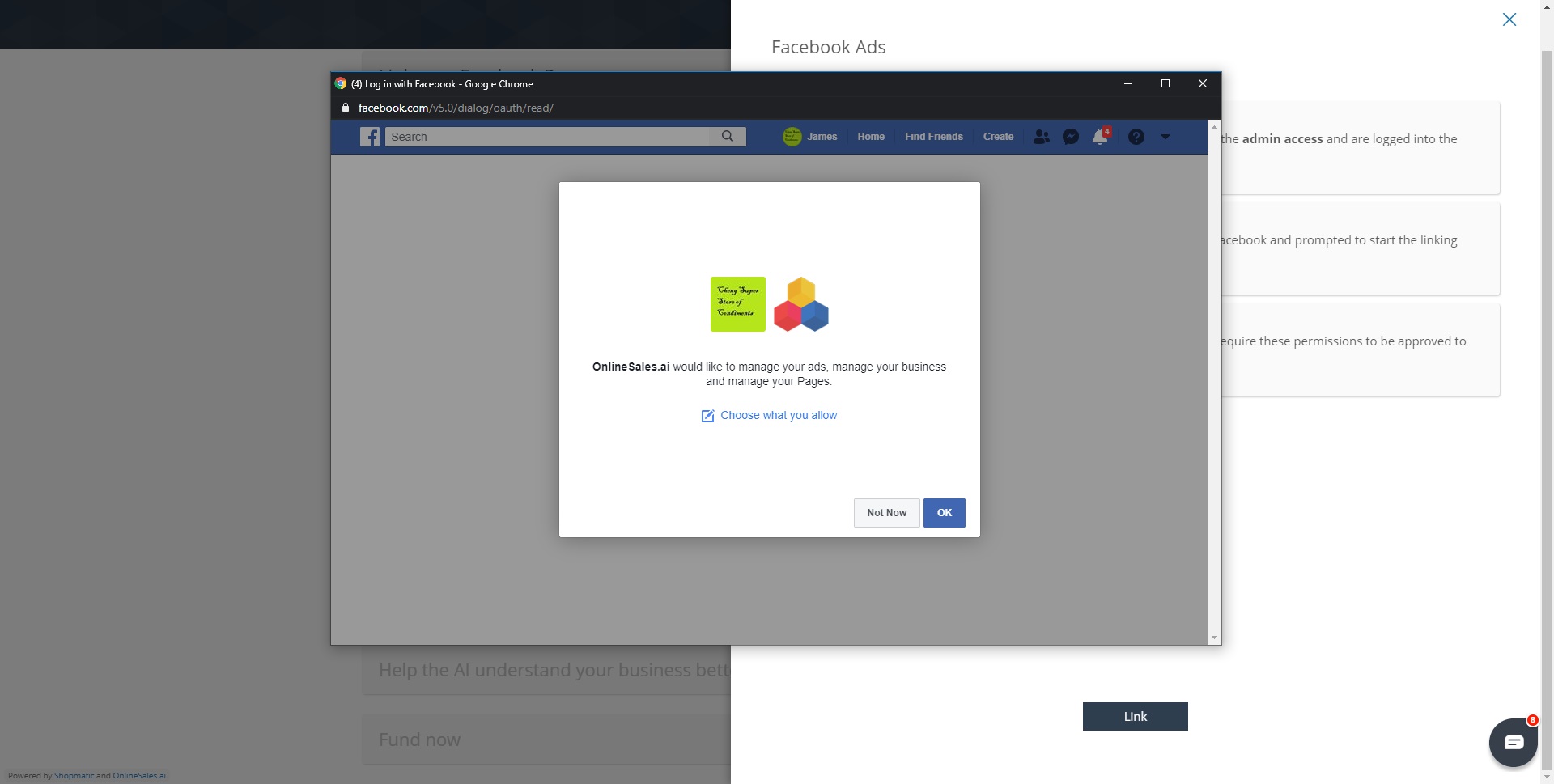 11. Once you have logged in to Facebook, your Facebook page(s) will be populated on the OnlineSales.ai platform, select the desired Facebook page and then click on 'Link'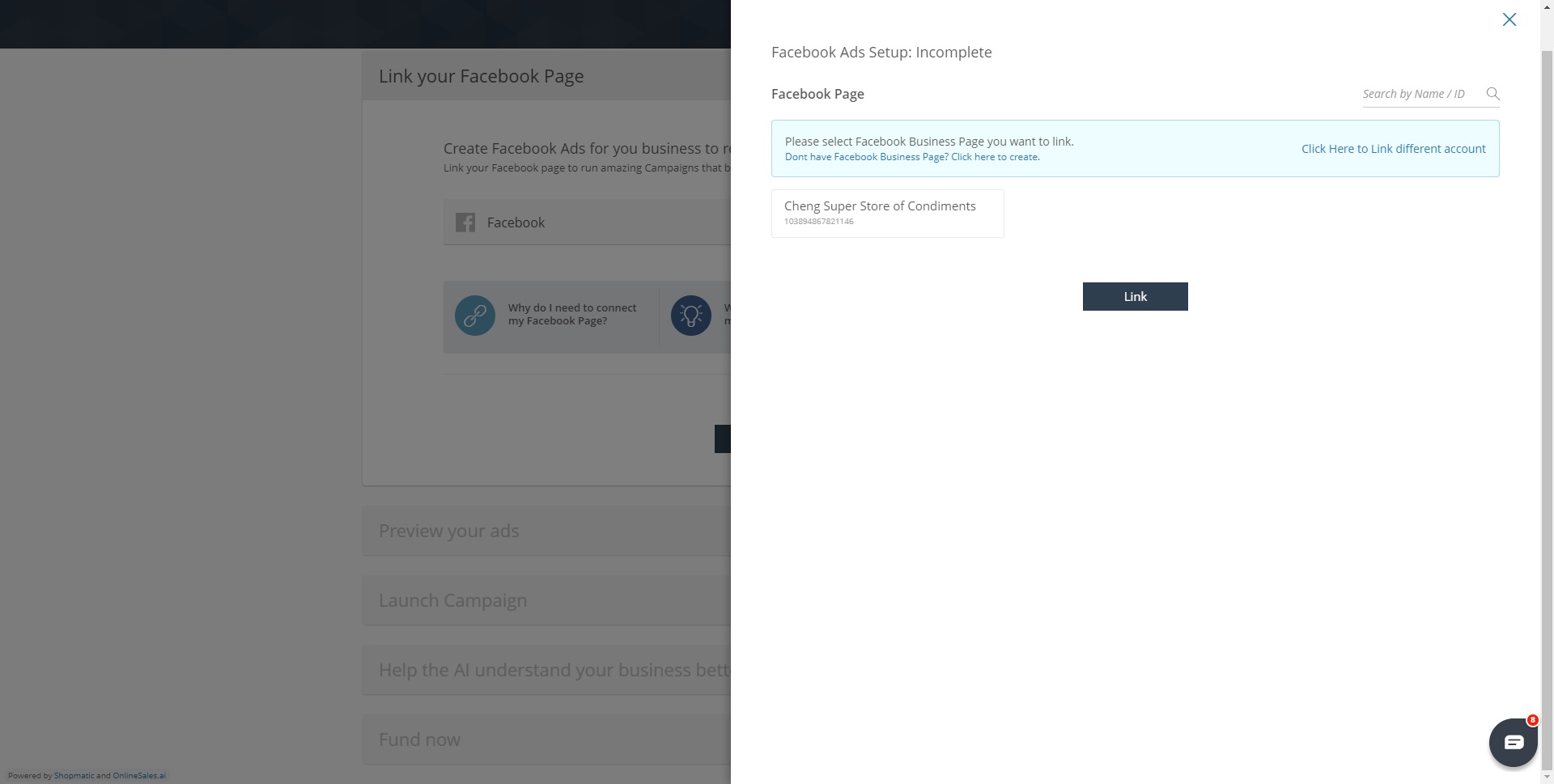 12. Awesome, you are all set with Facebook ads. Please click on 'Done' to proceed
13. To proceed further, simply click on 'Next'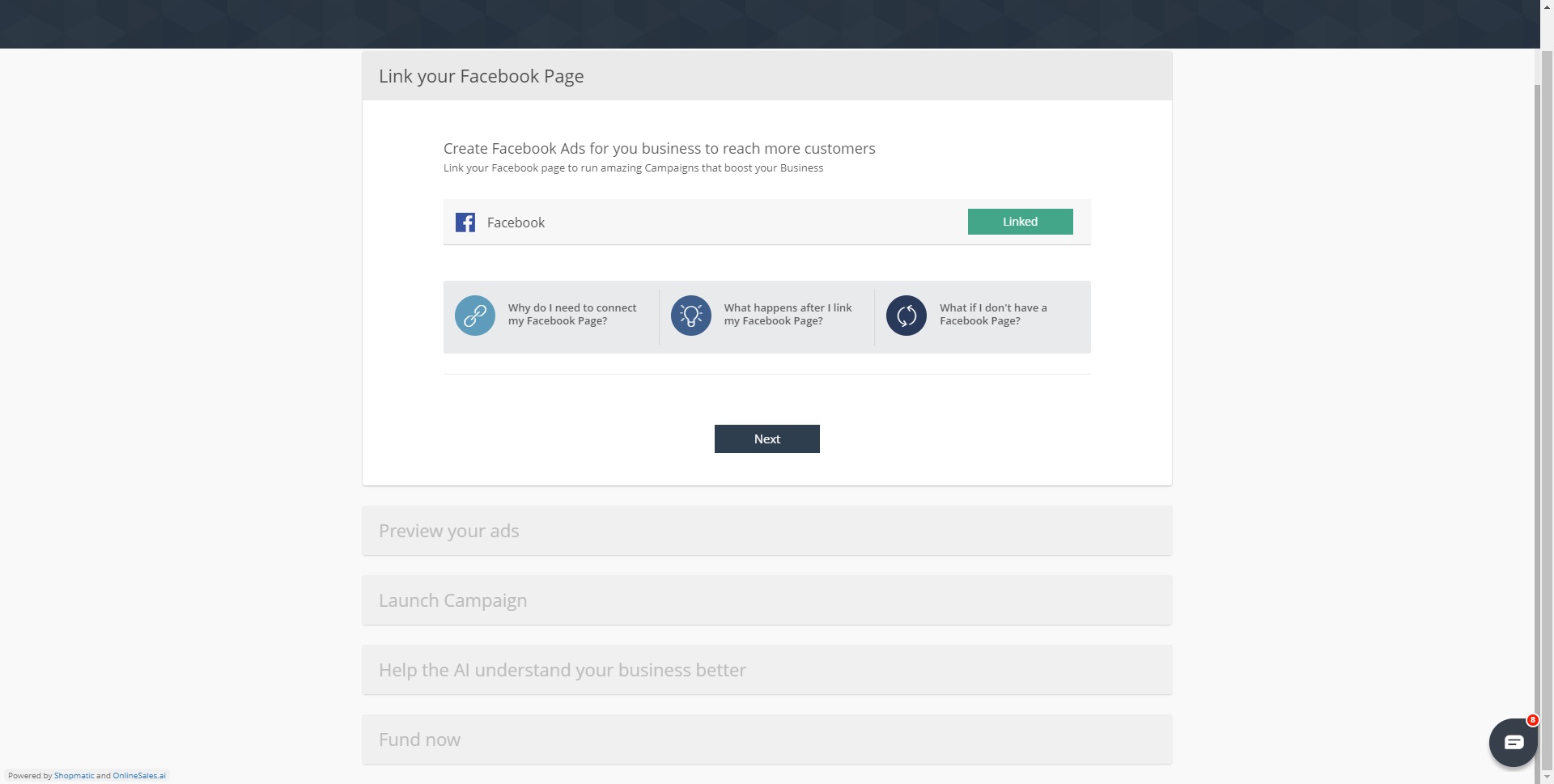 14. A preview of your advertisements will be shared with you. Just click on 'Next' to proceed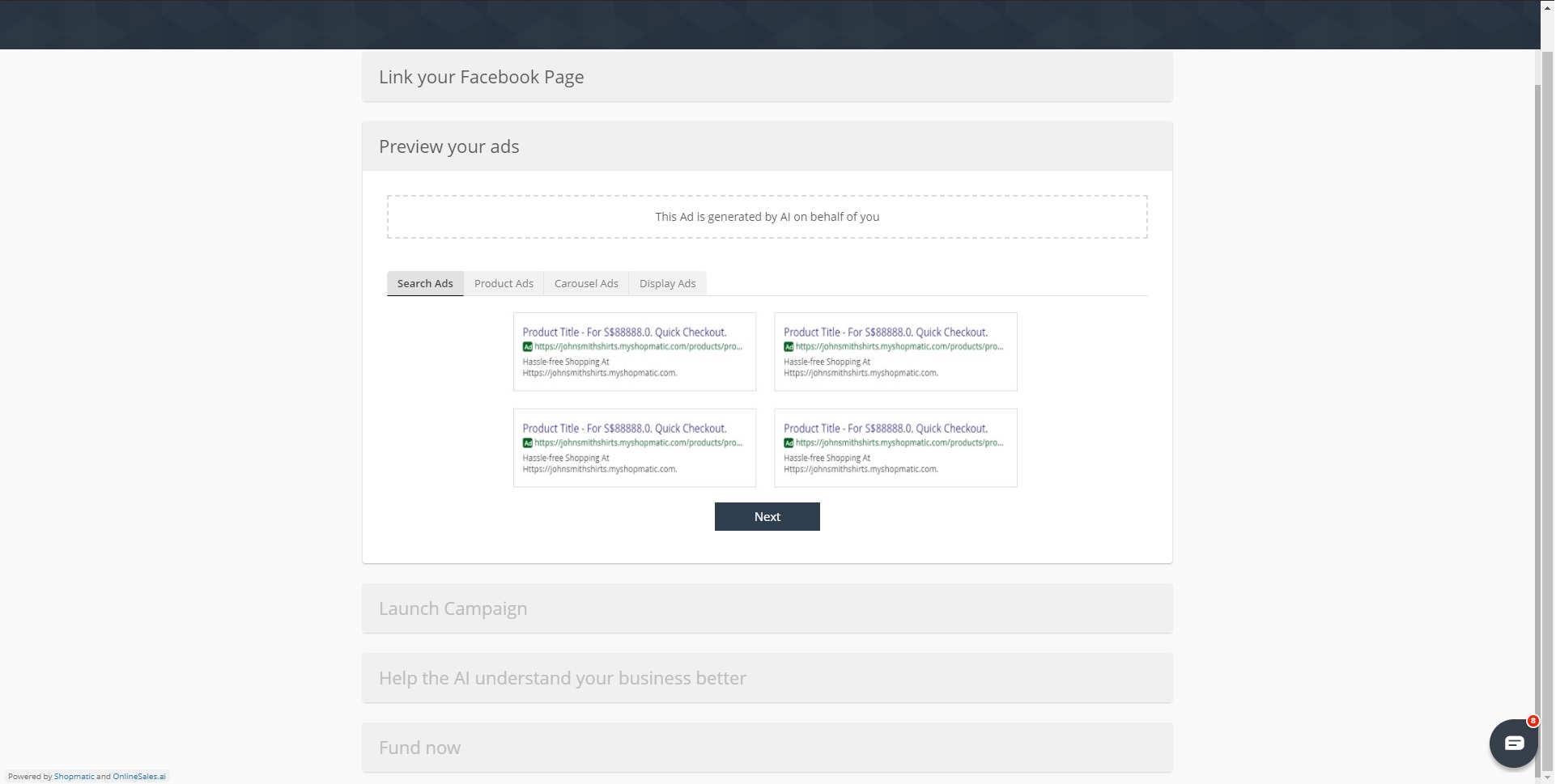 15. Selecting your campaign, drive traffic to your website, or collect Facebook Leads. Click 'Launch' on either option to proceed.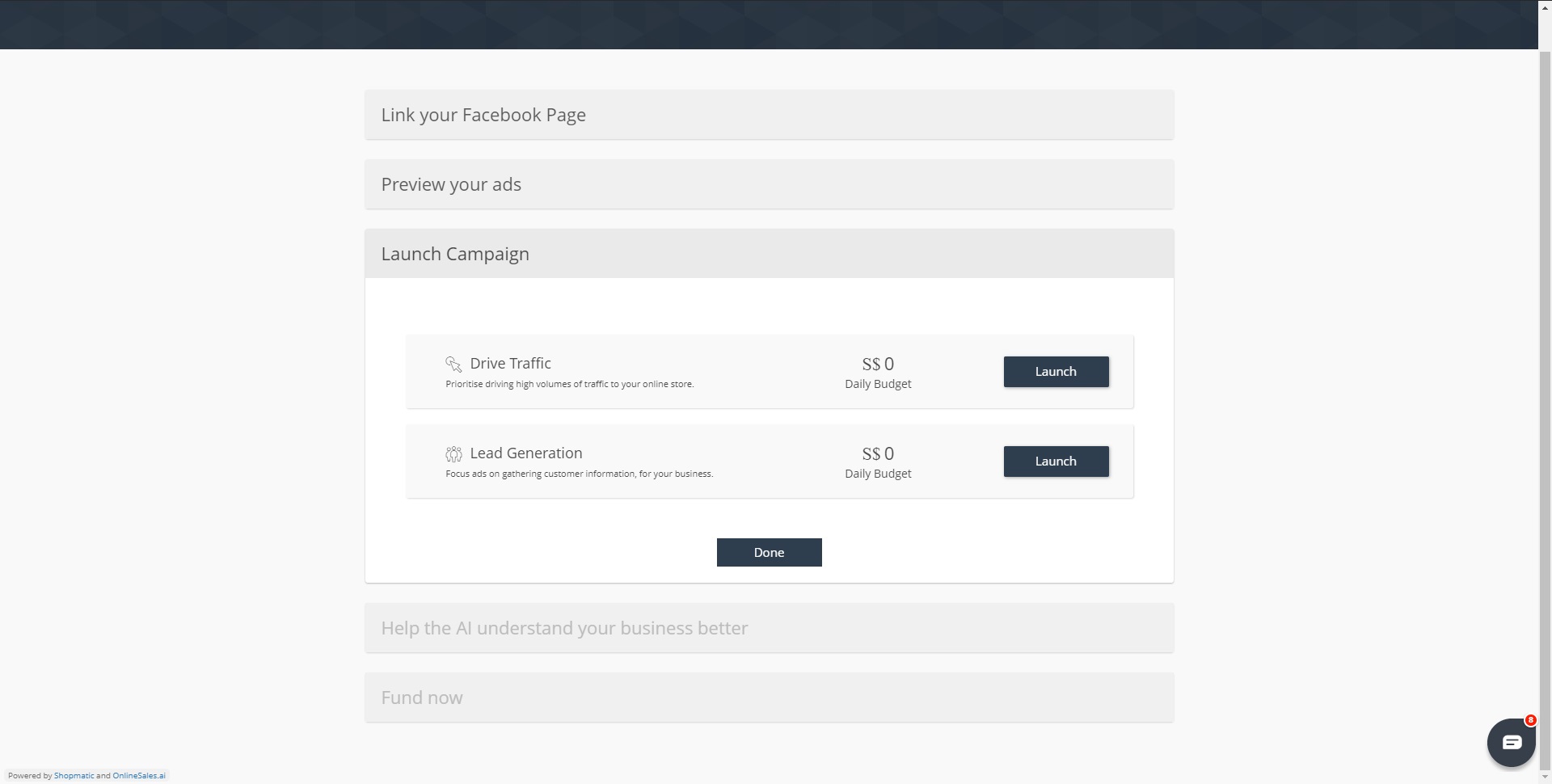 16. Next, set the daily budget and click on 'Save'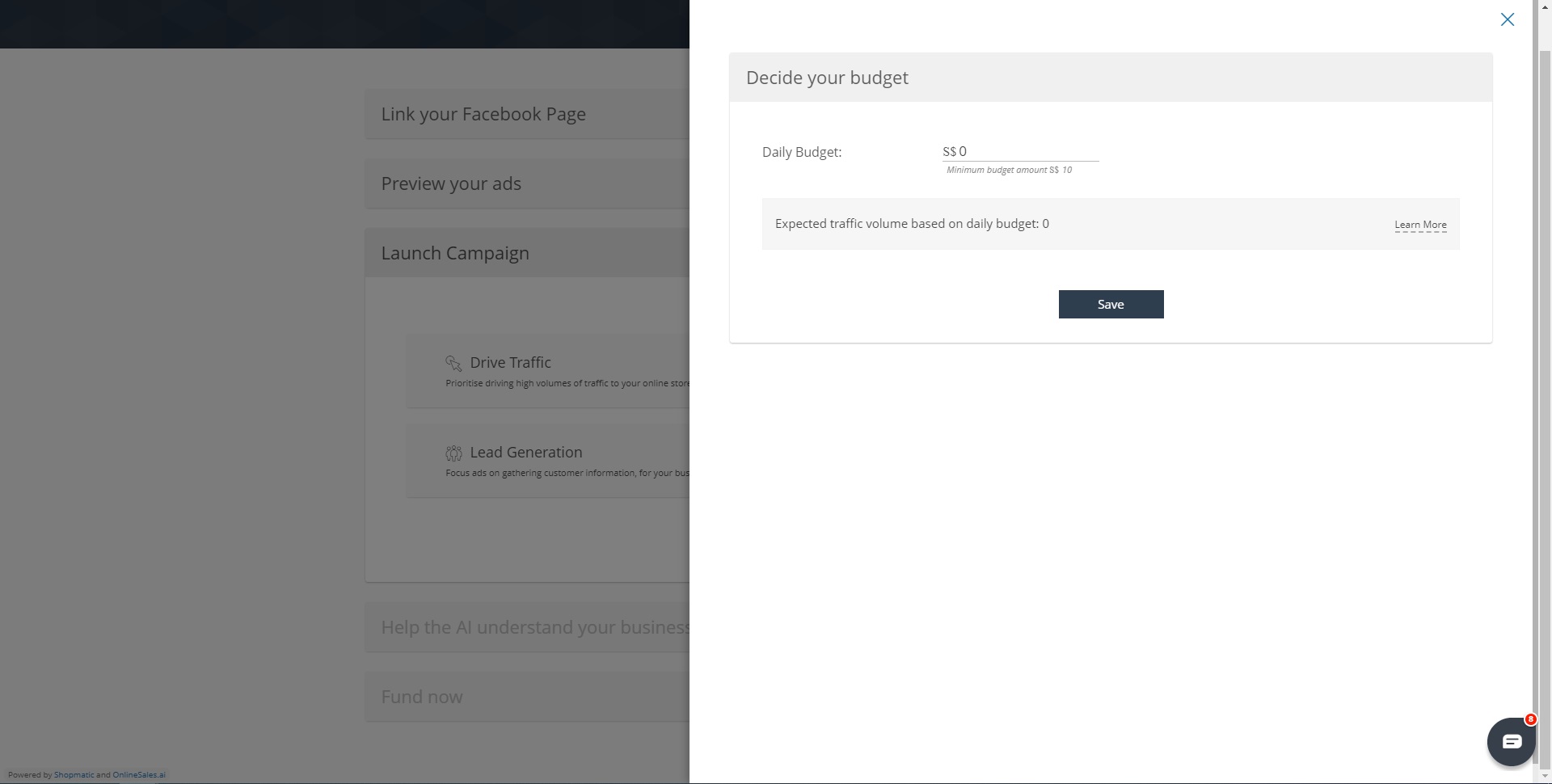 17. Optional: If you would like to enable Lead Generation campaign, click on Launch and enter the daily budget, and click on Save.
When ready to proceed, click on 'Done'.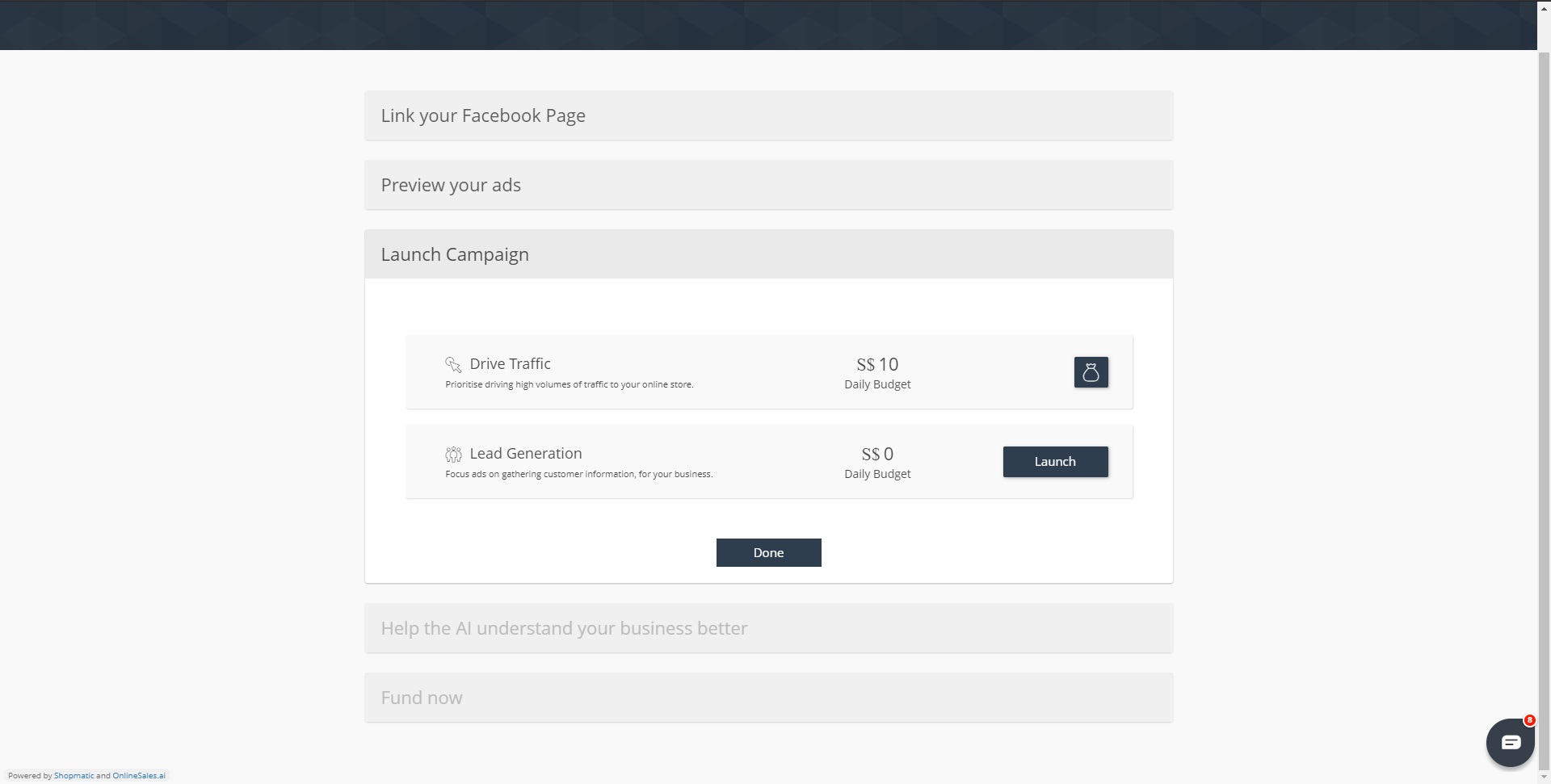 18. Next, help the OnlineSales.ai AI to help understand you and your business better. Simply choose or write 5 categories that best describe your business. Click 'Next' when ready.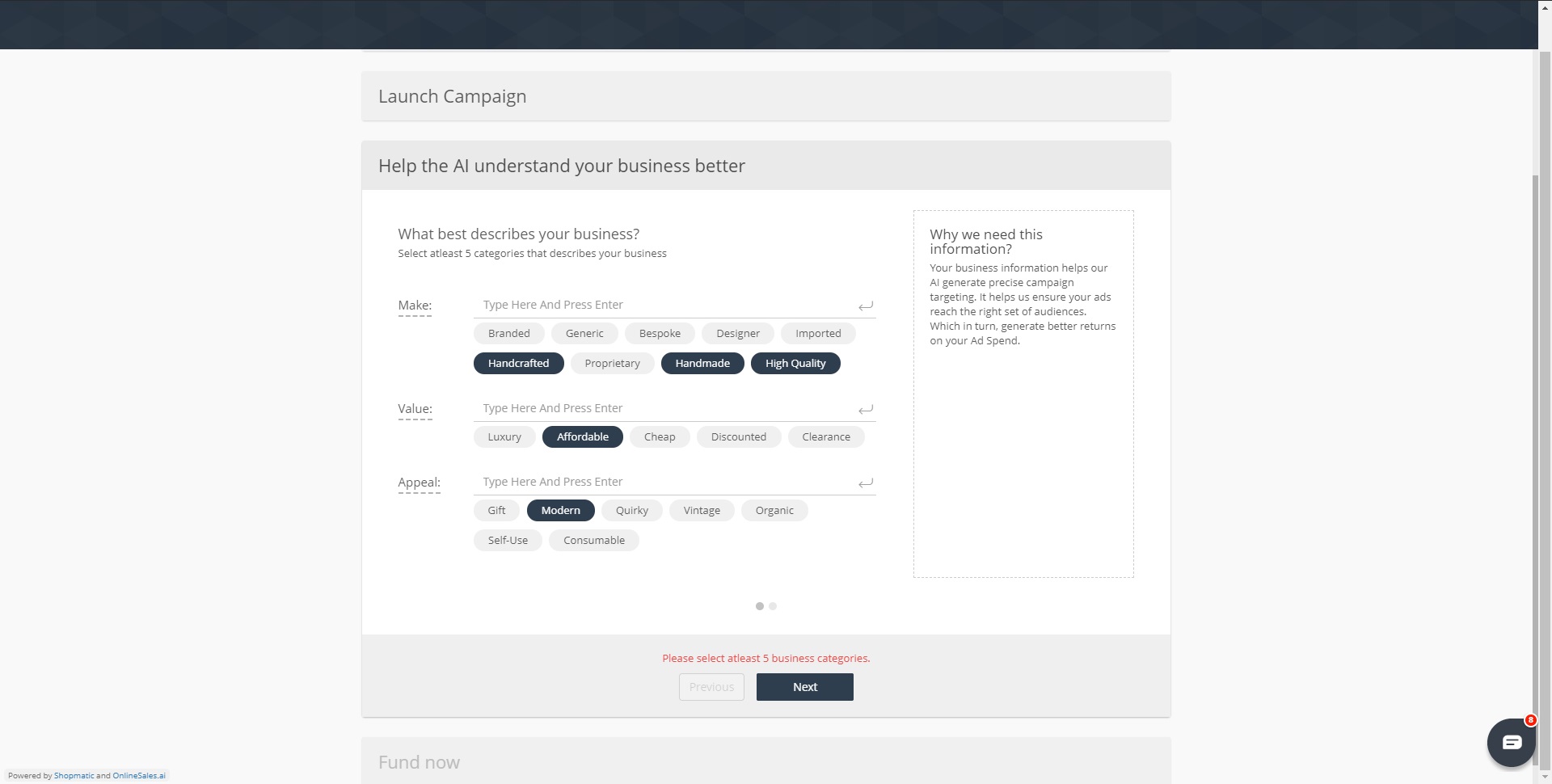 19. Next, help the OnlineSales.AI understand your brand better.
i) Store Value Proposition – Guaranteed Lowest Price, Largest Collection of Fashion Jewelry, Your Everyday Store, Same Day Guaranteed Delivery
ii) Business Call to Action – Shop Now, Learn More, Book Now, Buy Now
iii) Store Promotion – Guaranteed Lowest Price, Largest Collection of Fashion Jewelry, Your Everyday Store, Same Day Guaranteed Delivery
iv) Brand name – Your company name/brand name
Click on 'Save' when done, this step is critical and all fields are mandatory.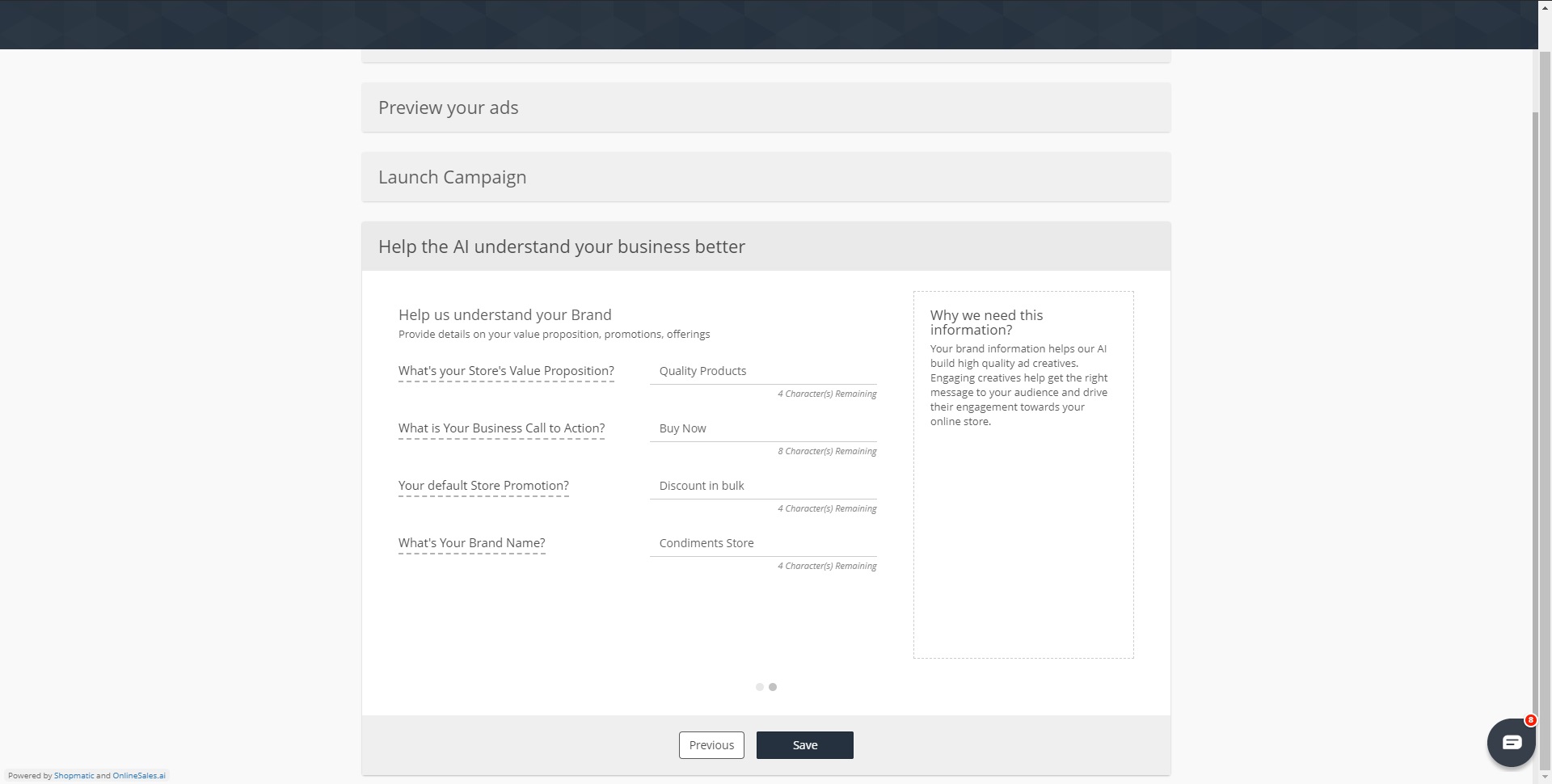 20. OnlineSales.ai will now show you how to fund your campaign, click on 'Fund' to proceed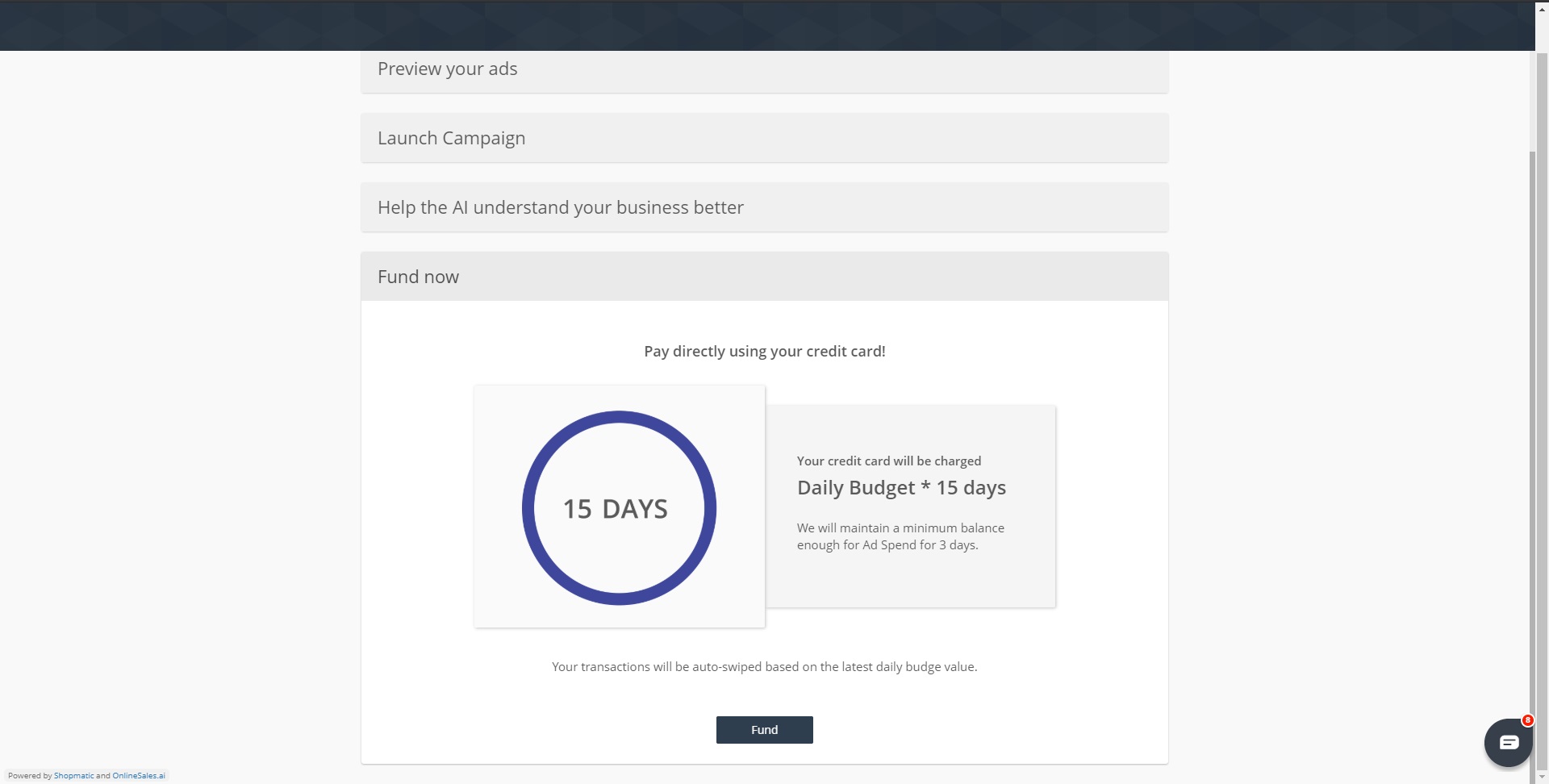 21. Enter your Credit/Debit card details and click on 'Save'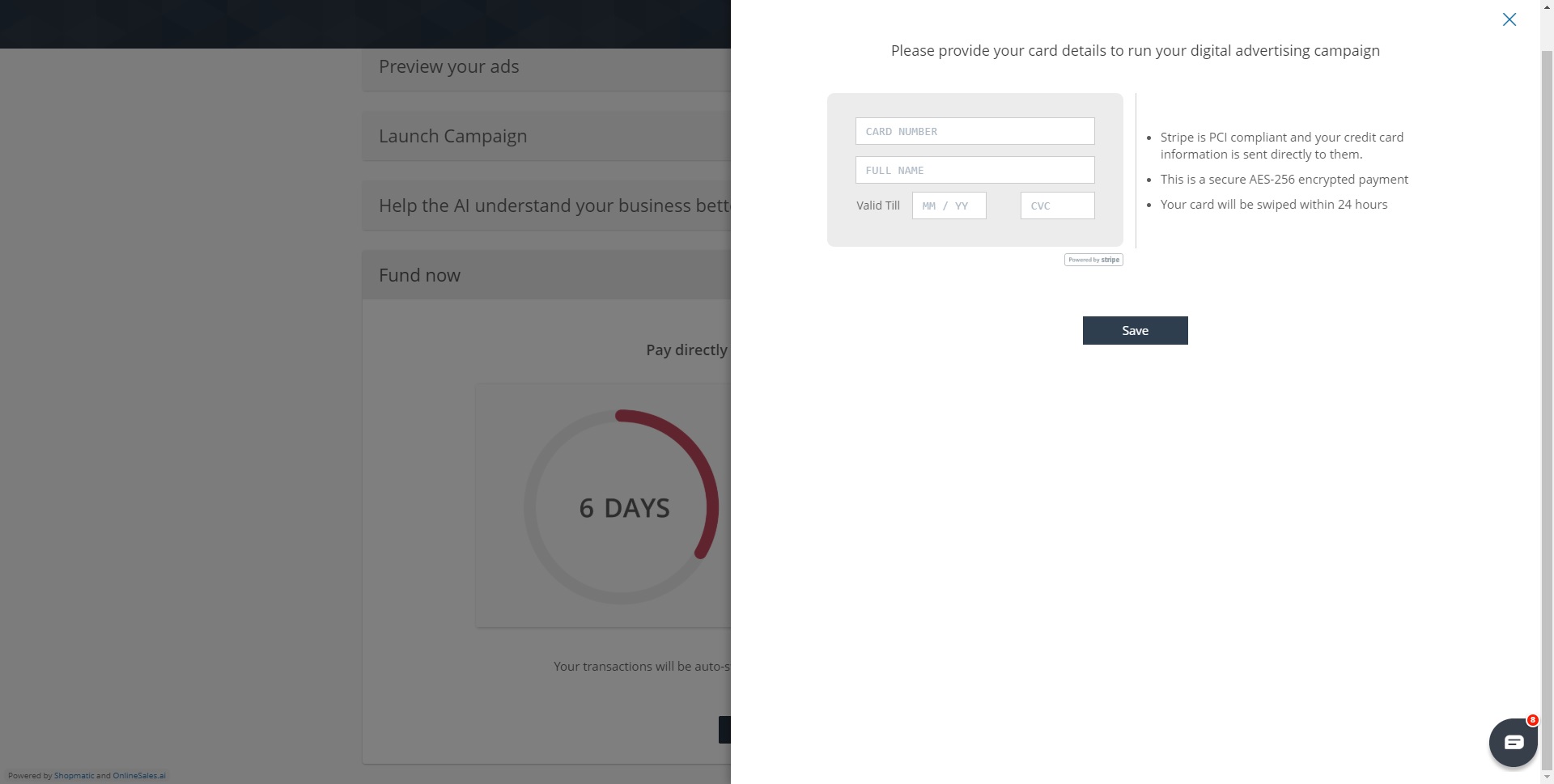 22. The OnlineSales.ai contract will be shared with you, please take your time to read through the details, when you are ready, click on "I Agree"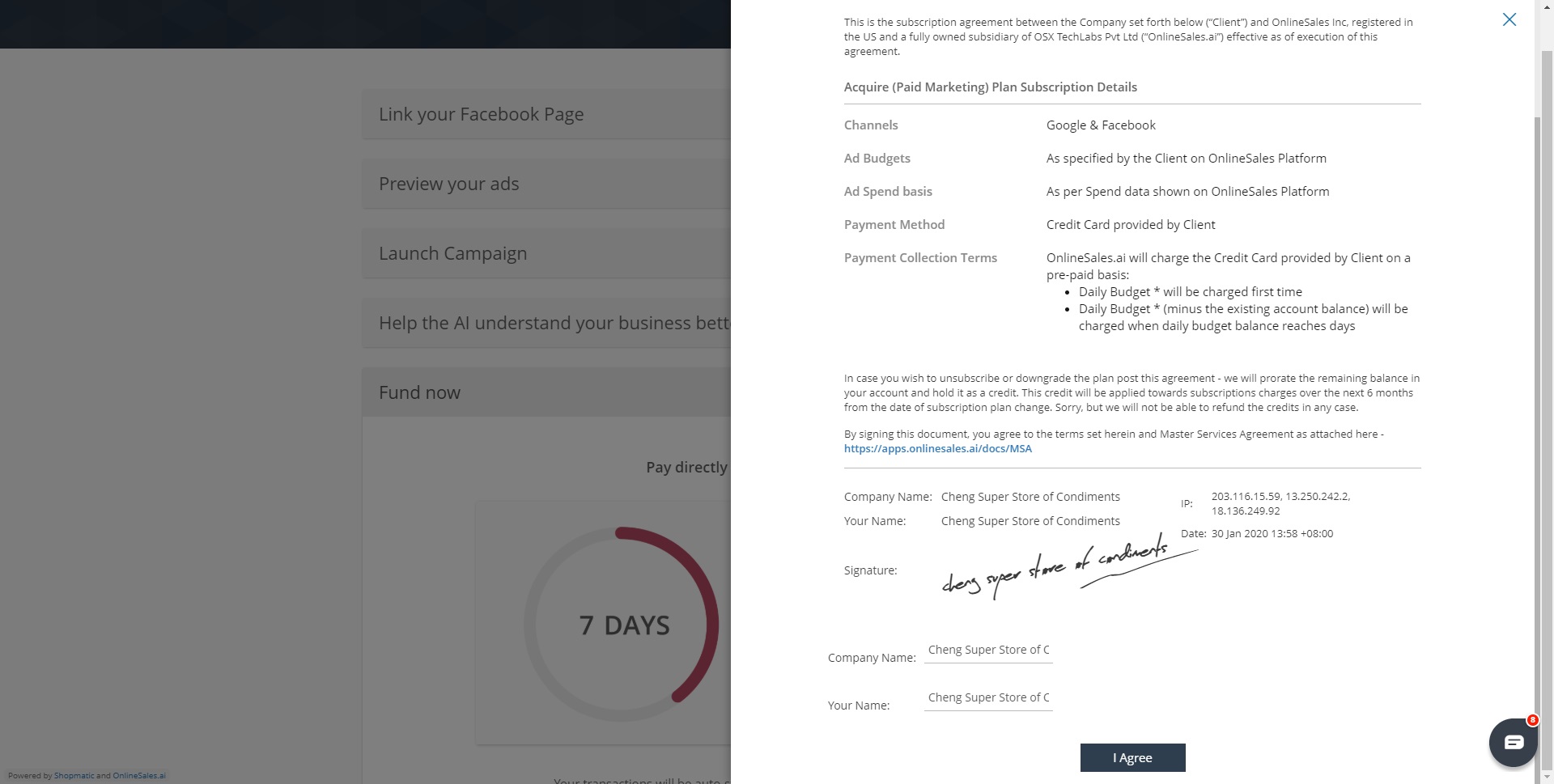 23. The payment will now process, and this congratulatory page will show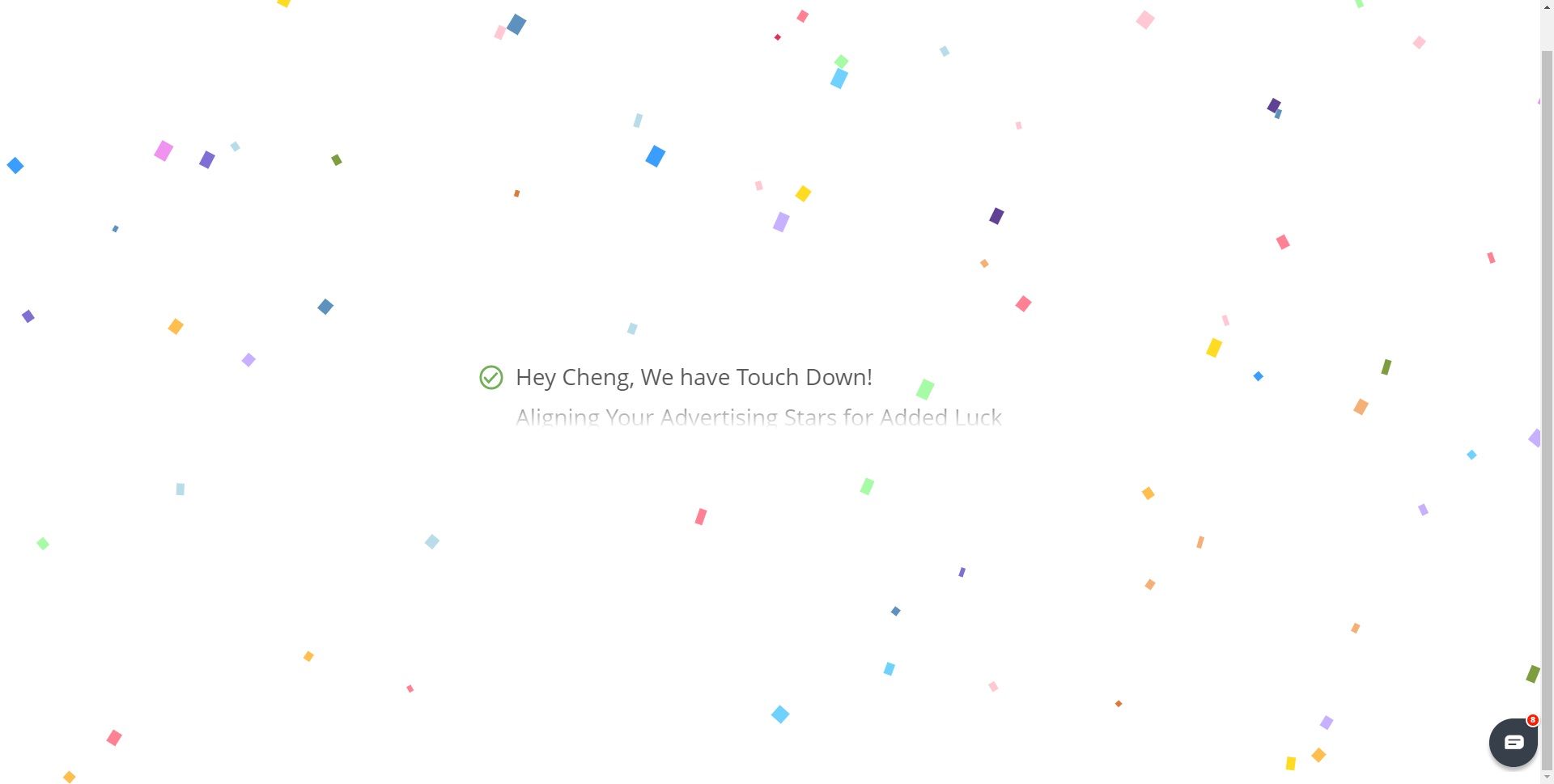 24. Done, your OnlineSales.ai account has been completed. Sit back and let the AI platform help drive traffic to your webstore.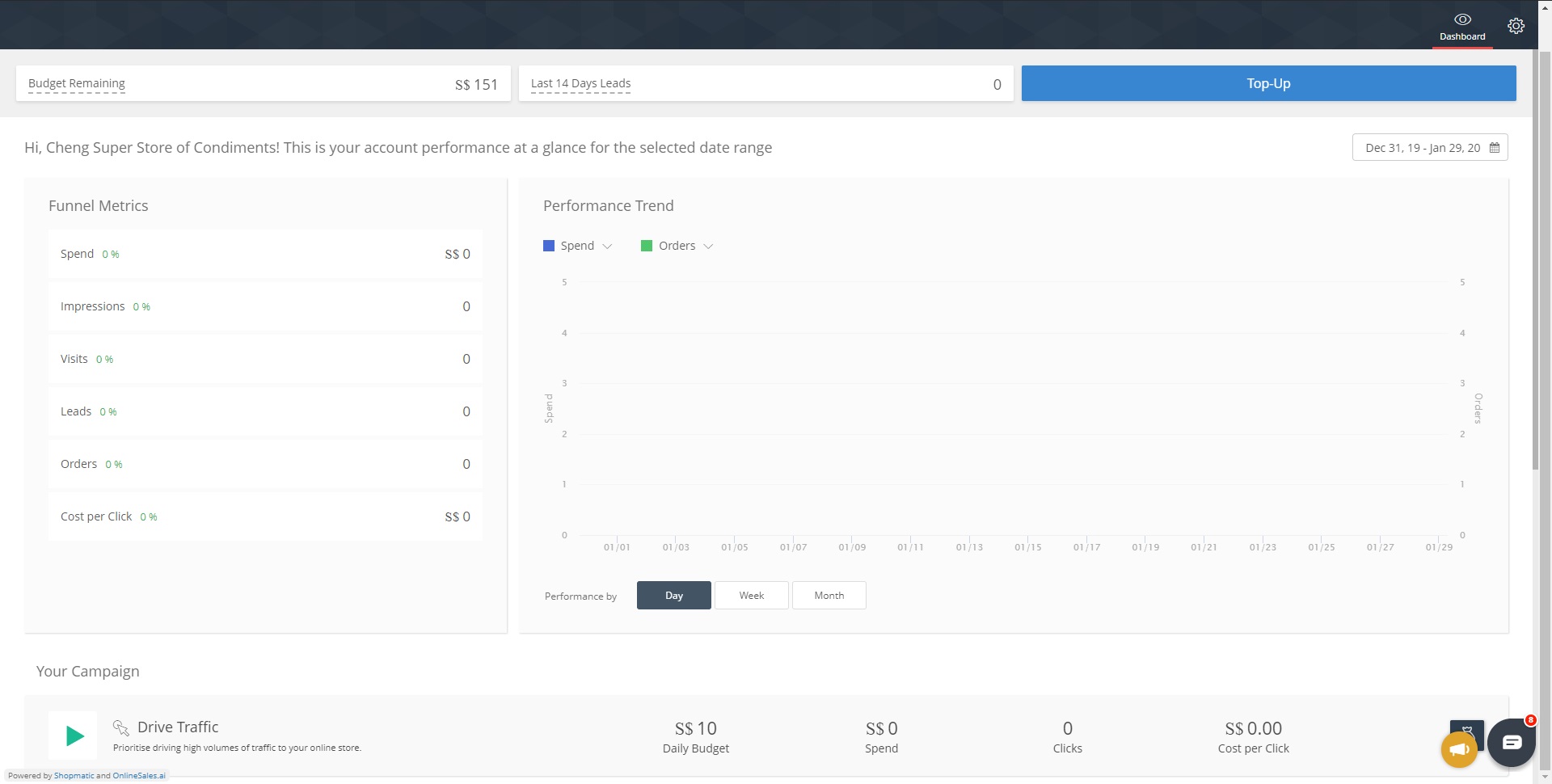 ---
How to disable the Auto-Renew payment
1. From the Digital Advertising – Beta (OnlineSales.ai) dashboard in your Shopmatic account, click on the top right 'cog' icon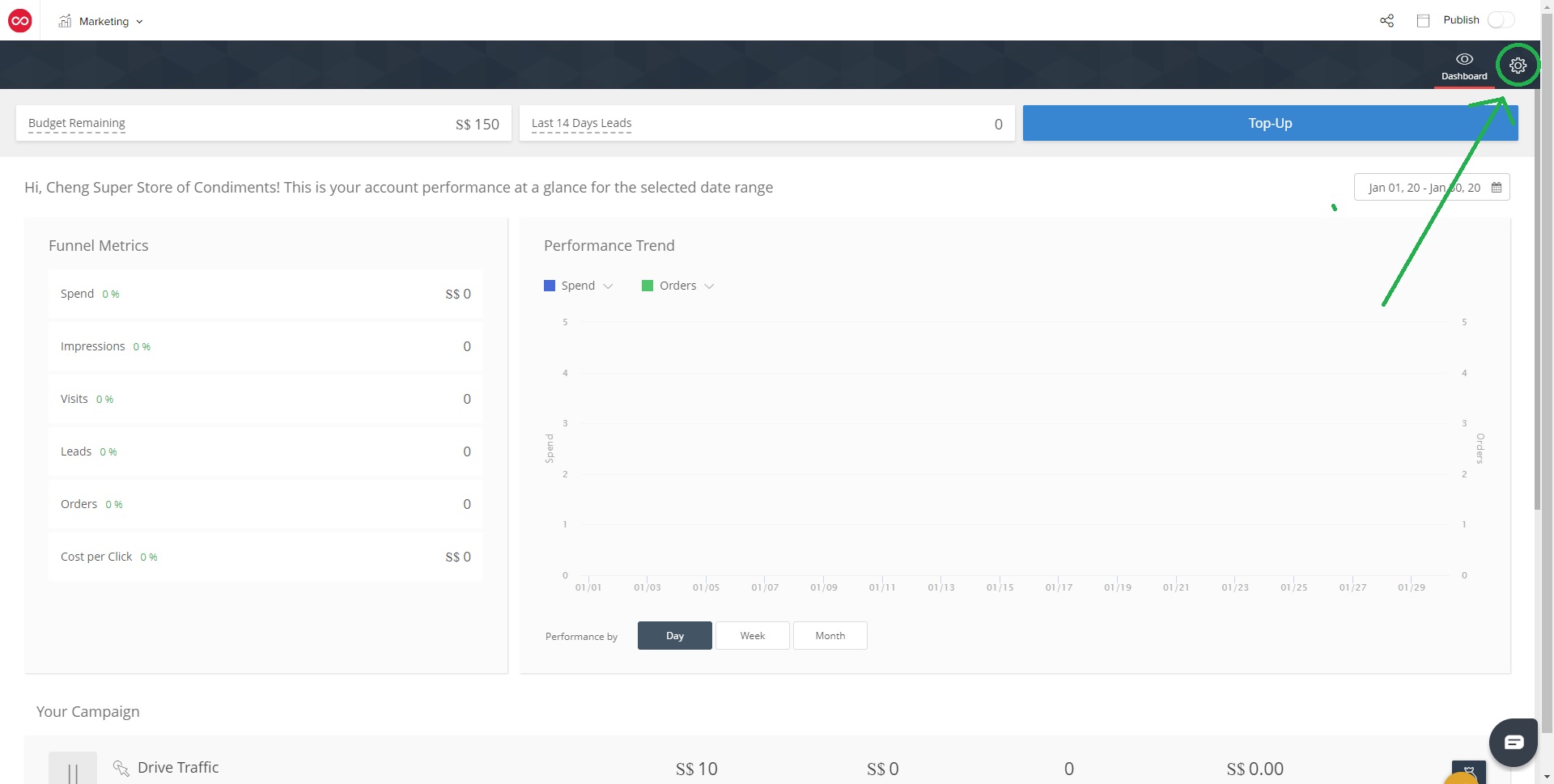 2. This will bring up the Settings page, from there click on 'Billing Details'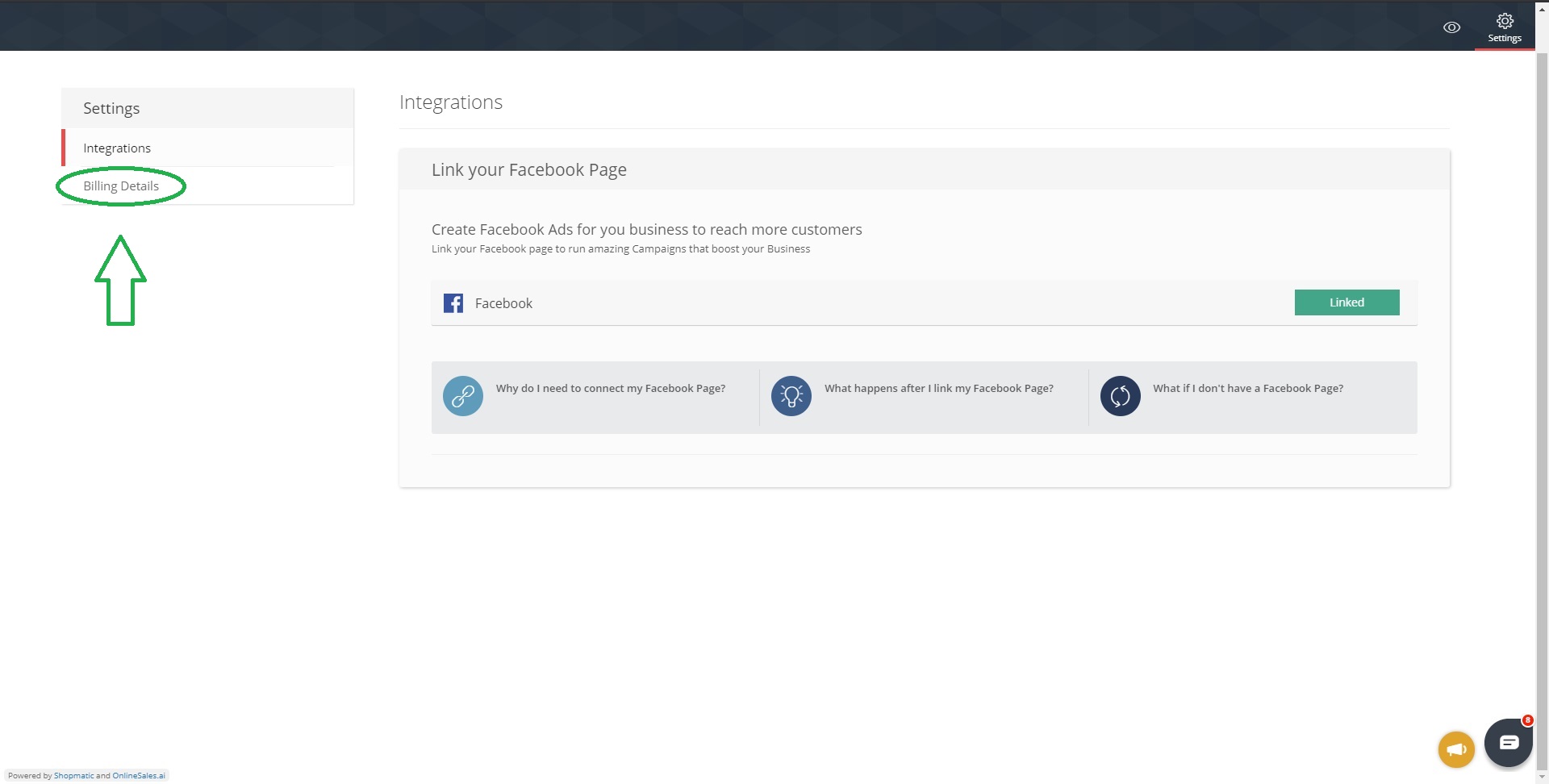 3. Next click on the radio button to toggle the Auto-Renewal off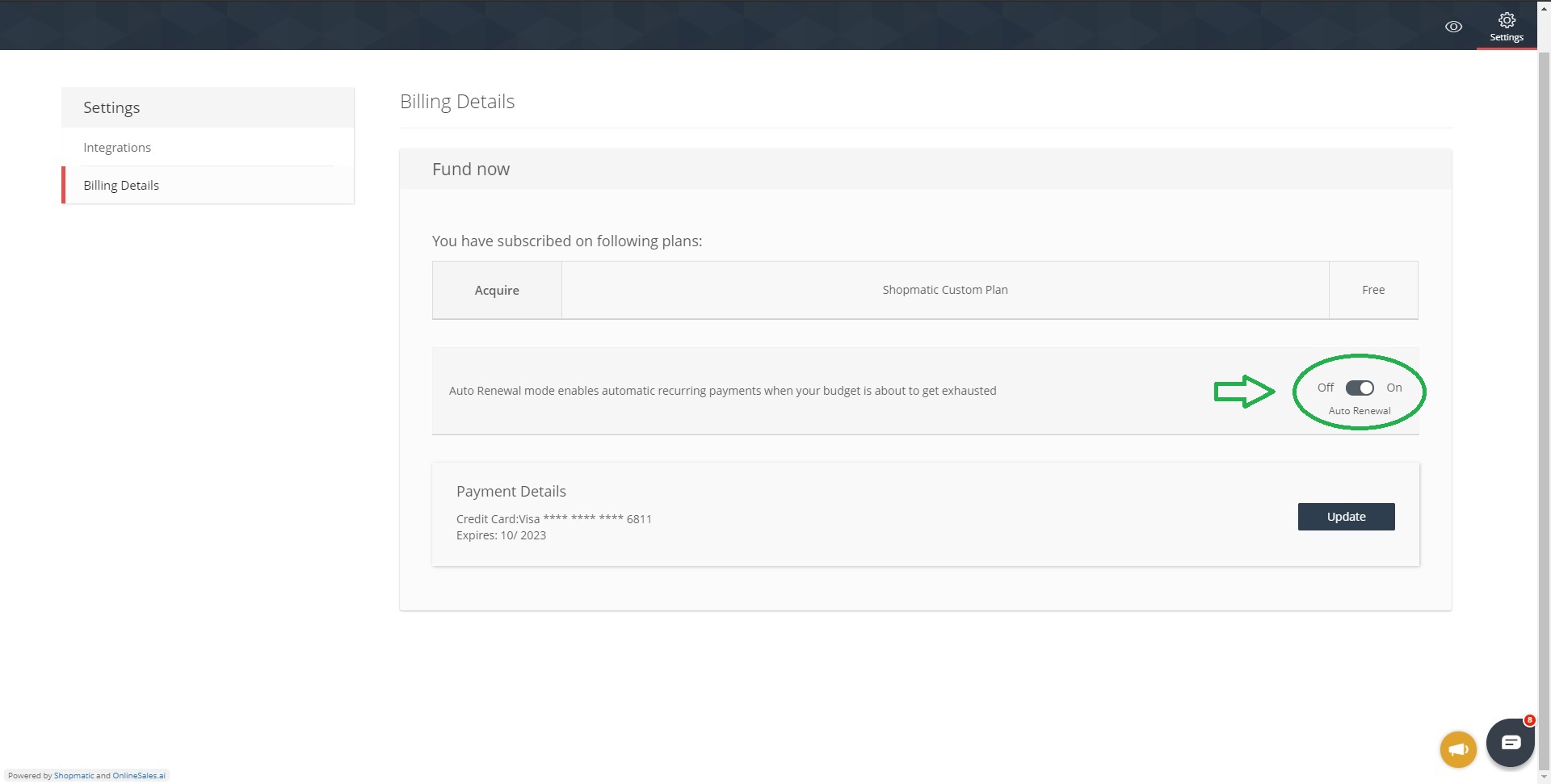 4. A pop-up notification will appear, simply click on 'Turn Off' again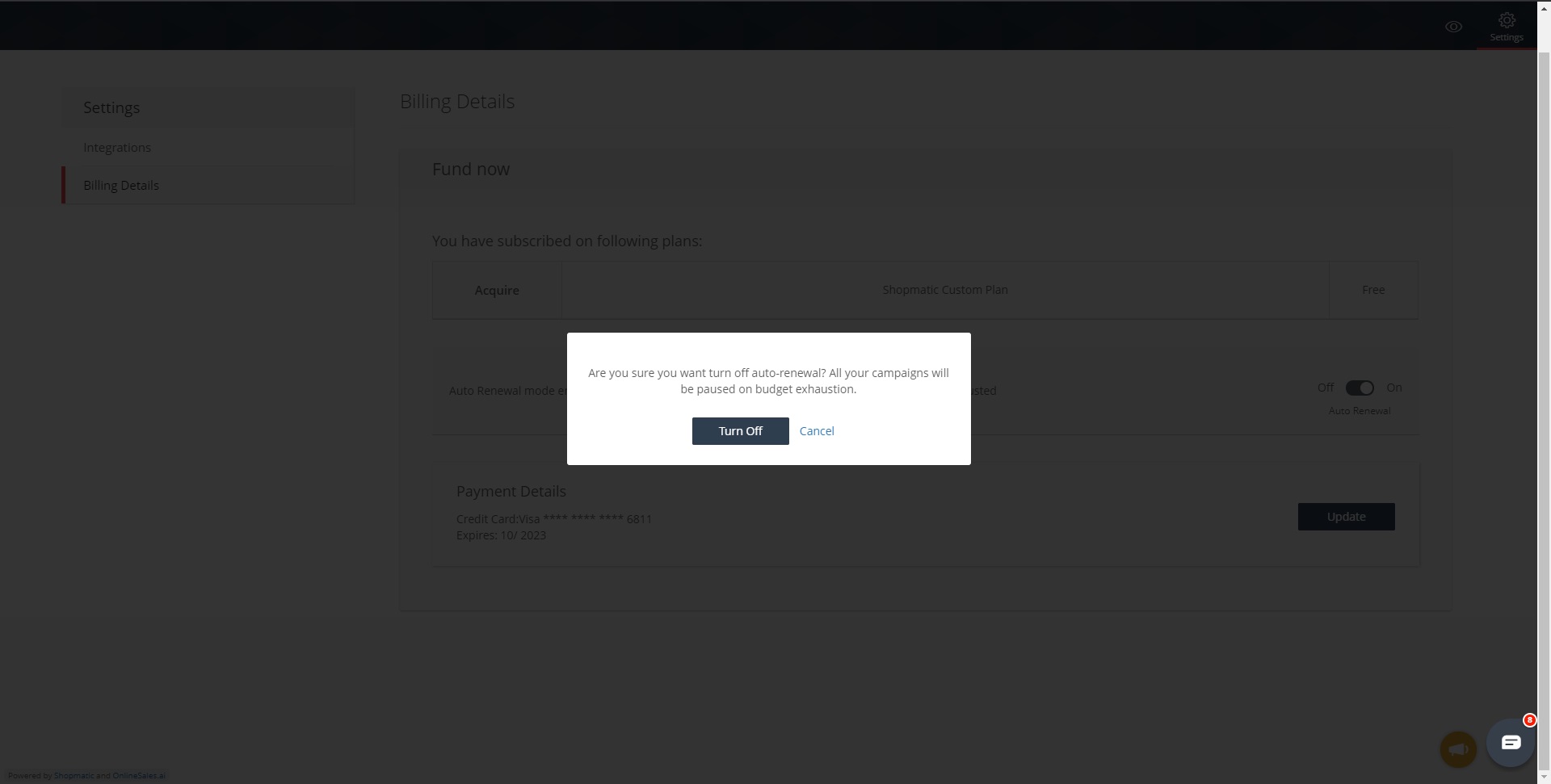 5. Auto-Renewal is switched off.