Note:
When enabling Shipyaari for your online store you are establishing a relationship directly with them and are subject to their terms & conditions. All shipping fees & charges quoted are generated by Shipyaari and are payable directly to them. Any transactional and operational queries that happens on the Shipyaari platform should be referred to Shipyaari directly. Any queries about Shipyaari on the Shopmatic platform, will be resolved by your dedicated Ecommerce Consultant.
What is Shipyaari?
Shipyaari is a shipping aggregator, where their innovative services brings more convenience and more savings to the shipper and allows them to focus more on their business than on the logistic.
Shipyaari does not have a fleet of delivery vehicles, but what they do have is a platform which is connected to other shipping companies such as FedEx, Bluedart, Delhivery and etc.. Once you have successfully enabled Shipyaari in your Shipping Setup page, this platform will be automatically integrated to your Shopmatic webstore!
---
Shipyaari Dynamic Pricing
Based on you (the seller) store's address, the buyers delivery address, and the product dimensions and weight being shipped, Shipyaari-Shopmatic's integration will auto calculate the shipping fee for you.
As a Seller, you need not worry about how much to charge the customer, the rates will be auto calculated for the Buyer, and the Buyer will be able to choose from a few different options depending on the mode of payment they have chosen.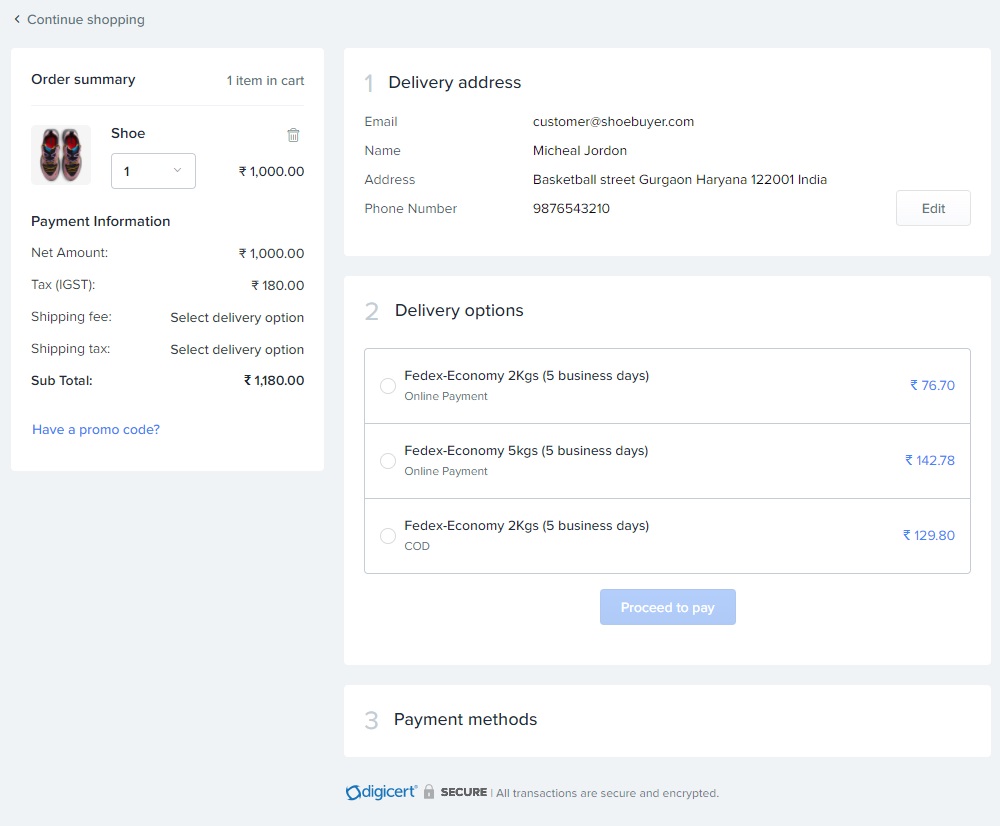 ---
Onboarding and Account Creation:
1. I'm a new Shipyaari user, how do I enable Shipyaari?
From the main Shopmatic drop down menu, click on Setup > Shipping where a new page will load, under the Shipyaari section, click on Enable.

Next, click on Create a new Shipyaari Account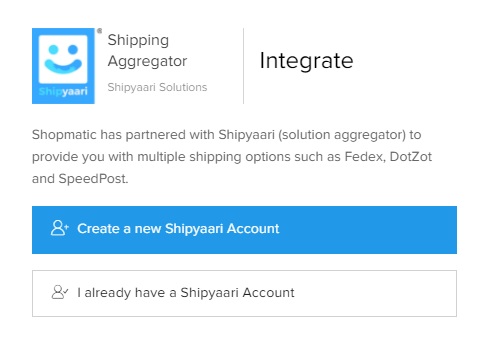 A small pop up will appear to confirm your new Shipyaari account details, when ready, click on the tick box and hit the Submit button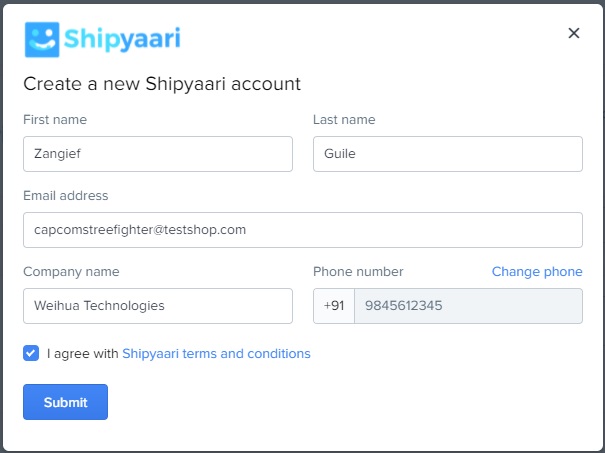 Your new Shipyaari account has been created! Remember to click on "Connect account" to complete the process!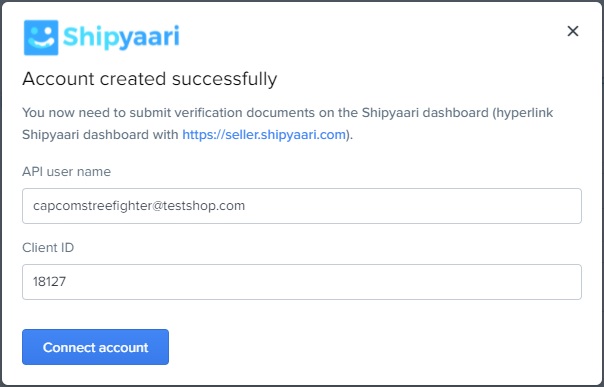 Congratulations, you have successfully created and linked your Shipyaari account to Shopmatic!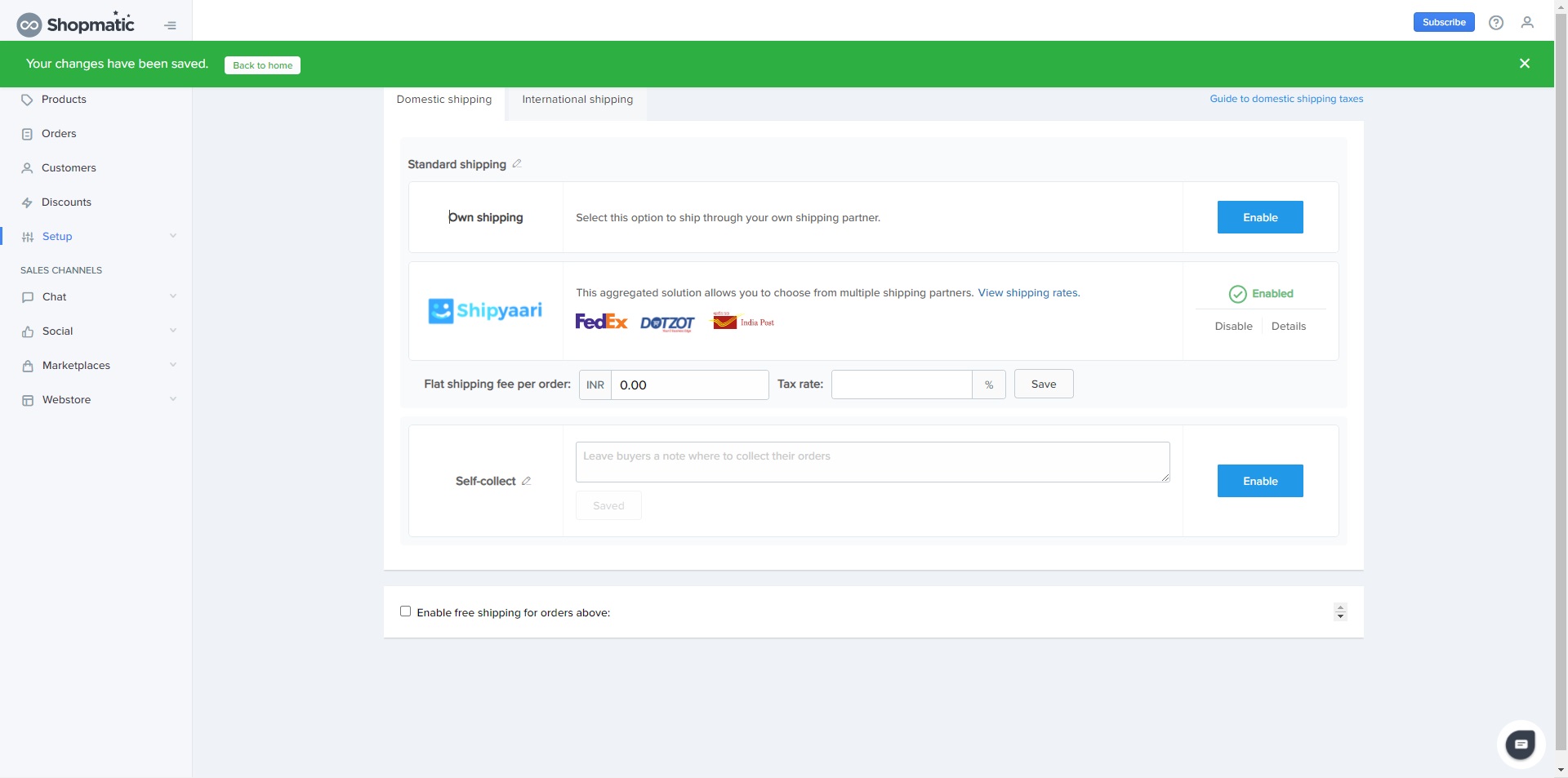 Please note that Shipyaari Dynamic Shipping works only for Shopmatic Shipyaari enabled customers.
---
Shipyaari shipping rates:
The Shopmatic Shipyaari aggregated solution provides you with multiple logistics companies for domestic shipping such as FedEx and Bluedart

View the full Shipyaari plan here: Shopmatic Shipyaari Plan October 2021

Some FAQs about Shipyaari:
Express service refers to a faster mode of service – could be either by land or by air.
All Surface orders will go by road only, no air option is available for this.
Shopmatic merchants can ship products through one of the following services:  Standard or Economy
The Standard 1kg Express service can be availed only through FedEx – Standard 1kg Express is not available through any other shipping partners
Example of how to calculate shipping cost
If a Seller from Mumbai wants to deliver a 2.5kg product to the Buyer who is in Delhi, this would be the applicable rate (under Zone 3 calculations)

Under Standard rates:

For Standard 1kg Express (Fedex):
82+ 82 + 82 (no 0.5kg rate available for Fedex) = INR 246
For other Express partners:
45 + 43 + 43 + 43 + 43 = INR 217

Under Economy plan:

Express Surface up to 5kg (Fedex) = INR 108 INR
Regular Surface up to 5kg (Delhivery, Xpressbees, Udaan Express) = INR 165
If a Seller from Mumbai wants to deliver a 2.5kg product to the Buyer who is within the same city, this would be the applicable rate (under Zone 1 calculations)

Under Standard rates:

For Standard 1kg Express (Fedex):
61 + 61 + 61 (no 0.5kg rate available for Fedex) = INR 183
For other Express partners:
32 + 31+ 31 + 31 + 31 = 156 INR

Under Economy plan:

Express Surface up to 5kg (Fedex) = INR 80
Regular Surface up to 5kg (Delhivery, Xpressbees, Udaan Express) = INR 145