Paytm is one of India's leading payment gateway that offers comprehensive payment services for customer and merchants. Paytm offers mobile payment solutions to over 7 million merchants and allow consumers to make seamless mobile payments from Cards, Bank Accounts and Digital Credit among others.
Accepting payments through Paytm on Shopmatic
When enabling Paytm for your online store you are establishing a relationship directly with them and are subject to their terms & conditions. All transaction fees & charges quoted are generated by Paytm and are payable directly to them. Any transactional and operational queries that happens on the Paytm platform should be referred to Paytm directly. Any queries about Paytm on the Shopmatic platform, will be resolved by your dedicated Shopmatic Ecommerce Consultant.
Paytm preferential rates for Shopmatic merchants:

Merchants who create a new Paytm account through Shopmatic will enjoy these rates:
i)    Setup Fee: Waived off!
ii)   Maintenance Fee: Waived off!
iii)  Credit Card: Visa, Mastercard @ 1.90% of the transactional value as for American Express @ 2.75% of the transactional value
iv)   Debit Card: Visa, MasterCard, Maestro @ 0.90% for transactions above Rs. 2000/- and 0.40% below Rs. 2000 as for Rupay Debit Card @ 0.00% of the transactional value
v)  Paytm Wallet: 1.65% of the transactional value
vi)  Paytm Postpaid: 1.80% of transactional value
vii)   Net Banking: HDFC, ICICI @ 1.75%, other banks @ 1.55%
viii)  UPI: 0.00% for transactions above Rs. 2000/- and 0.00% below Rs. 2000
How to enable Paytm: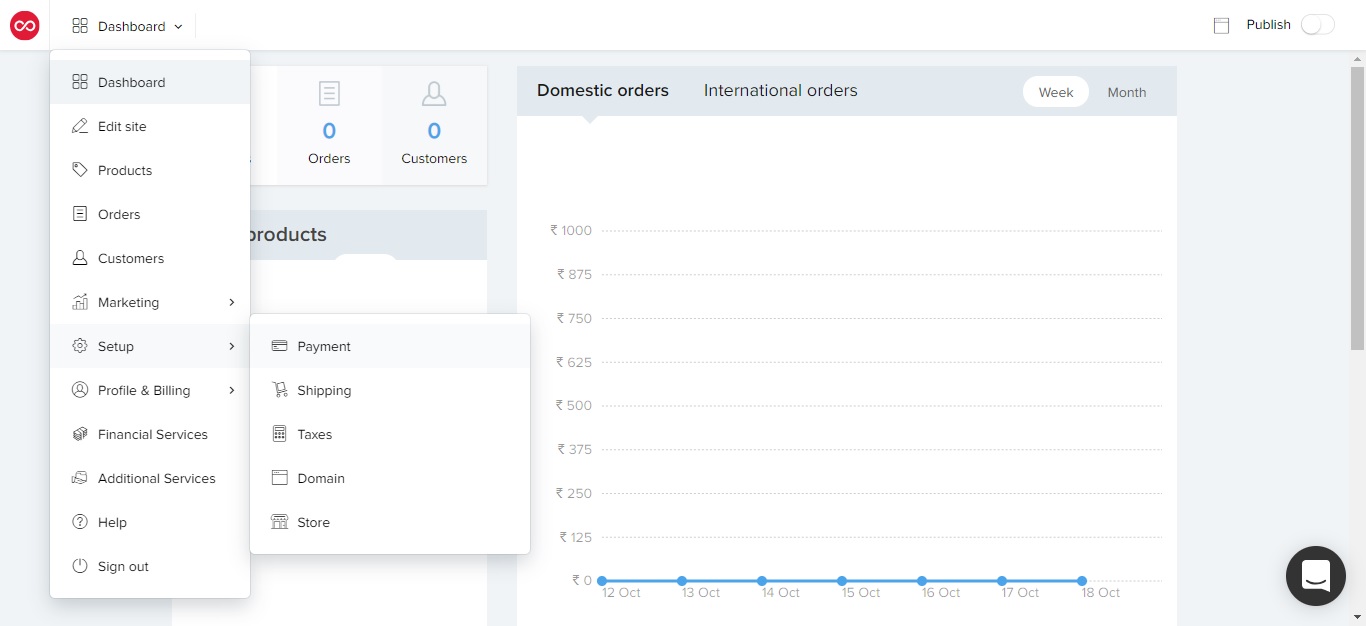 1. Login to your Shopmatic account, from the Dashboard drop-down menu, click on Setup, and then on Payment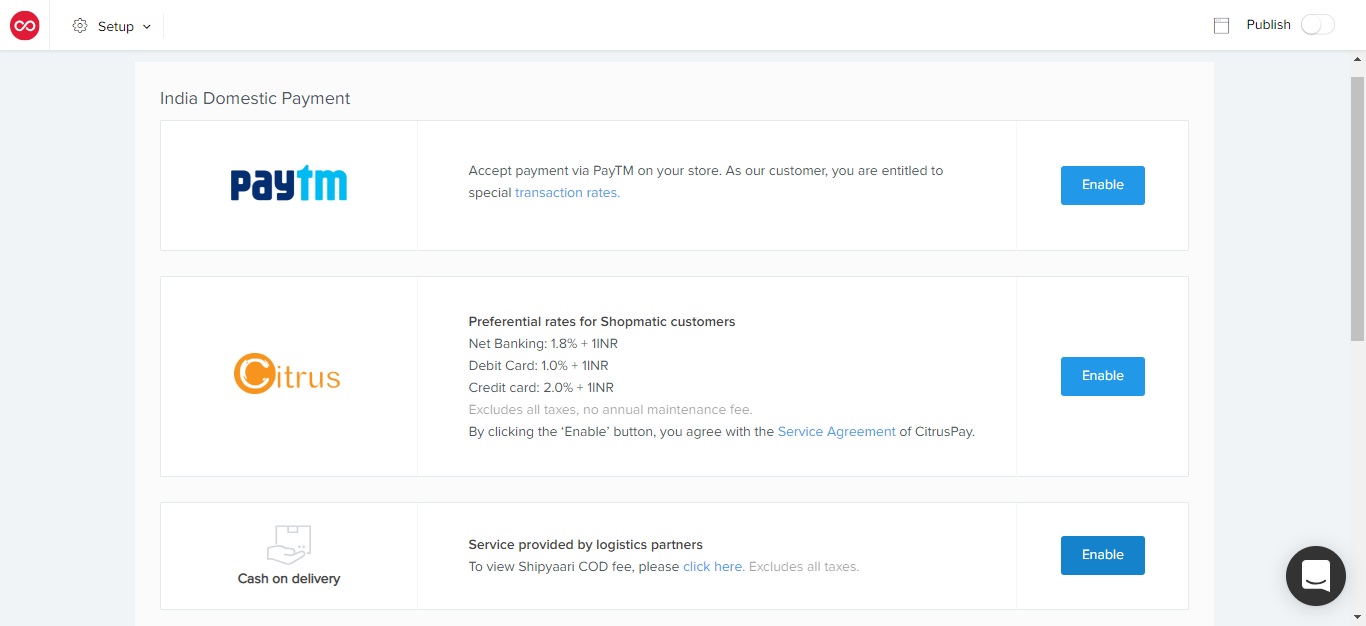 2. Click on the Enable button on the Paytm column
3. From here, please fill up Paytm's form to obtain your Paytm Security Credentials
(Testing Credentials will not work, you must use Production API details)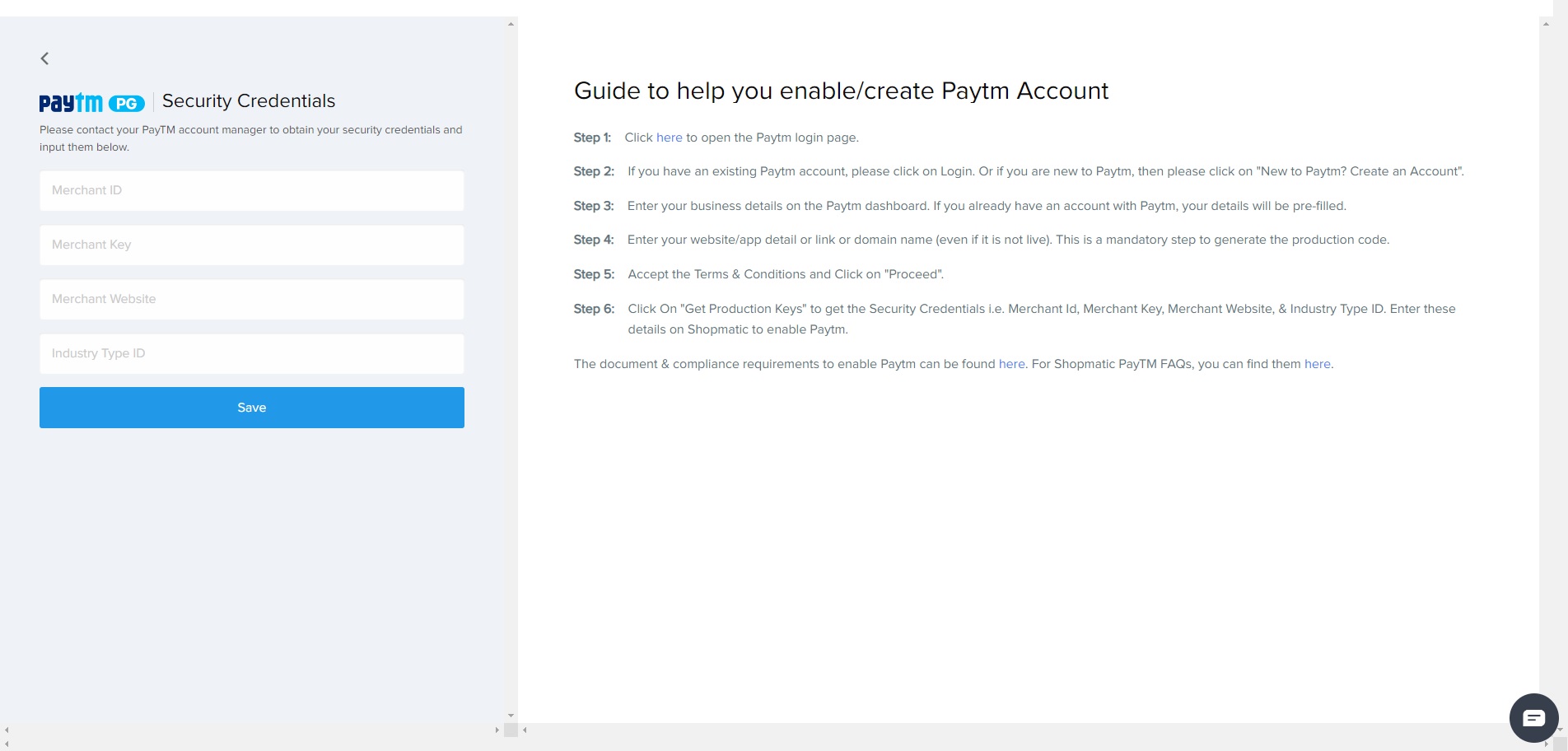 Simply click on the Paytm Onboarding page link, and click on "New to Paytm? Create an Account". 
Once your account has been created, you will be provided with your Paytm Security Credentials by the Paytm team directly.
Once you have your Paytm security credentials, simply enter them on your Shopmatic platform (Merchant ID, Merchant Key, Merchant Website, Industry Type ID) and click on the Save button.
Additional Notes:
Paytm risk team will review websites/webstores to ensure completeness, these updates will be required for Paytm to fully activate the seller's account:
i. About Us page
ii. Contact Us page (Company Name, Address, Contact numbers, Email Ids)
iii. Product / Services details along with their pricing plans in INR
iv. Privacy Policy (Click here to download generic Paytm template)
v. Terms & Conditions (Click here to download generic Paytm template)
vi. Return, Refund and Cancellation policy (Click here to download generic Paytm template)
vii. Disclaimers
viii. Shipping Policy (Only for shopping websites)
ix. Payments and Logistics Partners information (only for shopping websites)
x. Process flow to purchase the product & service – end to end
xi. Declaration of the Authorised Signatory form (Click here to download generic Paytm template)
Once Paytm account is fully activated, the settlement period will be T+1.
For more details kindly refer to Paytm's terms and conditions, which can be found from the Paytm seller homepage (https://seller.paytm.com/login).
Managing refunds from you the seller to your buyers
Refund are reversal transactions wherein complete or partial money is moved back to customer's source account (account from which actual payment was made). Refund can only be created for a successful or settled transaction.
Please visit Paytm's support page to understand more about how you can execute a refund to your buyer. (https://developer.paytm.com/docs/refund-management/)