Note:
When enabling Facebook Messenger for your online store you are establishing a relationship directly with Facebook and are subject to their terms & conditions. Any queries about Facebook / Facebook Messenger should be referred directly back to Facebook. Our Shopmatic Ecommerce Consultant will only be able to guide you on how you can Enable your Facebook Messenger on your Shopmatic webstore.
What is Facebook Messenger?
Facebook Messenger is a chatting tool that allows Facebook users to communicate directly with each other.
Why "Enable" Facebook Messenger on your webstore?
When a buyer is able to get a quick response on enquiries, there is a much higher rate of conversion. Being able to chat with a customer also gives you a chance to share your other products and services that might also be suitable for your customer.
How does Facebook Messenger on the webstore work?

By Enabling Facebook Messenger on Shopmatic platform, customers visiting your webstore (who have a Facebook Account / Facebook Messenger) can conveniently message you by clicking on the Facebook Messenger Icon at the bottom right corner of your webstore.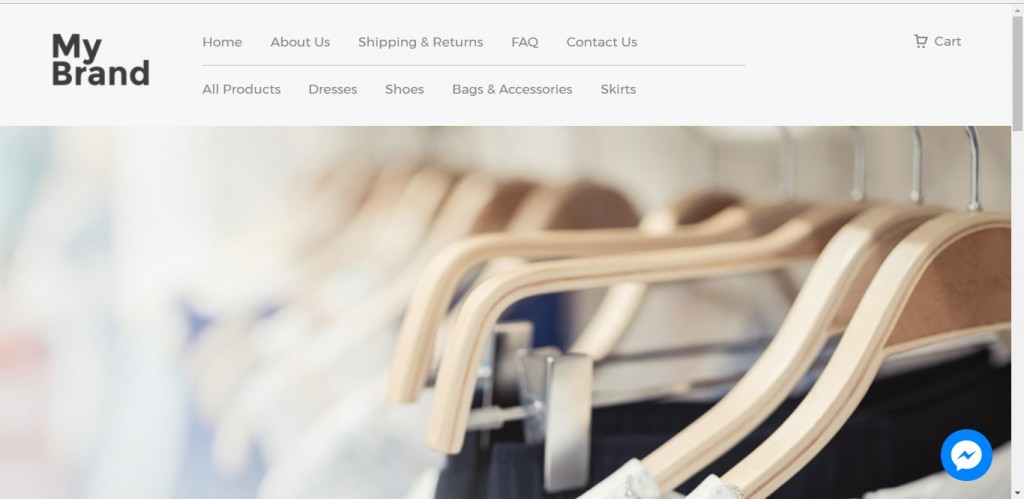 What do I need to set up Facebook Messenger?
To Enable Facebook Messenger on your Shopmatic platform, you would need to have a Facebook Page first.
To find out more about setting up a Facebook Page you can read more here: https://www.facebook.com/business/learn/set-up-facebook-page
To create a new Facebook Page now, visit this link: https://www.facebook.com/pages/create/
Once you have a Facebook Page you can then Enable your Facebook Messenger on your Shopmatic webstore.
How do I set up Facebook Messenger on my Shopmatic Webstore?
First login to your Facebook Page and retrieve your Facebook Page ID:
1. From the Page tab,  click on either "About" or "Info" from the left panel.
2. Scroll down to the bottom, and you will find your "Page ID"
3. Copy your Numeric Facebook Page ID.
Next, login to your Shopmatic account. Click on the "Dashboard" button on the top left corner of the home page and on the left menu, under the "Setup" category, select "Chat with buyer"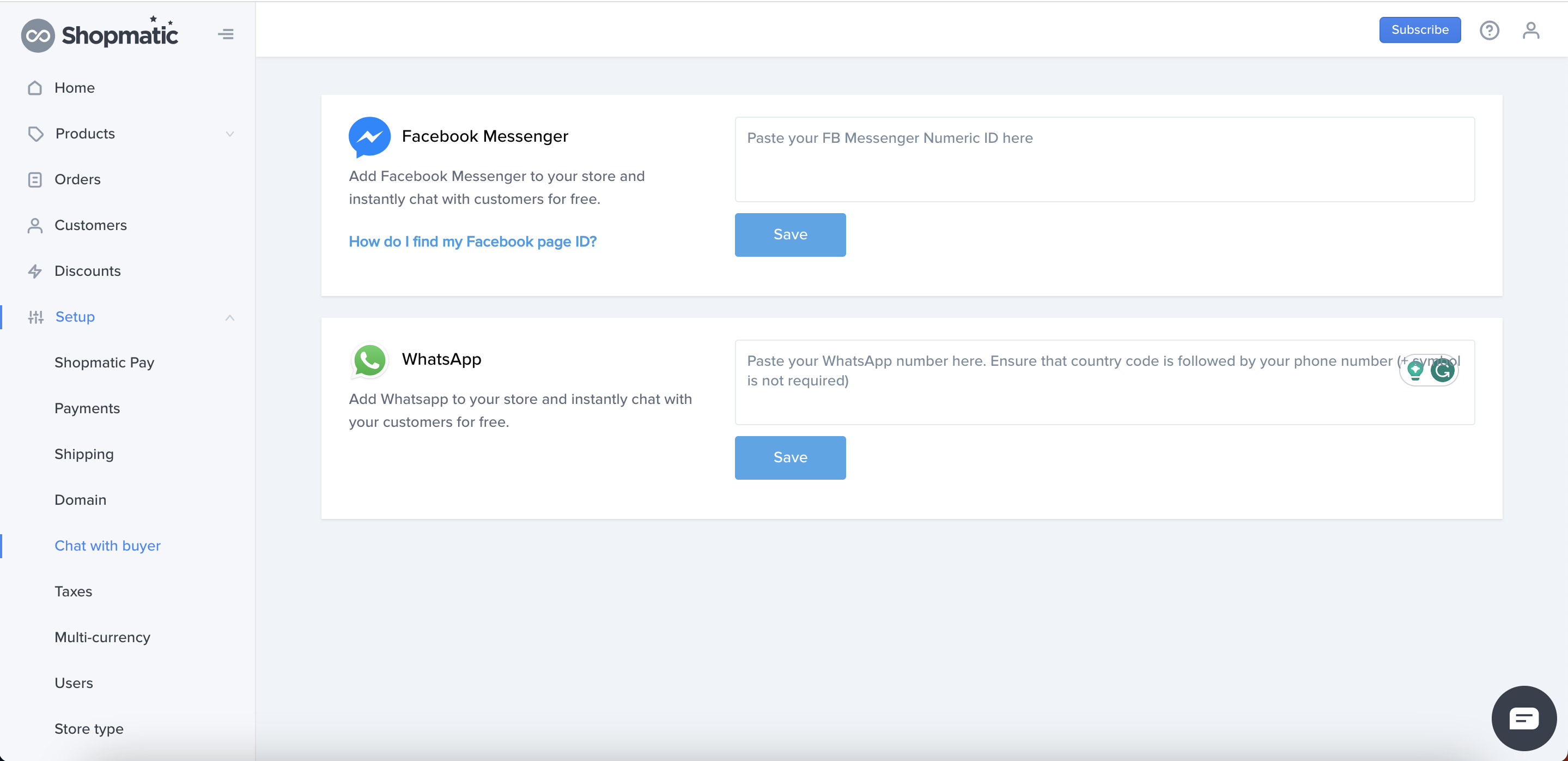 Finally, enter your Facebook Page Numeric ID into the field below and click on "save".

"Congratulations, you have Enabled your Facebook Messenger for your customers!"
How do I receive and manage chats from customers who are using Facebook Messenger?
There are currently only 3 ways for you to manage your chats coming from Facebook Messager:
1) Facebook Pages Manager App* (Strongly recommended)
2) On a desktop/laptop, through an internet browser, the Inbox tab for the connected Facebook Page.
3) On a mobile/tablet, through an internet browser, on the Messenger tab.
Kindly Note:
The Facebook Mobile App and the Facebook Messenger Mobile App will not allow you to have a live chat with your customers, Facebook has created the Facebook Pages Manager for this.
*Download Facebook Pages Manager App from these links:
For iOS users: https://itunes.apple.com/sg/app/facebook-pages-manager/id514643583?mt=8
For Android users: https://play.google.com/store/apps/details?id=com.facebook.pages.app