With Shopmatic Pay, you can make payments & transact seamlessly. Powered by Matchmove, we bring to you Shopmatic Pay – a unique payment solution backed by Mastercard. It is quick, safe and loaded with multiple benefits and rewards.
2. Who can enable this feature?
Currently, merchants in Singapore can enable this feature. However, it will be released to other countries soon.
3. How is verification done for a Shopmatic Pay sign up?
For merchants in Singapore, there are two types of verification services that are available: Myinfo and Onfido. You can choose any of these trusted identity verification services to verify your account.
4.  Between Myinfo or Onfido, which verification option should I choose?
You can select any option for completing the verification. However, to get complete verification faster it is recommended to use Myinfo.
5. How do I sign up for Shopmatic Pay?
i. Log in to your Shopmatic account, and click on Setup and then on Shopmatic Pay, and then on Get Started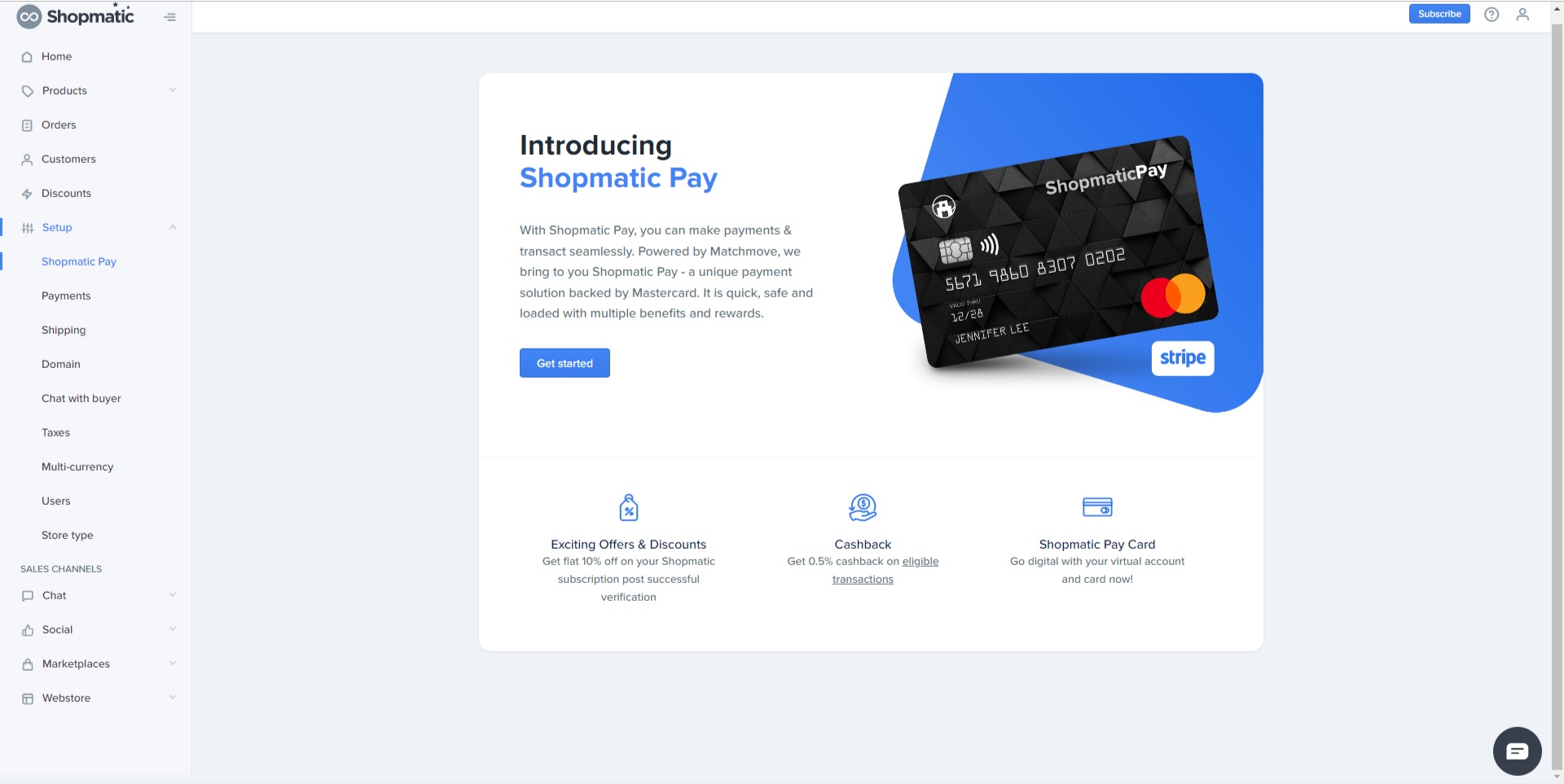 ii. Click on Continue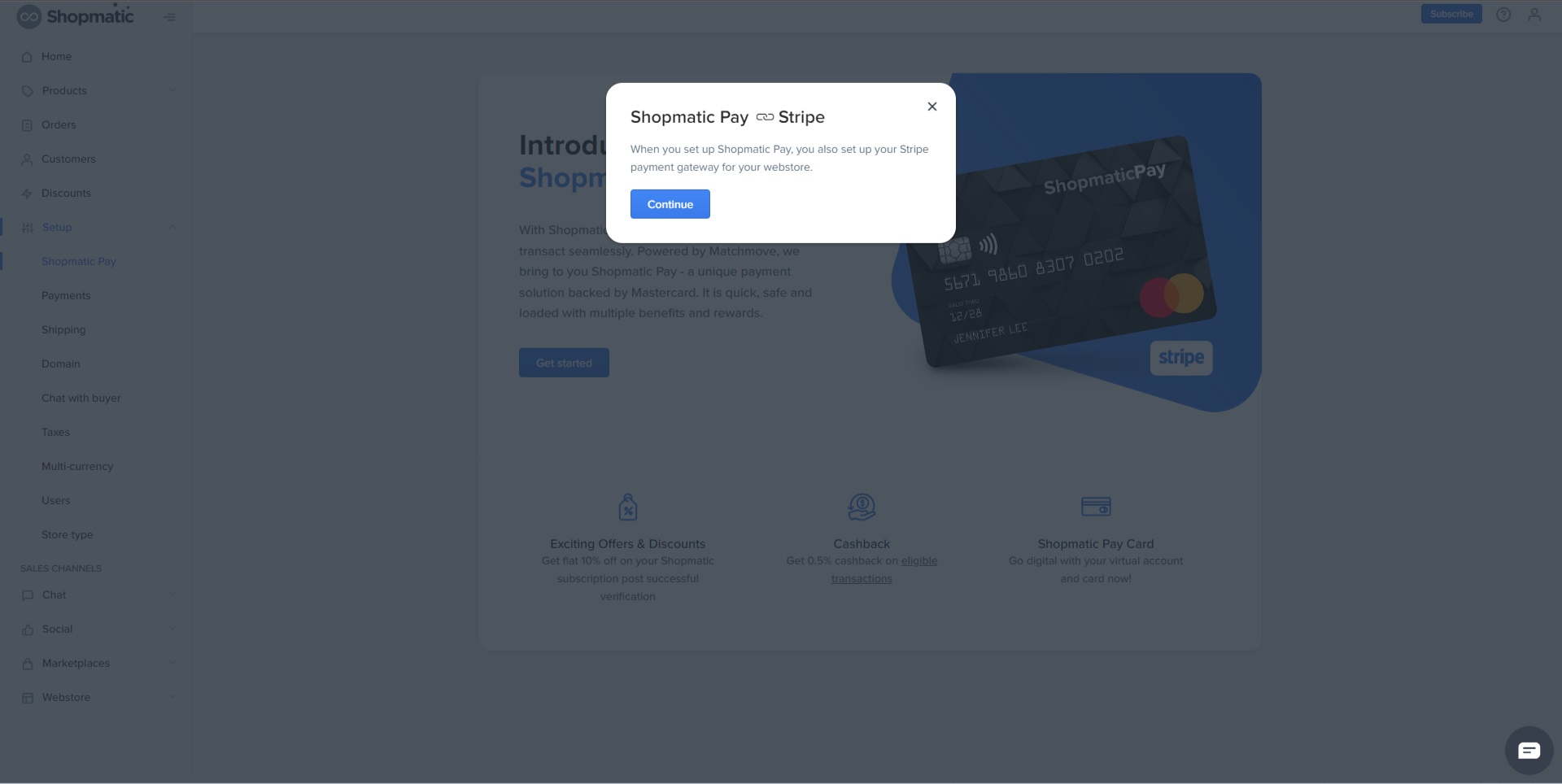 iii. Fill up the form, and then click on Continue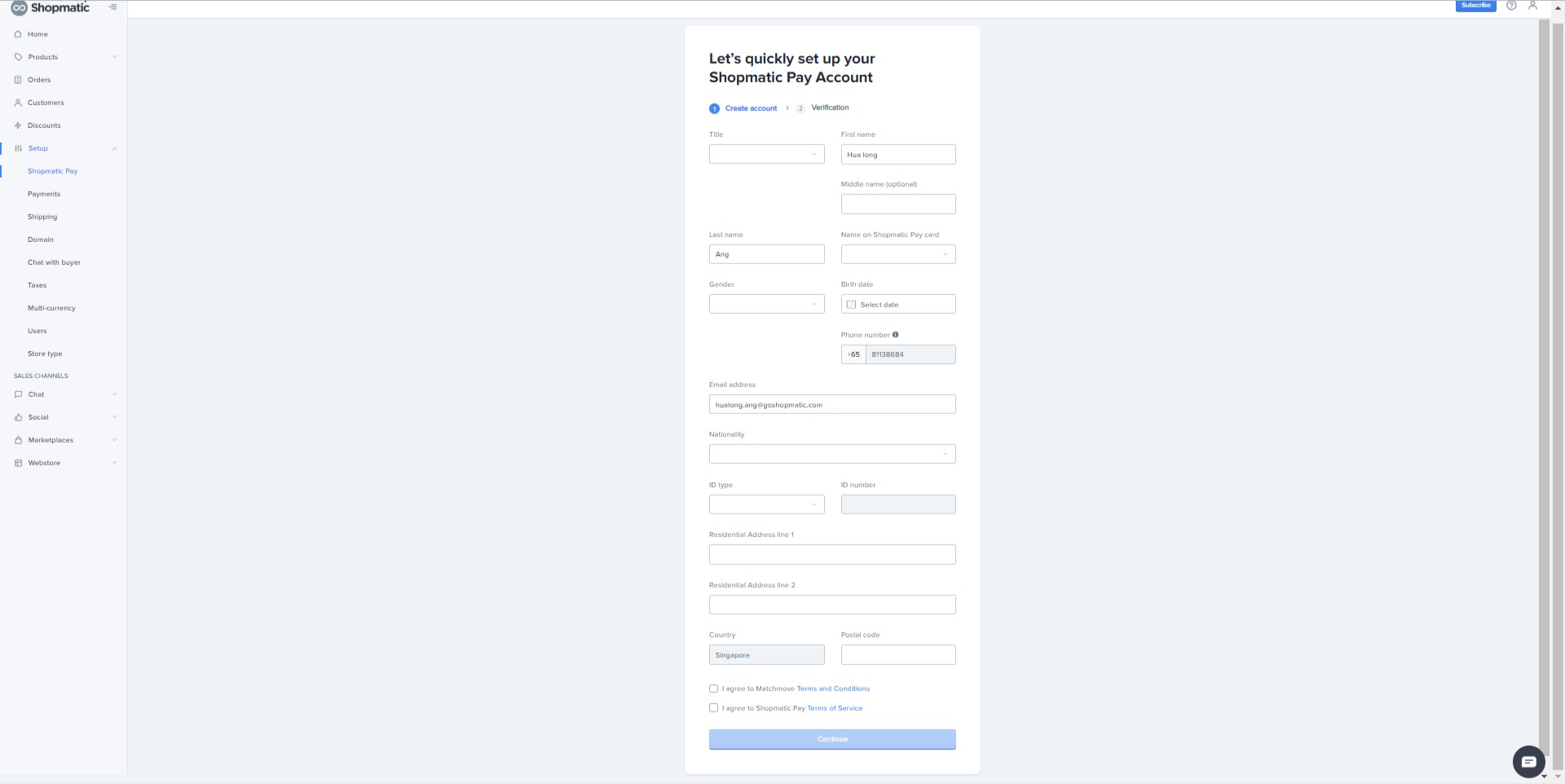 iv. There will be two options to choose from, assuming you chose to verify your identity with Singpass, please click on "I have a Singpass account" and then on Continue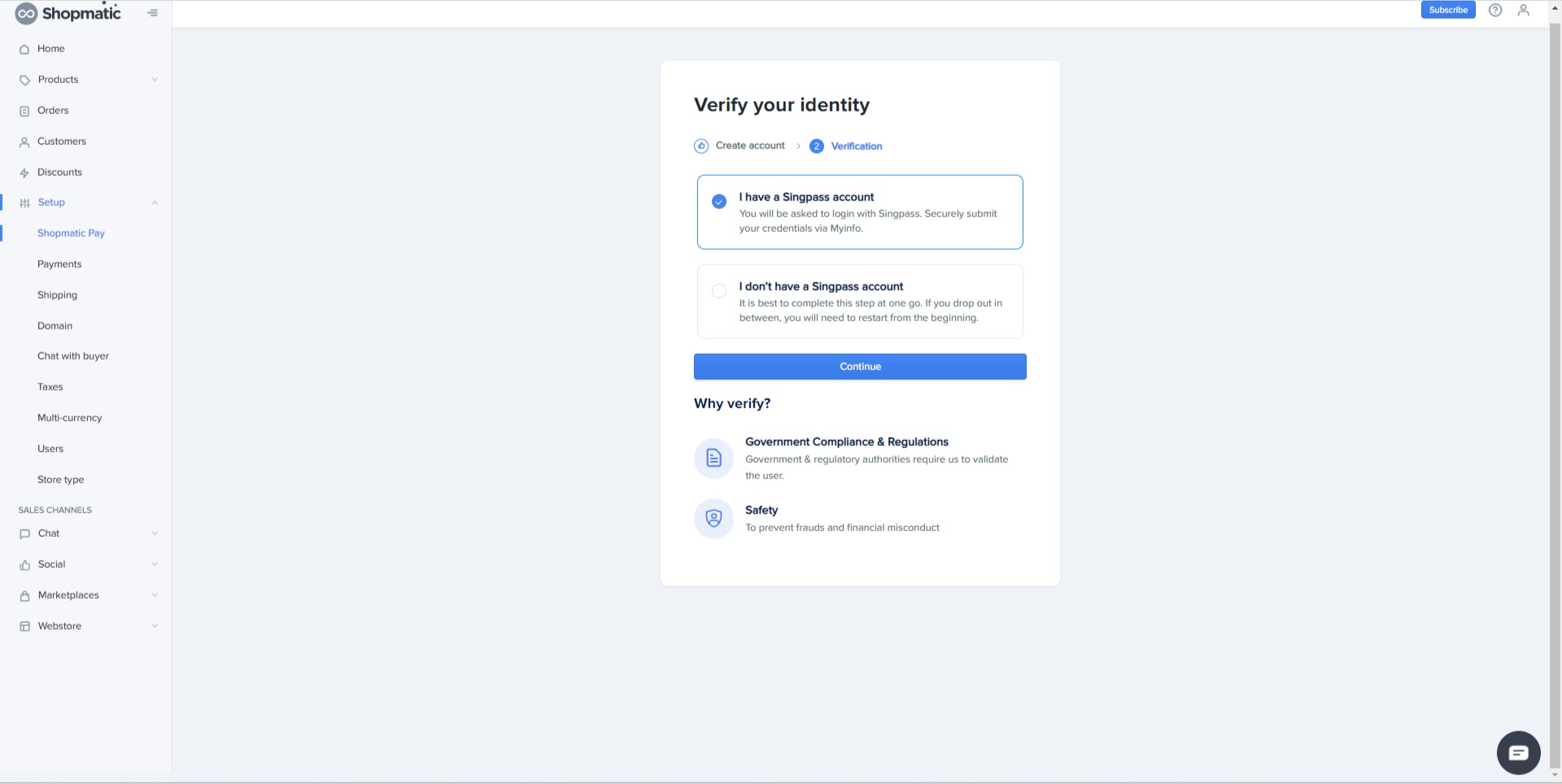 v. Next, use your SingPass app to scan the QR code generated for you, to login to your Singpass account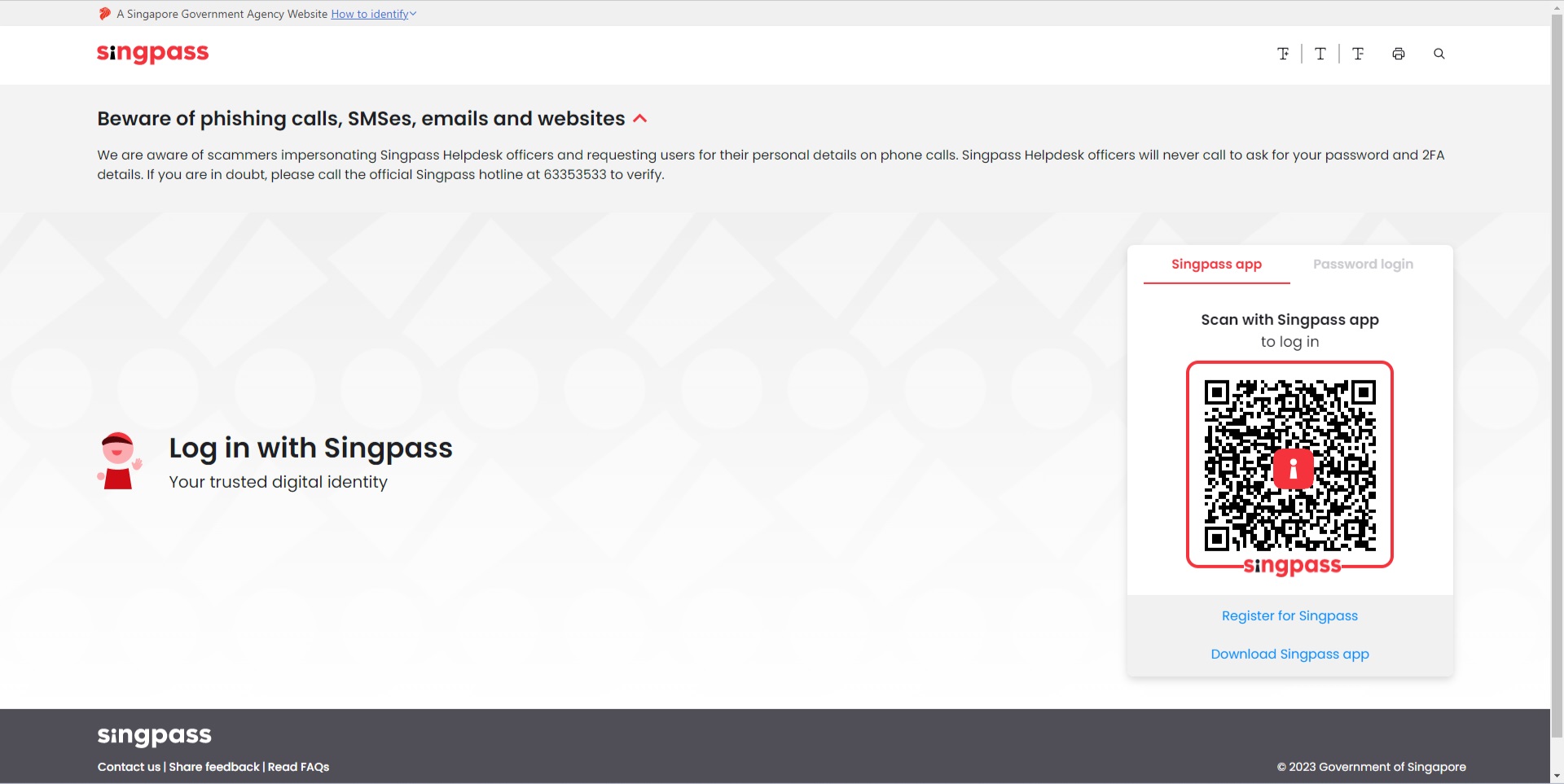 vi. Singpass will verify the following details, all you have to do is click on I Agree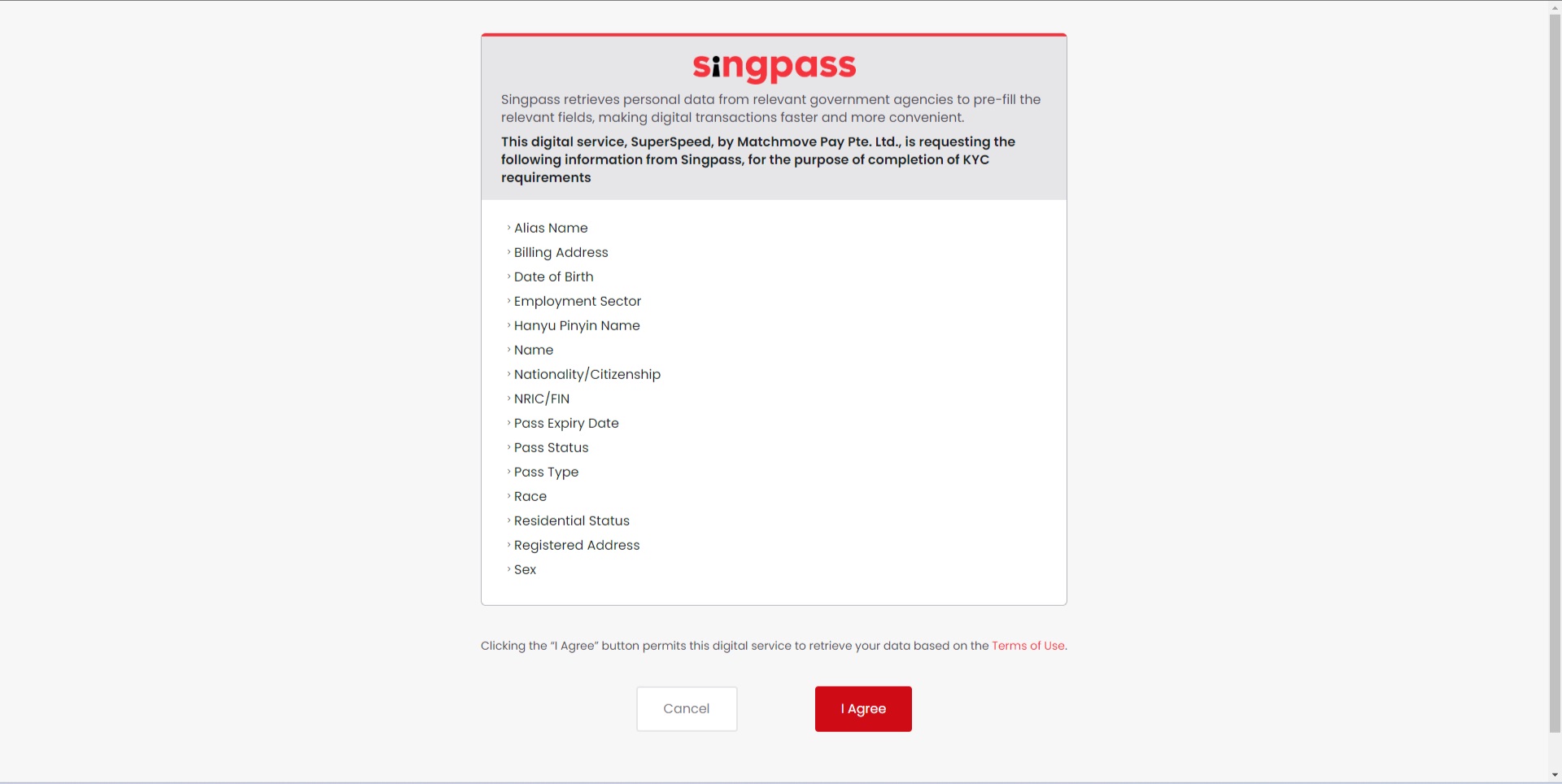 vii. In the next page just click on Next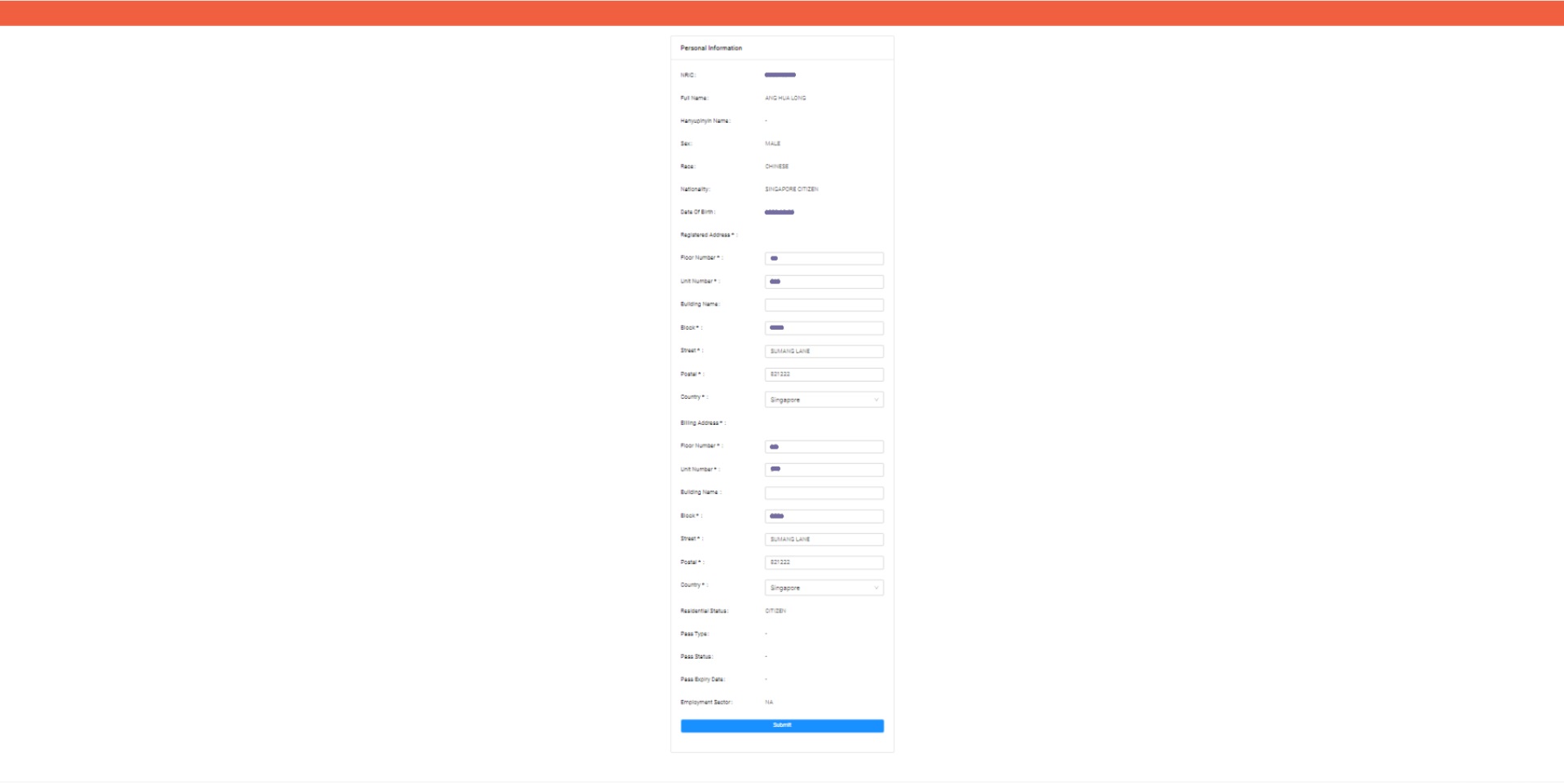 viii. Done!  You will see a successful notification on the screen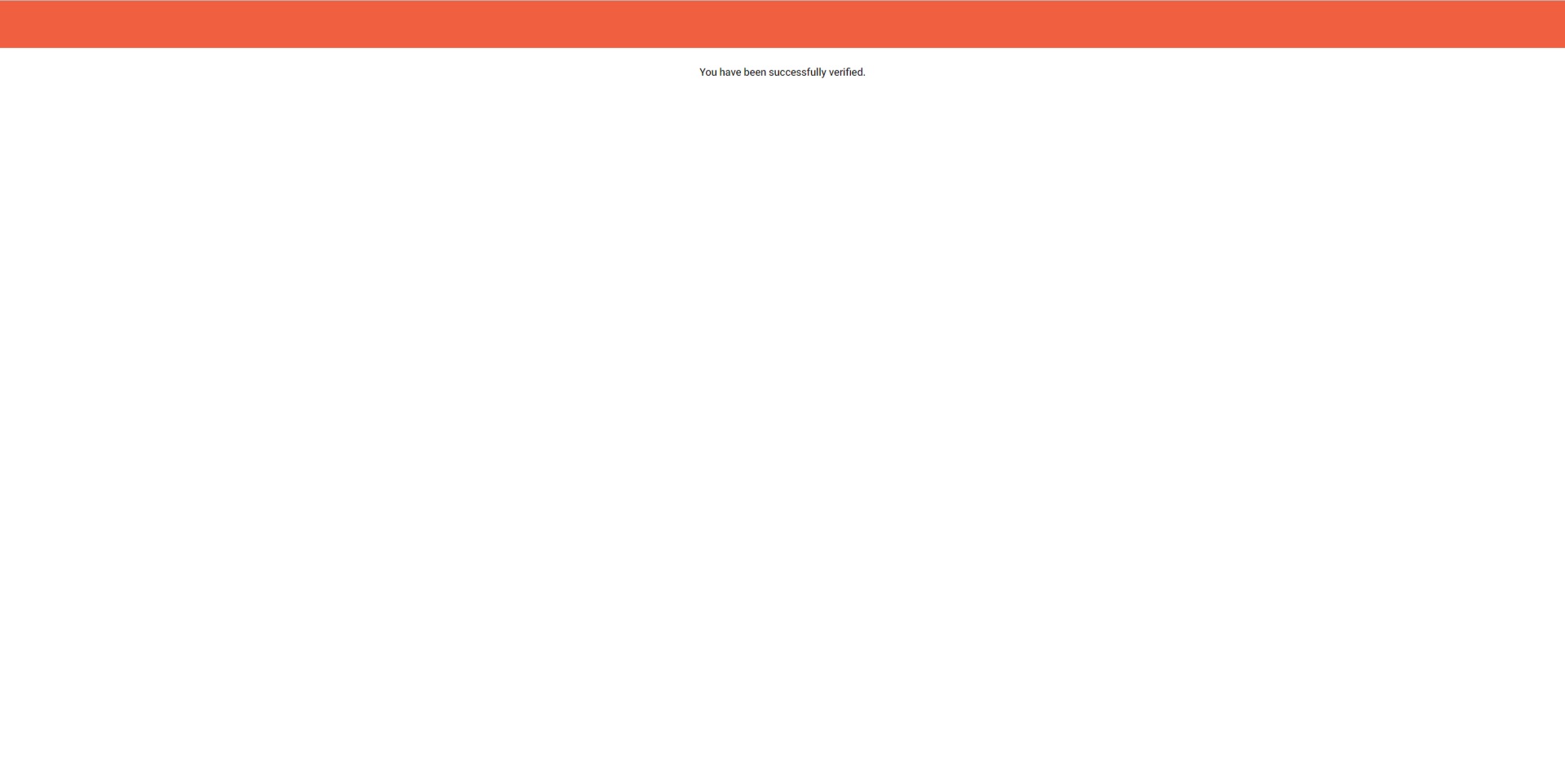 ix. Shopmatic Pay is now enabled in your account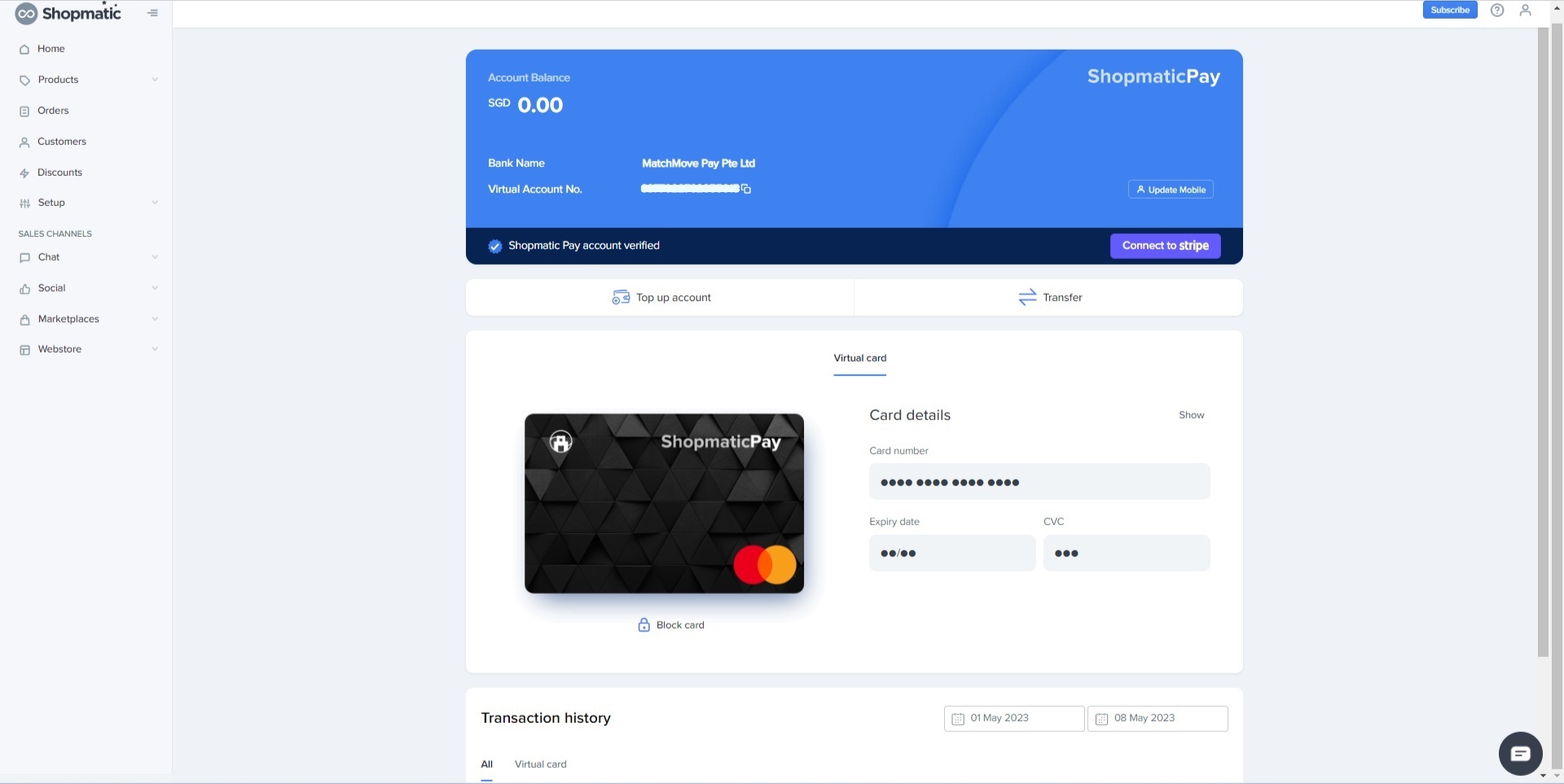 6. How can money be added into my Shopmatic Pay account?
Currently, only direct bank transfers are supported. You can transfer funds from any Singapore bank account to your own Shopmatic Pay account using the account number, holder name associated with Shopmatic Pay. Soon more options will be made available
7. Where can I use the virtual card provided to me?
Virtual cards are powered by Mastercard. You can use this virtual card across Mastercard network across the country. You can also further choose to tokenise the virtual card inside Google Pay, Apple Pay, Samsung Pay and subsequently use it for POS payments.
8. Can I make international payments using Mastercard?
Yes!
9. Can I see my transaction history?
Yes, you can monitor your transaction history on the Shopmatic Pay dashboard. The following details will be present:
Transaction id

Date and time of transaction

Amount

Type: Credit/ Debit 

Status

10. Can I pay Shopmatic using the virtual card?
Yes you can pay any merchant including Shopmatic through the virtual card across Mastercard network. Shopmatic will offer exclusive offers and benefits if you pay via Shopmatic Pay card.
11. Can I also get a physical card?
Yes!
12. How can I enable my physical card?
i. Log in to your Shopmatic account, click on Setup, then on Shopmatic Pay, and finally on Physical Card.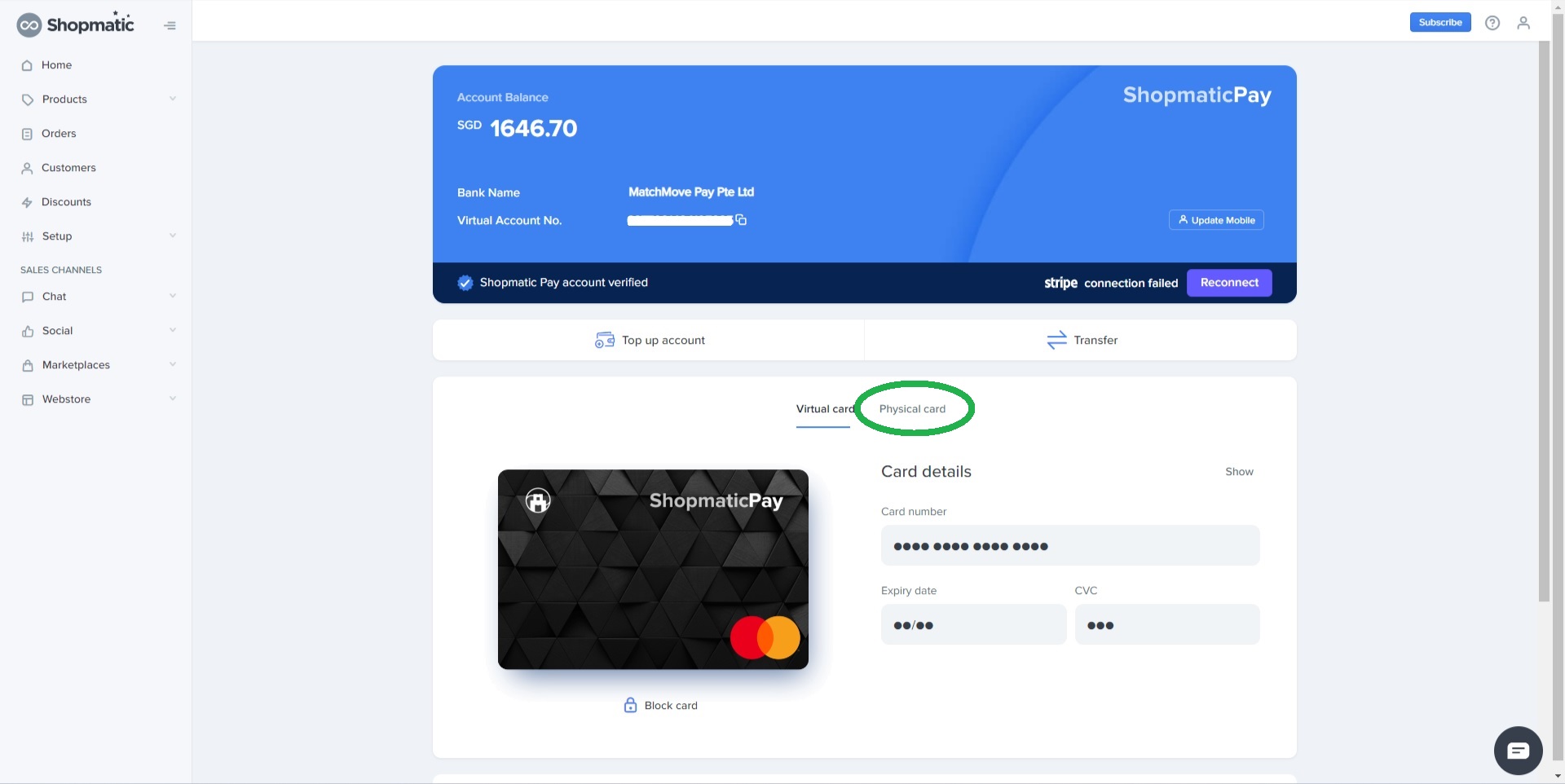 ii. Next, click on Apply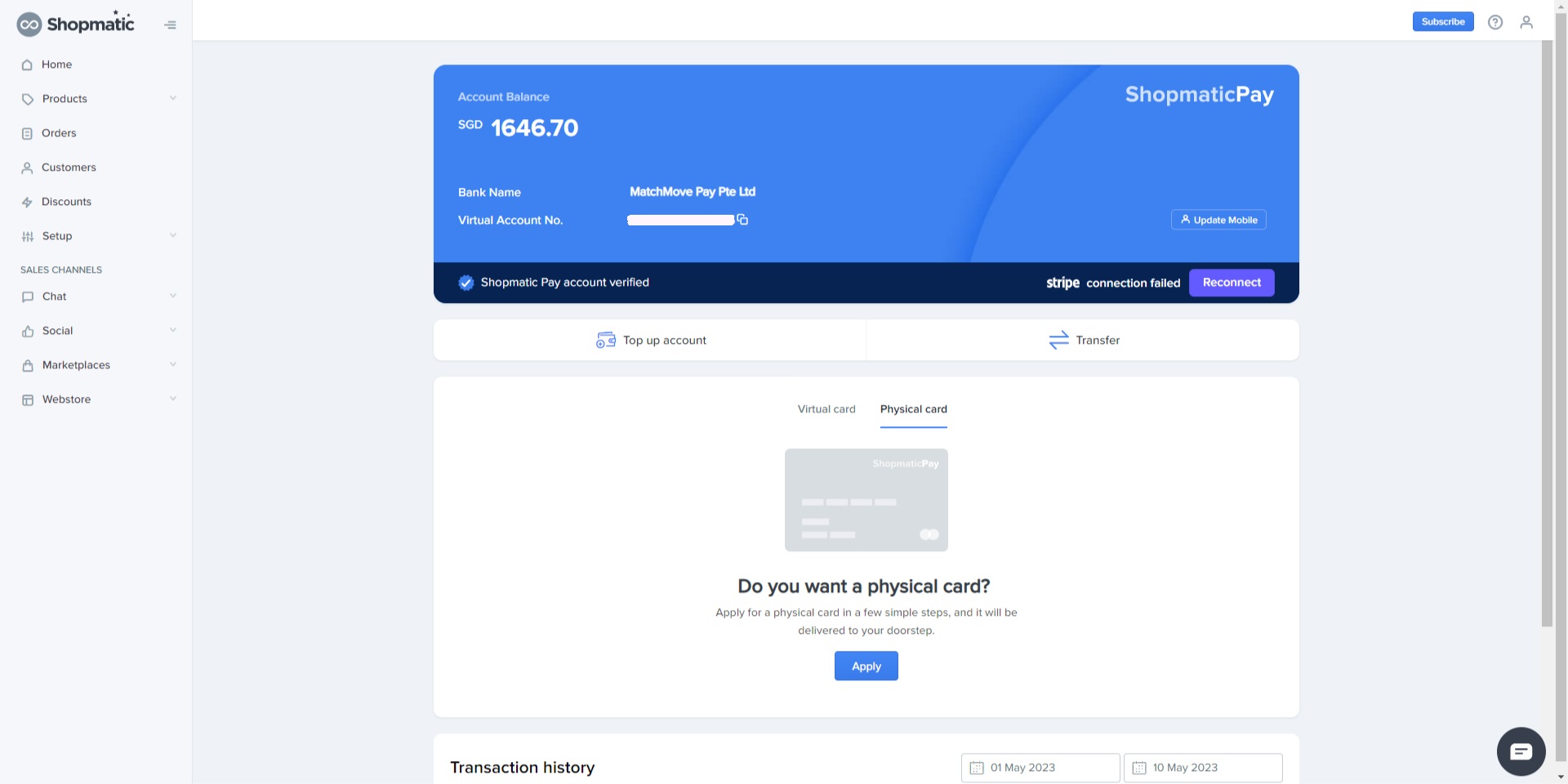 iii. Enter the address where we can deliver the card, and click on Submit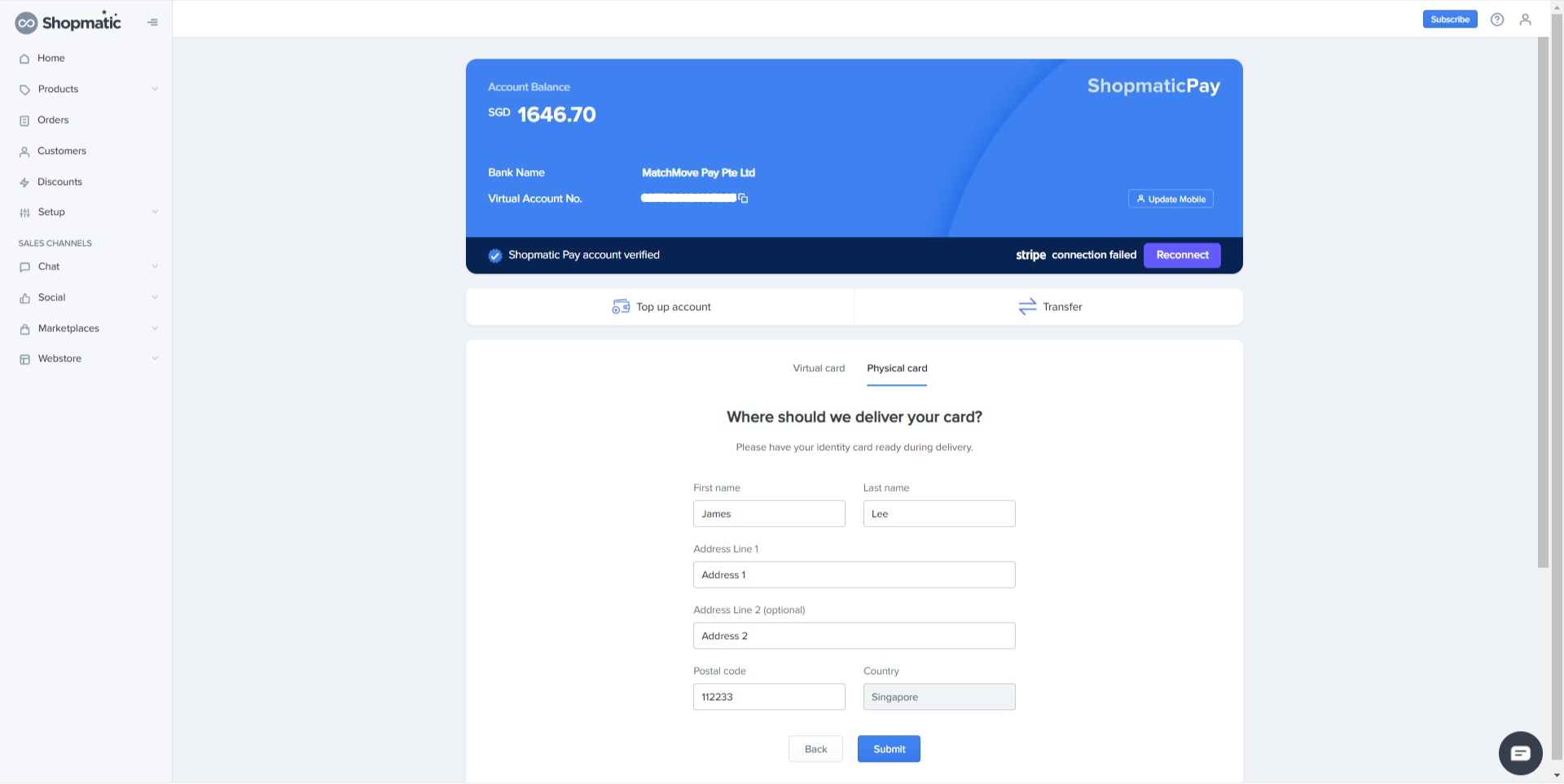 13. How do I Activate my physical card?
i. Once you have received the card, click on Activate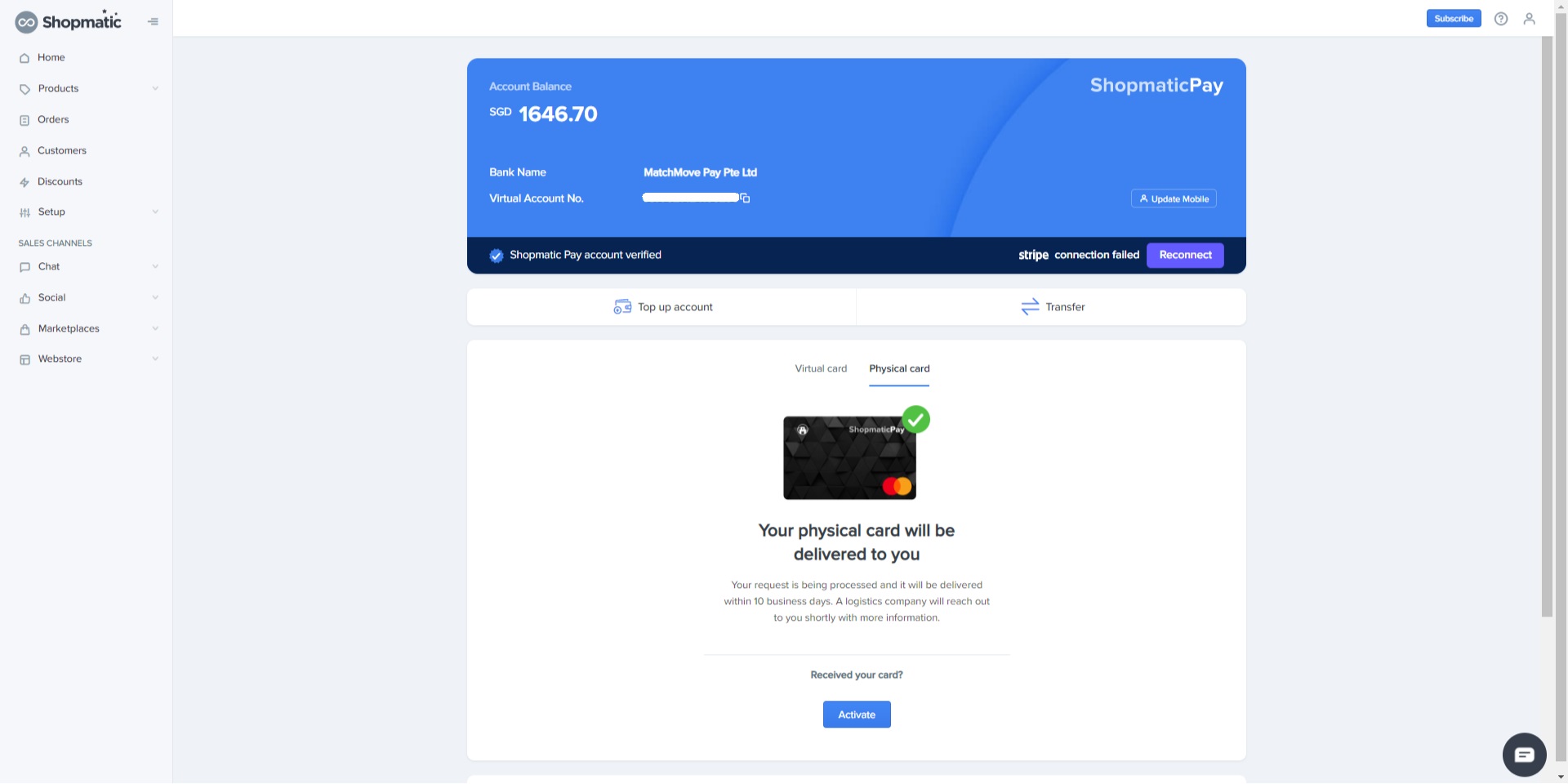 ii. Enter the last 4 digits of your physical card and click on Next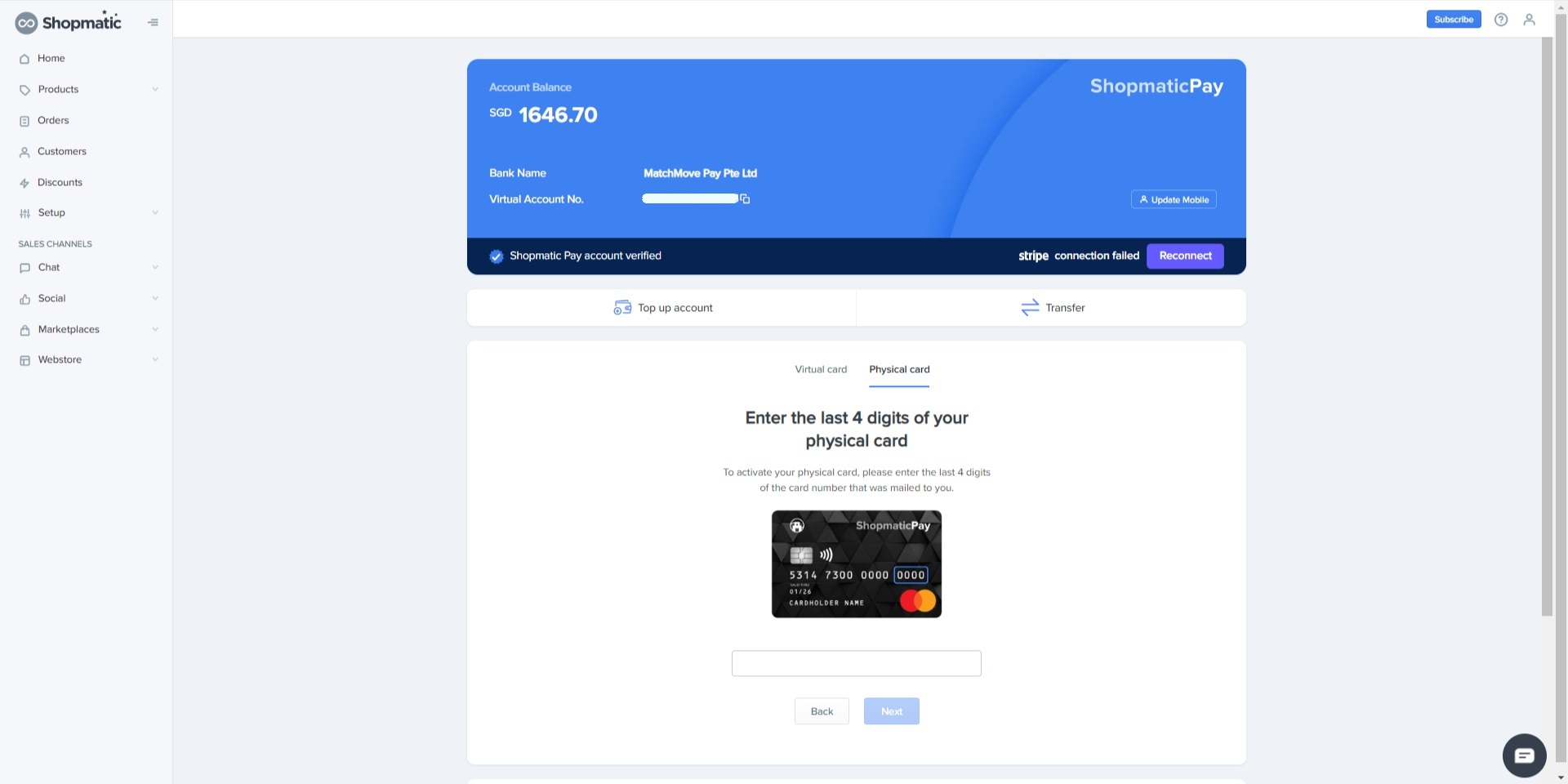 iii. Enter the 12 digit kit number and click on Activate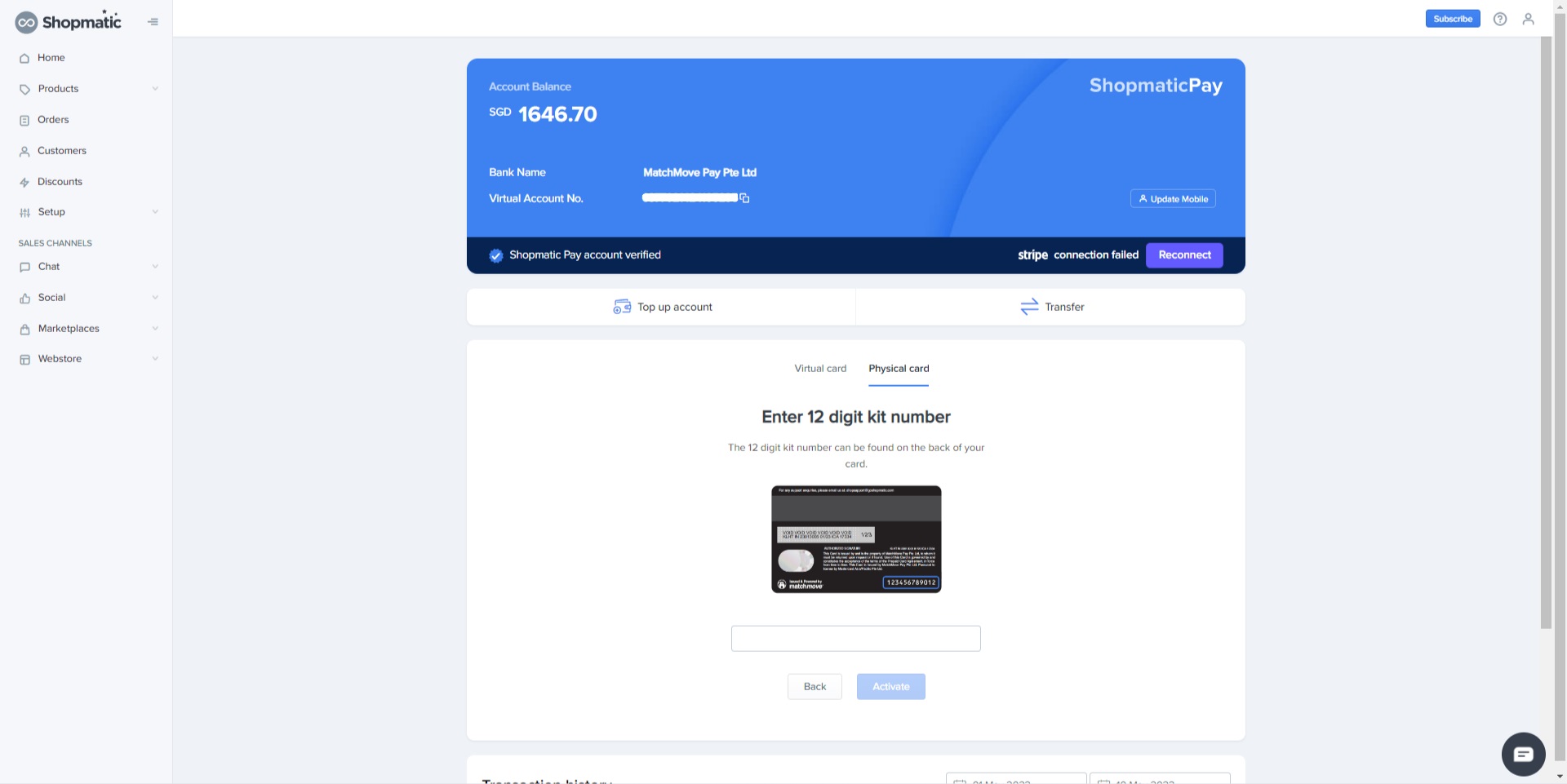 iv. Next, Set your card's PIN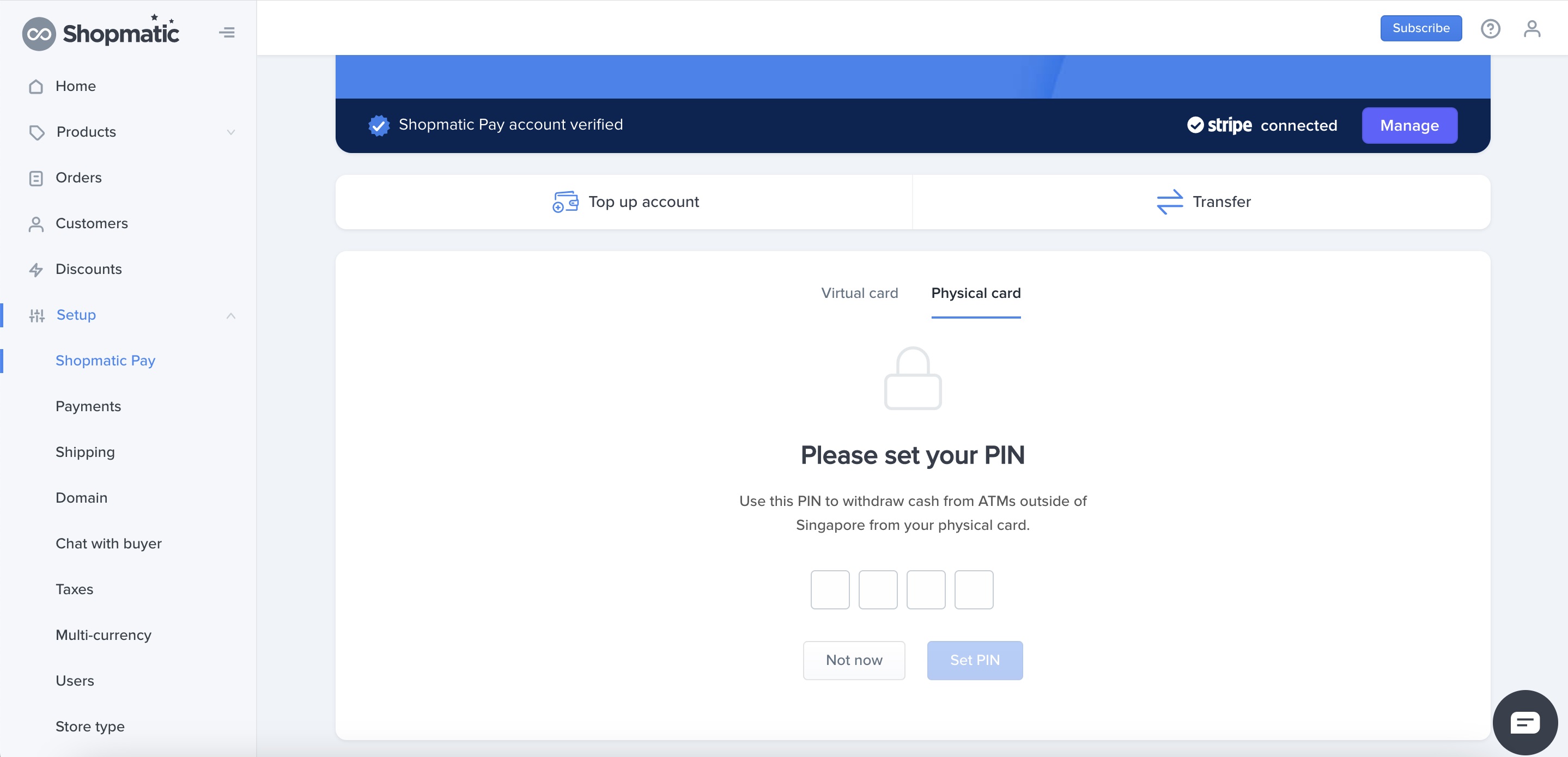 v. Enter your PIN again to confirm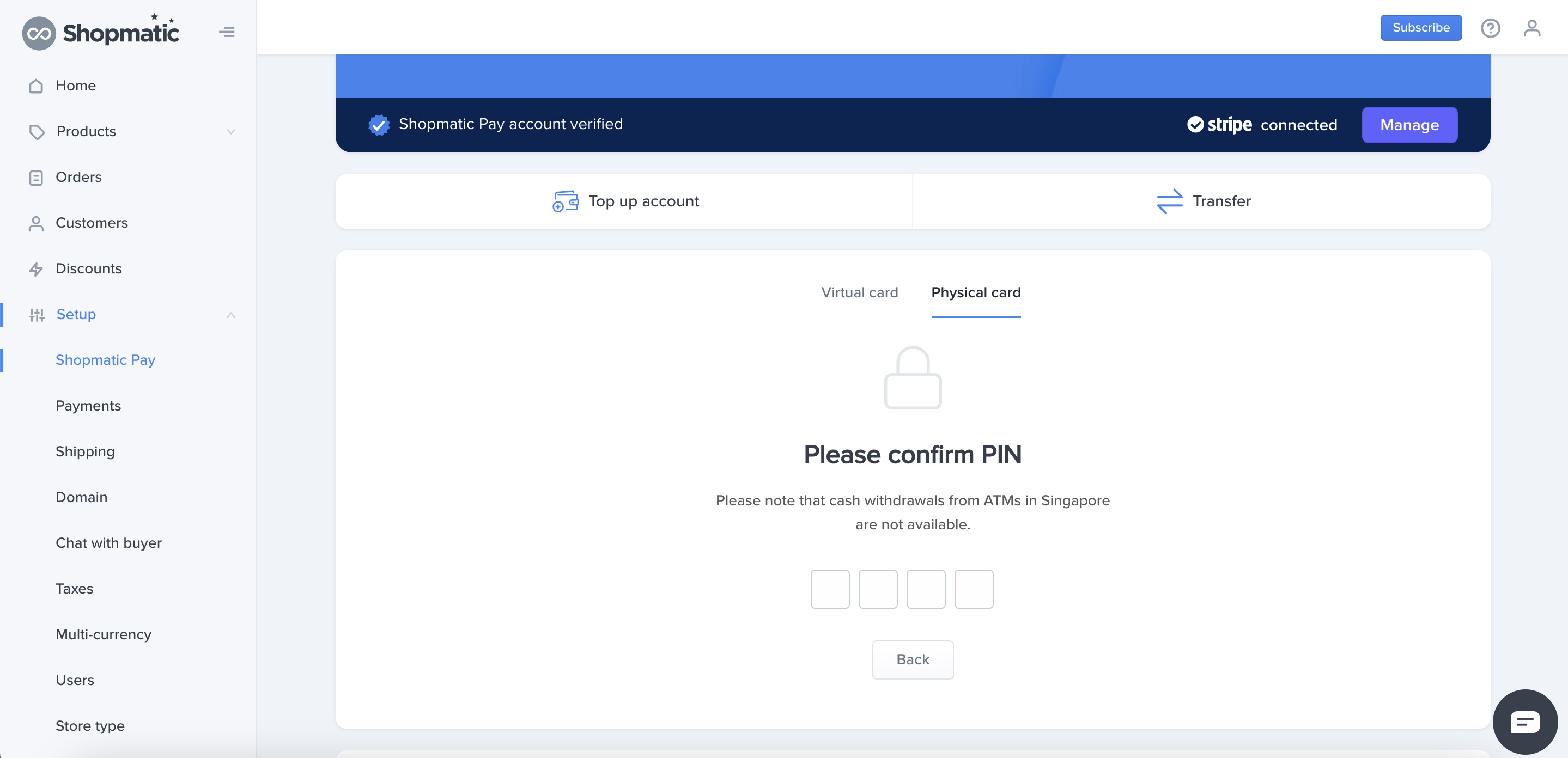 vi. Your PIN is set, click on Next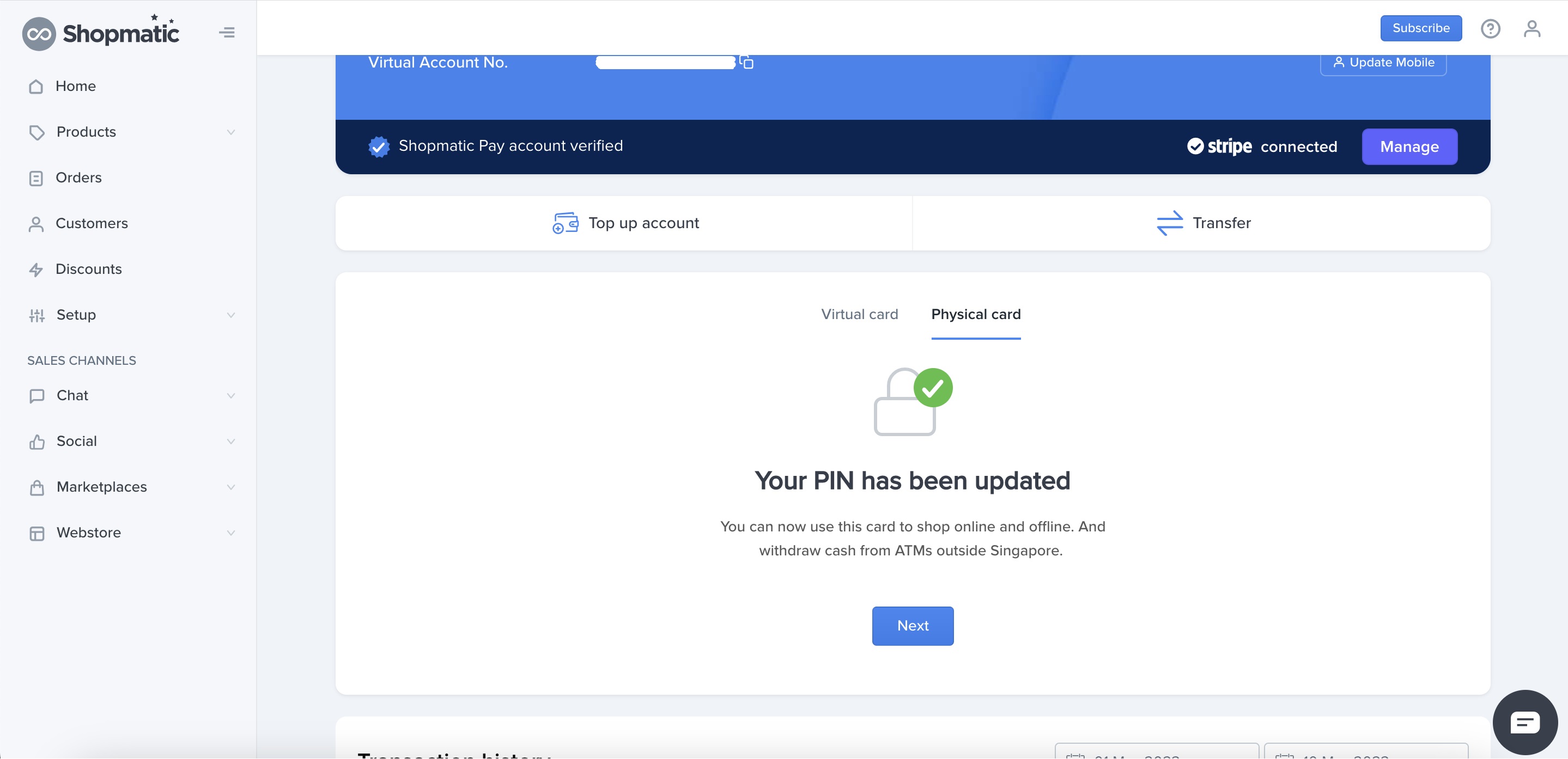 vii. Done, you have activated your Physical card!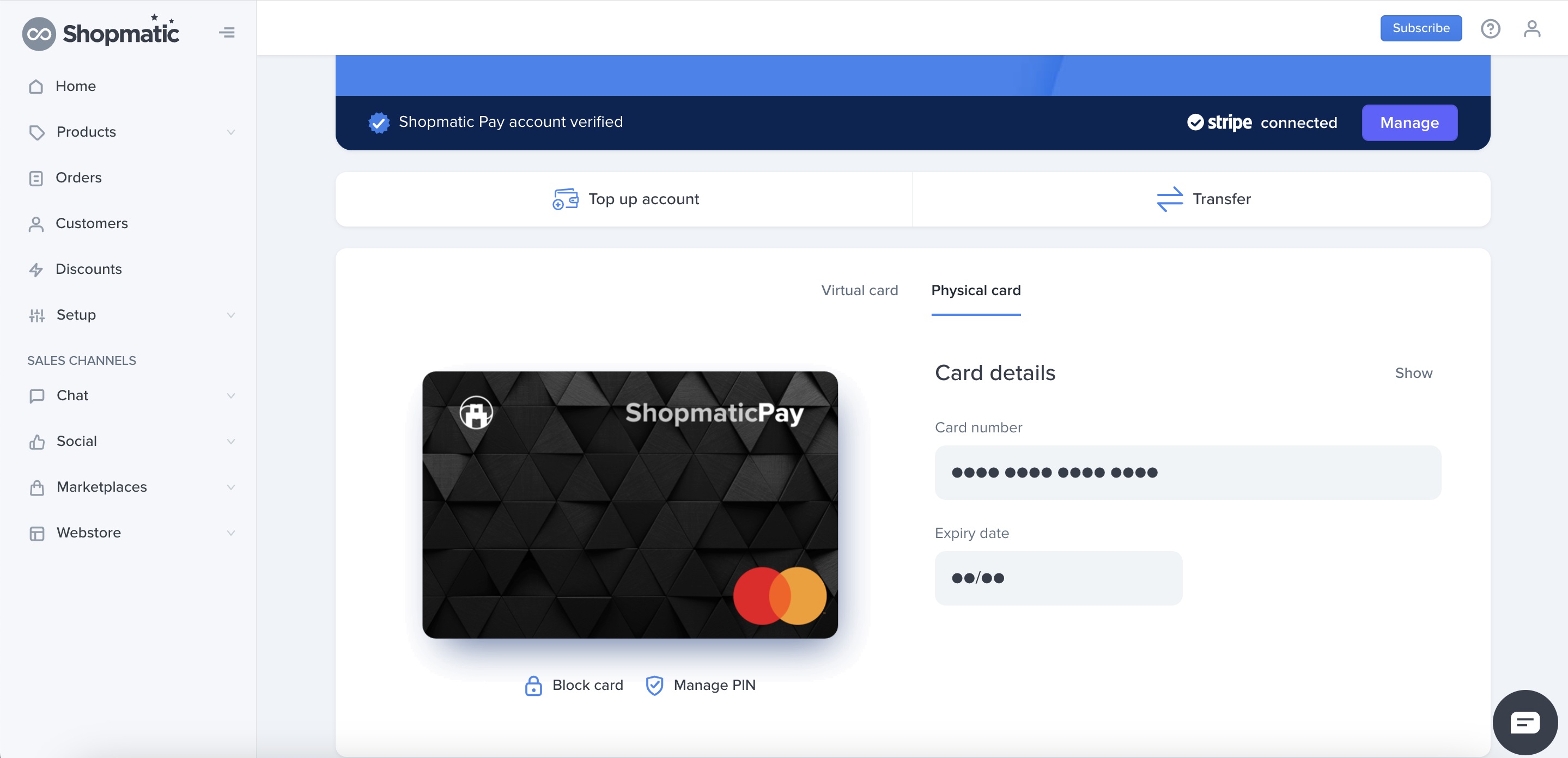 14. Are there any transaction limits? If yes, how much?
Yes there are transaction limits associated with your account. You can spend a maximum of $1000 on a daily basis, $5000 on a weekly basis, and in total can maintain a balance of up to $20,000.
15. Can I Block/Deactivate my Physical card?
Yes, simply login to your Shopmatic account, select Setup, then on Shopmatic Pay, click on Physical Card, and then on Block card. This will initiate a pop up where you can then proceed to block the card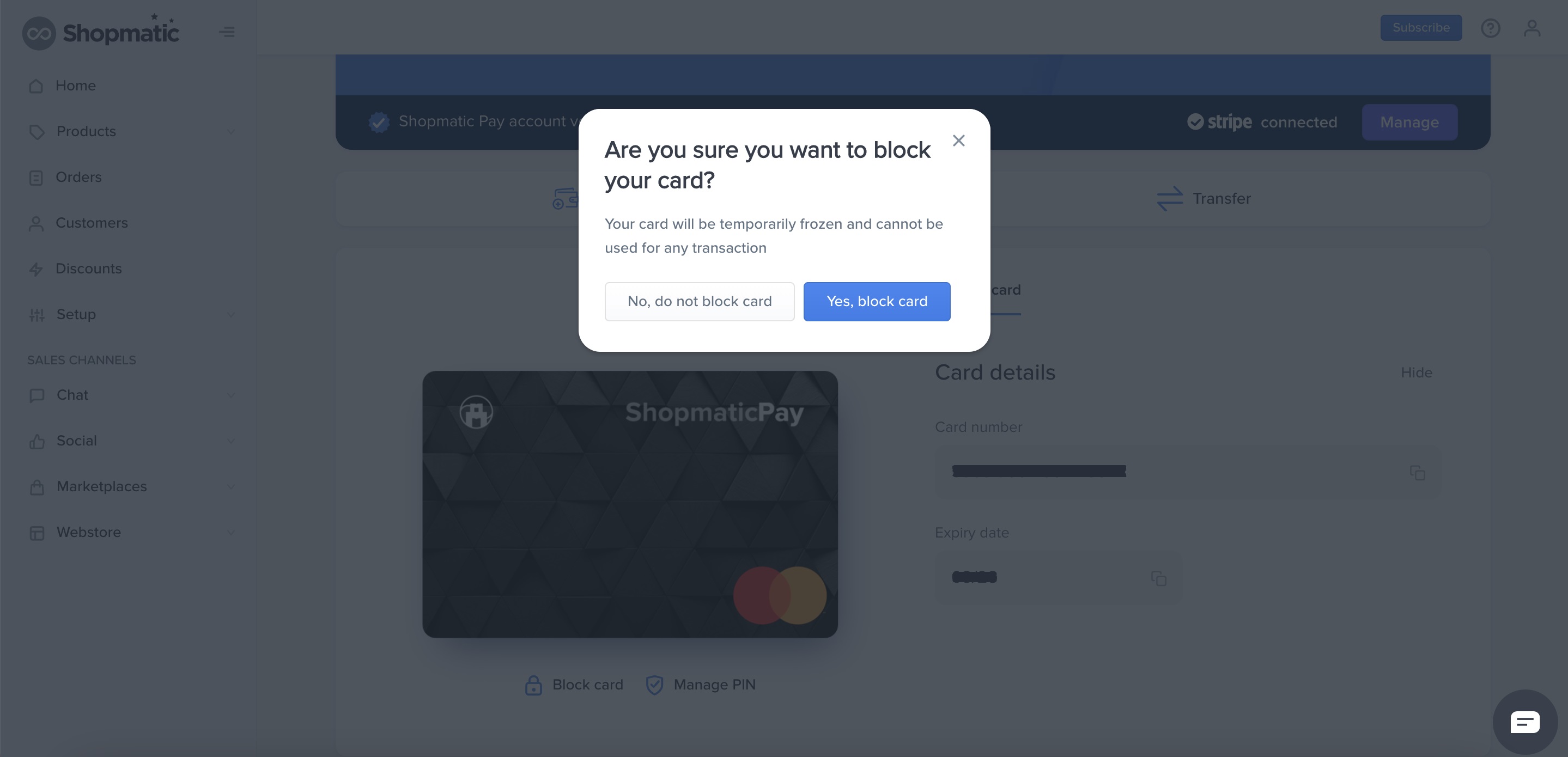 16. Where will Shopmatic Pay be available?
Currently, Shopmatic Pay as an offering is available for web and mobile web users. It will be added to mobile apps quite soon.
17. Are there any cashback?
Get 0.5% cashback on eligible transactions, please click here to find out more
18. Can I transfer my money from Shopmatic Pay account to any bank account?
Yes, you can transfer money out from Shopmatic Pay to any supported bank account without any additional charges. You can add a beneficiary and start sending money. Please note that the transfer will be supported via FAST – Fast & Secure Transfers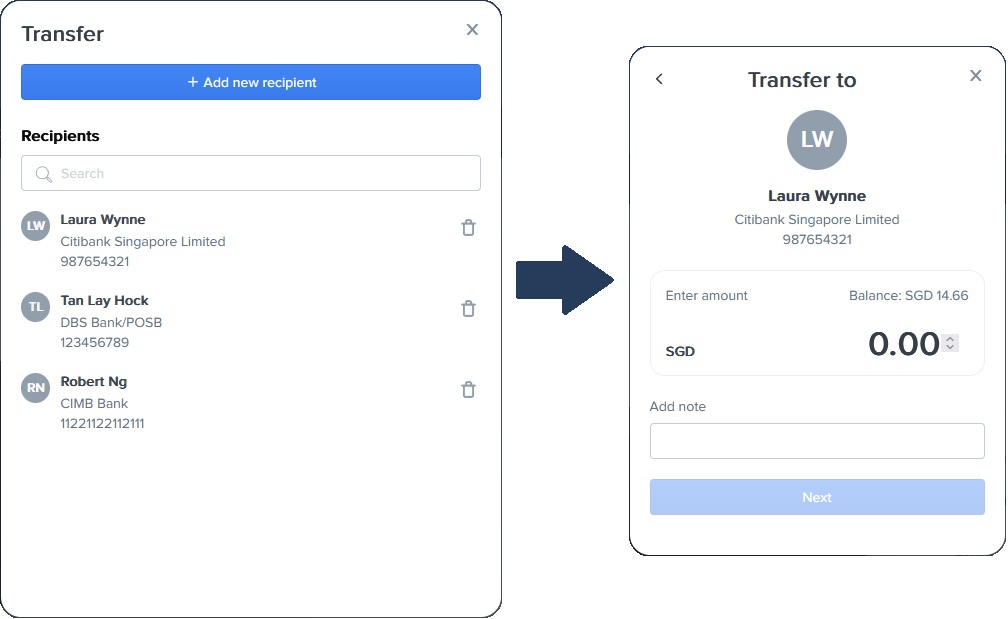 19. How many beneficiaries can I add?
There is no limit to the number of beneficiaries that can be saved. You need to provide a legitimate bank name, account number, and beneficiary name.
20. I can't see my bank from the dropdown while adding a beneficiary?
We are trying to support as many banks as possible. While the current list is quite extensive, it is possible that a few banks are not available at the moment. We request you to be patient and try using any other supported bank account.
 21. Will I be getting notifications as part of various activities in Shopmatic Pay?
Yes, you will be notified on your registered email on various steps such as: account verification, transfer initiation, adding beneficiary, etc.