Facebook & Instagram Social Commerce settings gives you the ability to control where your social media buyers can choose to checkout.
1. Within the Facebook or Instagram app
2. Redirect them to your Webstore

There are benefits of using both options, when you allow buyers to checkout within the Facebook or Instagram app, this gives them a very seamless experience, as after clicking on your products in your Facebook/Instagram account, they can continue to checkout directly from the Facebook or Instagram app, however, they will not be redirected to your website so that they can further explore your very own website.
Allowing your customers to checkout from your website is great because they get to fully explore more about your brand, your history and other offerings you provide however it comes with a risk of "drop-offs". Redirecting your customers from the Facebook/Instagram account may cause some customers to completely close your website immediately and return to the Facebook/Instagram app.
Example of "Link to checkout" where a buyer checkouts directly from the Facebook or Instagram app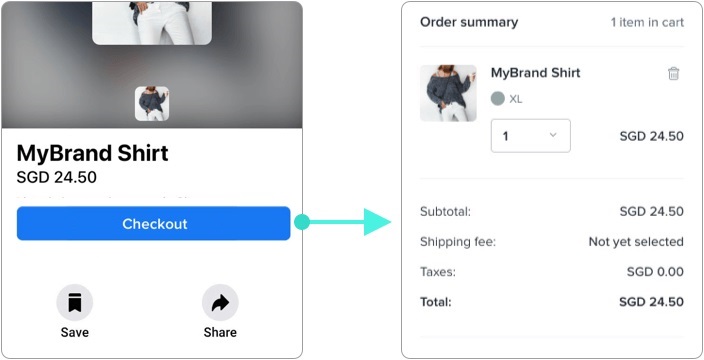 Example of "Link to webstore" where a buyer is redirected to your own Shopmatic website